BFT Group is a young, highly innovative reality, which offers technological solutions for flexographic printing and includes BFT Flexo, on the market since 2017 specialized in inking and washing systems for flexo groups and BFT Carbon, present since 2019, and specialized in the production of doctor blade chamber in carbon fiber. In a few years, BFT Group technological solutions have become a point of reference for the most important manufacturers of flexo and gravure printing machines worldwide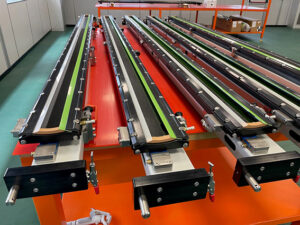 Only five years have passed since the start of the entrepreneurial adventure of Simone Bonaria and Alberto Ferrara, two young engineers passionate about technological innovations who have decided to put their skills to good use by offering advanced solutions for inking and washing systems to the market of flexo and gravure printing machines. A path started from the bottom, getting hands dirty with ink directly in the press room, not without effort and difficulty, especially at the beginning when knocking on the doors of machine manufacturers, there were more courtesy answers than really interest in deepening the knowledge of the technological solutions introduced by the two young partners. Surely the strategy of approaching the market directly with printers proved to be a winning one for BFT Flexo, whose name, thanks to the positive feedback from various customers, has begun to make itself known more and more on the market, at such an extent that in just five years the small but dynamic group is now included in the partner list of practically all the most important global printing press manufacturers.
In 2019 to complete the offer, BFT Carbon was also created, together with the new partner Andrea Ceresani, a Piedmontese entrepreneur known in the field of carbon fiber processing (his company manufactures components for the aerospace industry), exploiting its expertise in the processing of this material to produce doctor blade chambers, completing in this way the offer package by BFT Group.
The important presence both in the world of flexible packaging and corrugated cardboard has allowed BFT Group to grow substantially in a five-year period, and also managing to become a strategic partner of a big German manufacturer of printing machines, the agreement for now is confidential, but it will soon be formalized and publicly announced.
The goal of non-stop printing goal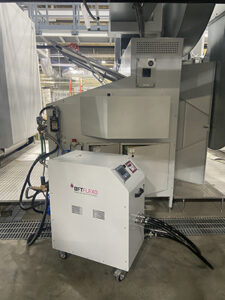 BFT Flexo is embracing the philosophy of various manufacturers, who have been engaged for a long time in trying to design continuous cycle printing machines, equipped with technologies and equipment capable of guaranteeing real non-stop production, a requirement that for packaging printers flexible who have to print the same order for several days, becomes a need of primary importance, capable of making a difference in terms of productivity and profit. To satisfy this vision, the equipment must be able to self-monitor and self-calibrate, without any human intervention.
"The market today is pushing towards these solutions, and we collect these needs both from printers but also from manufacturers", says Simone Bonaria, "and we must be able to help them monitor and control all those variables that are not yet considered, but which in fact can be monitored. As BFT Flexo, we have been pushing for some time, especially for washing systems, with Smart solutions, where the machine equipped with an industrial Plc is able to monitor not only inking and washing functions, but also other variables in the press room, for example the temperature and humidity of the environment, which thanks to a series of appropriately positioned sensors, are kept under control, solving a series of problems, effectively improving the standardization of the process and also linking this information to the individual order. In fact, we know how much the environmental condition affects the success of the printing phase, and although these are known basic concepts, it often happens that we are faced with similar problems", adds Bonaria.
New cliché cleaning system by BFT Flexo
Born from a need for customers in the tissue sector, BFT, in collaboration with reference manufacturers, has decided to expand the range of technological solutions offered, developing a new in-line cleaning system for clichés, both continuous and spot based on the defect identified through the cameras. "This is a project that we want to develop in collaboration with various end customers in different markets, from tissue to flexible, as well as with manufacturers. At the moment we do not think that a system of this type is interesting for the corrugated cardboard market, where we notice that runs are getting shorter and the need for non-stop printing is not as pressing as for the flexible".
The evolution will bring to the market a package of equipment capable of guaranteeing both productivity, eliminating any downtime, and simplifying start-ups by standardizing all preliminary operations. Upstream of the evolution of BFT products, there is the technology, based on Siemens, capable of monitoring dozens of sensors at the same time, but also capable of calculating the cycles of each component, always guaranteeing a timely preventive maintenance. 
Collaboration with OEMs to raise the technological level of the machines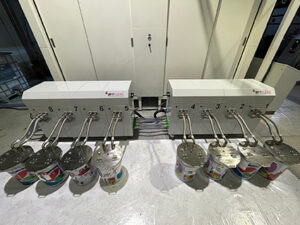 The relationship of BFT Group with OEMs has certainly changed over the course of these 5 years of history of the small Piedmontese group, and from a certain initial mistrust or in any case from a little interest in these solutions that many manufacturers preferred to develop internally, even thanks to the numerous references from printers in every sector and in every part of the world, as well as the painstaking work of the BFT staff, the company managed to demonstrate the validity of its solutions where the difference is not so much the plant itself, but above all the software part.
"Thanks to an algorithm developed by us, the system guarantees deep cleaning in a very short time and the manufacturers have understood this, also thanks to their printing customers. There are areas inside the machine that have different values ​​and weights, in the past the inking and washing system was not so central, while today it is a substantial part of the printing process", adds Simone Bonaria, underlining the great added value that the competence and know-how of BFT Group solutions can bring to the end customer.
Today BFT Group can boast a series of acquired skills and a great knowledge of the functioning of printing machines, often even superior to the customer's technical office who does not experience the press room like BFT technicians, who precisely for this reason are able to face and prevent certain problems. This aspect was particularly appreciated by both printing and manufacturing customers who increasingly involve BFT Group in their projects as a consultant.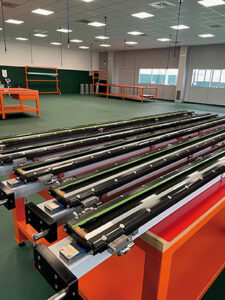 The relationship with the important German printing machine manufacturer was born precisely on the stimulus of a large American printer customer, who after turning to Simone Bonaria and Alberto Ferrara for retrofits on existing printing elements, wanted to install on his machines the engineered systems by BFT Flexo, starting the partnership which, after more than three years of collaboration, will soon be made official. "With the German partner manufacturer, synonymous with printing in the world, we are developing a new machine, with a highly innovative concept, to increase the performance of the printing machines and solve some problems reported by their customers, so much so that they have started to sell many of our retrofit solutions inserted directly in their catalog. We would like to replicate this business model with all printing machine manufacturers and we are open and available to a dialogue that can lead to important results for our end customers and solutions easy to use for their operators", concludes Simone Bonaria.