A new category in software automation that allows to optimize the entire pre-production process and integrate it with a management software. B+B International S.r.l has been operating in the packaging, display and digital printing sector since 1993, offering complete, specific and integrated ERP & CAD/CAM solutions for sector operators

Within the packaging sector there are paper converting companies, box factories and integrated companies which produce boxes, packaging and displays in flat, laminated and corrugated cardboard.
Digital printing sector is a very heterogeneous sector as digital technology has greatly simplified the production processes allowing players with very different backgrounds to participate in the current competitive battle in the production of point-of-sale displays, billboards, dramatization of shops, exhibitions, exhibitions and much more, using cardboard together with a very wide range of other materials.
B+B is organized into two divisions, a software house which develops, distributes and offers assistance services for Packway, a complete and specific management software, the other operates as a distributor of Esko & Kongsberg in Italy for ArtiosCAD software, for Kongsberg flatbed cutting, creasing and milling plotters and for Multicam CNC milling machines.
Currently more than two hundred companies use Packway, 1000 ArtiosCAD licenses installed in Italy have been exceeded as well as 1000 Kongsberg plotters. In 2022 B+B achieved a turnover of 17 million €uro and employs 65 collaborators.
Over the last few years, packaging and digital printing producers have been operating within a fiercely competitive context, the process of purchasing packaging and displays by brand owners, increasingly organized with internal purchasing offices, has changed; requests for new projects/quotes have increased, while desired turnaround times have decreased, as prices and margins. An industrial management of pre-production activities, that is of all commercial, design, sampling, pre-press and above all estimating activities is a widespread need as well as a key feature for success of companies.
B+B International is witnessing an exponential increase in the number of new projects requested from its customers, who on the one hand asked us to simplify and speed up the structural design to shorten the response time to the brands, but on the other also the possibility of quickly knowing the cost/price of the conceived product, both because it very often has to fall within a budget indicated by the client, and because delivering the project or the sample before the competitors is no longer sufficient, the sale price must also be promptly communicated.
Within this context, the company realized that in most cases pre-production is managed with systems external to the ERP, based on generic technologies such as e-mail, excel or world, which in addition to generating many inefficiencies and repetitions, require deep technical expertise often in charge of few resources, stressing the collaboration between the technical and commercial departments. From this analysis B+B International understood that designing well, quickly, was no longer sufficient but it was also necessary to estimate and manage all these processes with equal quality and timeliness. The company so has been able to combine its two souls, that is the two specific skills of B+B, that of ERP management software producers with that of experts in CAD/CAM technologies and the technical office, all shared with a broader and international vision like that of ArtiosCAD colleagues who confirm at 100% the same dynamics in all countries of the world. From this synergy Packway Pre Production was born with an essential logic of complementarity towards any ERP management software as it can be integrated through standard protocols.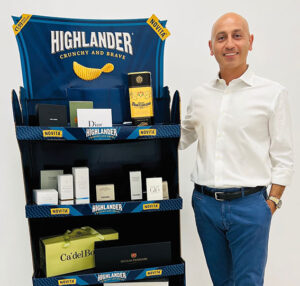 Face to face with Davide Dal Col – CEO of B+B International S.r.l.
Where does Packway Pre Production come from?
"Printing is a form of manufacturing that is undergoing rapid and substantial change. It requires a re-examination of the entire way of doing business and understanding where to create new value. Packaging and digital printing manufacturers necessarily need to innovate their business & organizational models to maintain a competitive position.
Together with what was decisive for the birth of this sector, the traditional/digital printing machines, awareness is growing that printing is no longer the only critical success factor for these companies but it is necessary to have industrial software, specific and integrated that allow you to automate and control the entire production process, including pre-production activities.
In most cases, companies are already organized with management software that covers management from order entry to order creation, from production to invoicing and accounting. With Packway Pre Production we want to help customers by allowing them to manage all strategic and very delicate processes that precede the creation of the production order, as well as automatically transfer all this information to their management software.
There are strong reasons to look to the future of the packaging & display industry with confidence, but only on condition that it adapts its products and services to the changing needs of the market.
Digital transformation necessarily requires an organizational adjustment and the introduction of new technologies, fully integrated software and hardware. Packaging users are asking for increasingly rapid and qualitative response times, including estimates.
For this reason it is essential to build an adequate business and organizational model through which the company can respond by creating value and can get value with customer satisfaction".
How is the pre-production activity coordinated?  
"Pre-production management is coordinated by the Packway module called Docupoint. The main objective was to develop an information system capable of improving the service and quality of responses to the customer and at the same time optimizing the work for all internal resources employed in the activities of the technical and commercial offices. Manage in an orderly manner what are commonly defined as internal orders, that is customer requests which do not actually constitute an order but which are preparatory to receive the order.
It is clear the strategic importance of managing all these activities, as being able to meet the required response times, proposing an ideal solution based on customer expectations, reducing not-conformities, implementing an automatic communication system between departments, planning the activities of all resources within these offices through a graphic planner that allows to monitor the workload in real time, turns out to be a determining condition. The initial request was the development of software for the management of commercial activities, but we soon realized that a classic CRM was not enough, as our customers do not offer catalog products, but each time they have to manage a new project, a made-to-measure suit that must be developed on the specific needs of the customer. These conditions necessarily require a constant and orderly dialogue between the various commercial and technical departments, hence the need to cover all these needs with a single software. Through the Docupoint Planner it is possible to have the situation of each activity under control, from technical planning to sampling, from graphic planning to estimating. Thanks to this punctual planning it is possible to understand and manage emergencies, making it possible to improve the relationship between the sales department and the technical office which were sometimes in conflict due to delays in the execution of projects. People are more encouraged to collaborate and enter the correct information, paying more attention to the process as a whole. The operational and financial situation of each individual customer is visible in a single file by querying your ERP management software in real time. Personal data, project data as well as accounting and logistics data can be used from any platform as Docupoint is a web system. In this way, the salesperson who is off-site or at the customer's premises can have all the necessary information available, in real time. Furthermore, one of the main strengths of Docupoint is that of being able to produce reports that can be viewed with Excel or with Microsoft's Power BI. This information is useful for understanding how many projects are processed, how many revisions are made, how many of the requests become orders, analyzing the reasons analytically".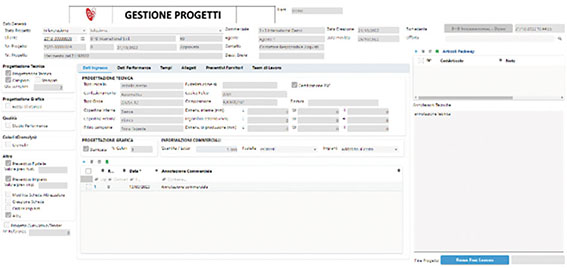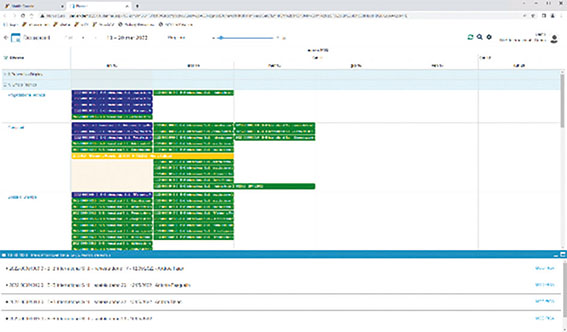 How is the estimating activity managed?
"The estimate is elaborated by Packway exploiting the uniqueness of its graphic technical sheet, able to manage all the raw materials and all the production phases, both of simple articles, for example with a raw material and a linear production process, and of complex articles composed of several different raw materials with different formats, yields and production processes.
In addition to the possibility of creating a technical sheet or an estimate directly in Packway, the great innovation expressed in Packway Pre Production is the integration with Docupoint and with ArtiosCAD.
It is appropriate to analyze the dynamics underlying the two macro categories of items that require an estimate. Within the category of simple items, we consider American boxes, die-cut boxes, cases, all products made up of a raw material and a linear production process which for estimating do not necessarily require an accurate CAD technical design, but rather entering a little information such as the type of box, raw material, dimensions, treatments and quantities, it is already possible to obtain an estimate. With Docupoint now all this is possible directly from a web format that can therefore be created with any PC, mobile or tablet device, inside and outside the company.
In the category of complex items we consider bottom and lid boxes, boxes with interiors, lined boxes or displays, all those products made up of several raw materials and different production processes which necessarily require an accurate CAD technical design for estimating. With ArtiosCAD Quotes & Orders we have fully automated this activity.
The first major innovation was to allow the design of a product made with multiple elements and different raw materials in a single worksheet, therefore in a single file. This design methodology called ArtiosCAD Canvas, allows you to develop a project in a single drawing and to be able to attribute information, the raw material, the production process, the die layout, to the single element. The ArtiosCAD database has been extended and integrated with the Packway base tables. It now contains not only technical data but also commercial and financial data such as customer and supplier master data, raw materials, internal and external work centers and equipment.
In this way we have combined all the technical aspects with the commercial ones, to obtain a technical data sheet, a quote or an order automatically from a CAD drawing".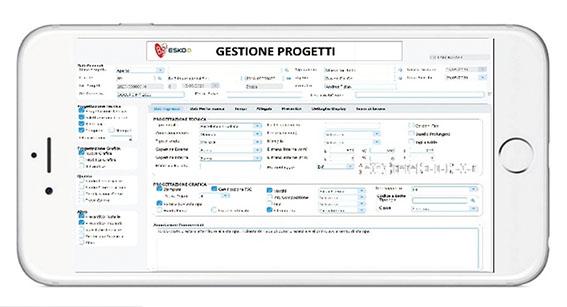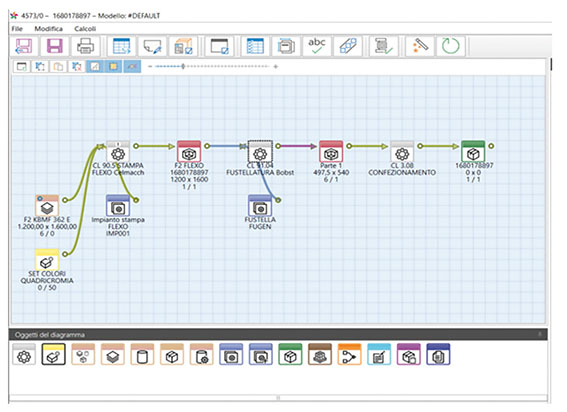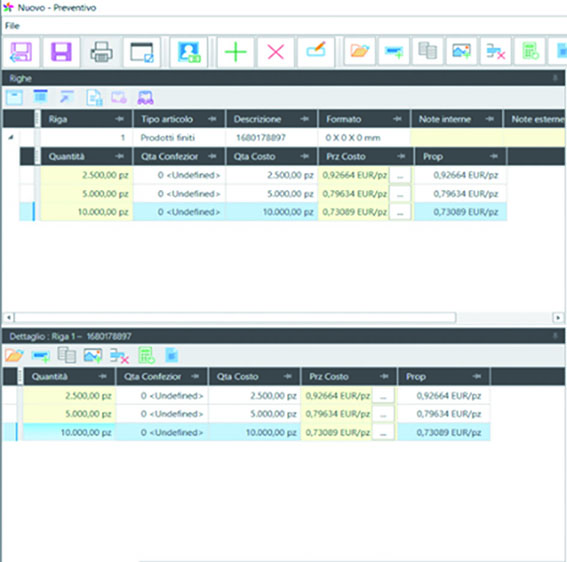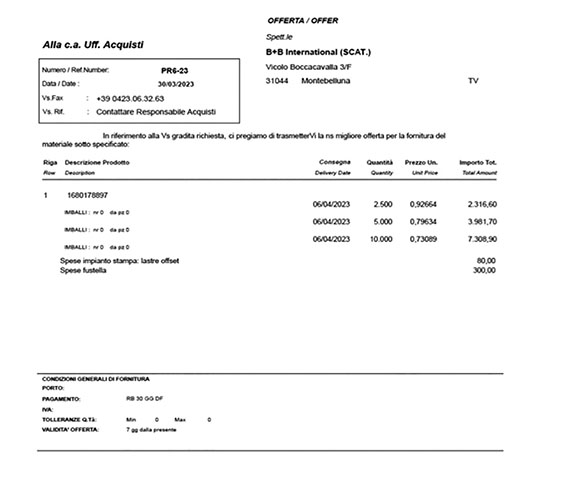 How does it integrate with company management software and how is it offered?
"Packway Pre Production can be proposed and installed stand-alone. It has also been developed to be integrated with the management software present in the company. The goal is to improve automation without replacing what is already in use, but integrating the current infrastructure with industrial software that can become a single whole with your systems.
The integration takes place through standard API-REST, JSON, XML and TXT market protocols. All Packway Pre Production modules are very simple to use and have a low economic impact. In fact they are offered with a monthly rental logic in relation to the number of users".