On the strength of highly significant economic and financial results and on the eve of a second half of 2023 which will see the launch of technological solutions for the label market at Labelexpo and for corrugated cardboard at Fefco Congress, BOBST reiterates the importance of its vision, launched now three years ago for an increasingly digitalized packaging supply chain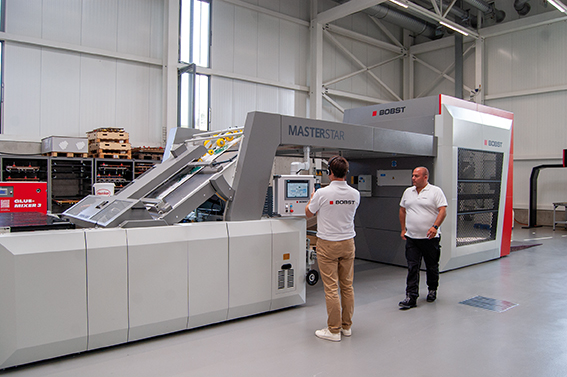 The recent exit from the stock exchange has not caused any problems for the Swiss multinational group, one of the leaders in the packaging printing and converting sectors, and today thanks to JBF Holding, no less than 85.29 % of the Group's shares are held by BOBST family. Also in 2022 the financial results were extraordinary: 1.8 billion Swiss francs (CHF) in turnover +17.8% with a net result of 115 million CHF.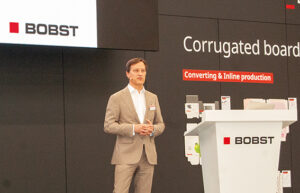 "The packaging industry is in the midst of a digital revolution, which is forcing every company to innovate, challenge their approach, think end to end and digital, and leverage networks and platforms to deliver new business models for their clients", said Jean-Pascal Bobst, CEO, Bobst Group. "At BOBST, our Industry Vision, based on four key pillars – connectivity, digitalization, automation and sustainability – greatly supports this transformation. The new solutions announced are the latest in a line of continuous innovation to help our customers thrive in this new reality all together".
As far as the label sector is concerned, despite a macroeconomic scenario which is influencing its activities, BOBST nonetheless records a good level of orders and new opportunities. Further consolidation is expected for 2024, with volumes starting to grow again. In flexible packaging, 2023 was the year of the return to pre-Covid levels, albeit with some caution, but there is uncertainty due to the new legislation that will impact sustainability deadlines and commitments in 2024.
Connectivity and digitalization: the novelties for the cardboard sector
At the heart of this vision is BOBST Connect, a constantly evolving, cloud-based digital platform that enhances and improves packaging productivity. Today, BOBST is proud to announce the launch of Tool Management, which is something new and unique to the market. The Tool Management solution offers unprecedented control over TooLink equipped dies, integrating tool makers, tracking tool performance, feedback, maintenance, and orders. With an intuitive interface, it provides users with a multitude of data driven insights to bring tool management to the next level.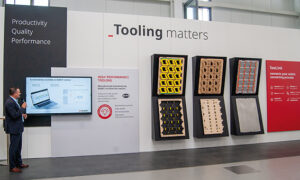 The Recipe Management for ACCUCHECK allows users to remotely prepare and set up an inspection recipe based on the artwork file, and to save recipes and retrieve parameters, anytime, anywhere, offering the beginning of the close loop solution. This feature is already being used successfully by BOBST customer Prealpi, helping them to improve setup times and quality control.
A newcomer in the Group is Dücker Robotics. BOBST has reinforced its automation and connectivity streams by acquiring 70% of the equity of Dücker Robotics, a world leader in the use of robots in both loading and palletizing in the corrugated board sector, while offering opportunities in the folding carton industry. The company develops robotic systems for the most sophisticated converting machines.
The technological novelties for corrugated cardboard and folding boxes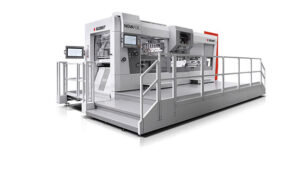 In the folding carton sector, in 2022 sustainability continued to have a positive impact, just as home dinners and take-aways grew further after Covid, which gave a significant boost to the development of folding boxes. Growth opportunities will also increase for 2023, especially in light of the process of replacing plastic packaging with paper packaging, and anyway reducing plastic packaging. We also note significant growth in the luxury and premium packaging segments, in which added value is essential to make a difference.
As regards technologies there are two new features that have been added to the NOVAFOIL, the first inline foil stamping machine from BOBST to offer an advanced cross-foiling option. NOVAFOIL 106 with HOLOGRAM modules answers the demand for security packaging and brand protection on the packaging of almost any product. OACS (Optimal Advance Computing System) calculates optimal foil advance, this feature is available both on the machine and now remotely too.
Novelties also as regards digital make ready: an exciting new tool that projects the original digital layout, helping to connect prepress with production. Best combined with the NOVAFOIL 106 and DIGITAL INSPECTION TABLE FC 106, it assures impeccable print register quality, reduces waste and minimizes downtime.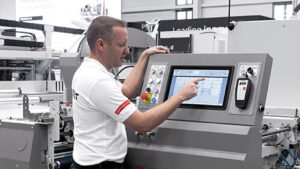 Earlier this year, BOBST renewed its folder-gluer portfolio for folding carton. The new generations come equipped with a host of new features with the objective to enhance the three folder-gluers, increase their productivity and move closer towards the BOBST industry vision of a fully digitalized and connected converting process with maximum automation and sustainability.
Corrugated cardboard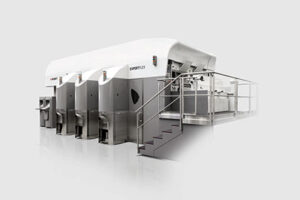 As far as corrugated cardboard is concerned, 2022 saw the demand for packaging for e-commerce and deliveries continue to grow, as well as solutions ready for retail, such as exhibitors, displays, billboards. In 2023, therefore, the growth of paper-based packaging will continue, especially for e-commerce, albeit at a slower pace than in the post-pandemic period.
EXPERTFLEX: Ideally suited to the production of e-commerce solutions and boxes for fast-moving consumer goods (FMCG). Combining the post-printing power with the die-cutting precision of the EXPERTCUT 1.7 I 2.1 flat-bed die cutter, it forms a single, highly automated EXPERTLINE packaging production line, a new, complete solution for high-quality printed and die-cut corrugated board.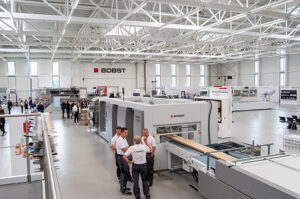 SPEEDPACK updates: new strapping solutions were introduced in July on this high-performing automatic packer, which delivers batches of boxes that are perfectly counted, stacked, banded and ready for palletization. The new solutions increase its versatility, enabling the bundling of boxes with 5-15mm plastic straps commonly used in the corrugated board industry.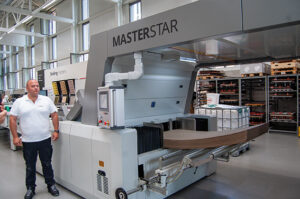 All the efforts put in place by the team of design engineers of the Group are aimed at zero waste production, as demonstrated during the demo which saw the creation of a finished box, starting from a flat sheet printed in offset, the protagonist of a package neutral on the outside and with a wow effect for an "unboxing experience", as requested by customers today, thanks to the inside print. Then from the pdf file, the sheet was printed, and subsequently laminated in the BOBST Packaging Center on a Masterstar equipped with remote video assistance, die-cut on the MasterCut 1.65 PER with the use of TooLink, palletized with the Palletizer 2.1 system and finally folded and glued on the ExpertFold 165 e-commerce with Speedpack, also recently updated, and which can be configured with a strapping unit or with a single, double or transversal wrapping module.