This family-owned company is based in the Netherlands and supplies plate mounting machines for the flexible packaging industry. With over 50 years of experience in the flexo industry, AV Flexologic has always been on the edge of innovation, offering reliable, high quality and performance solutions and has many surprises in store for the next Drupa 2020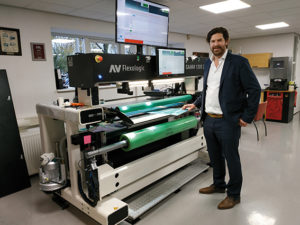 Color Control Group is a privately owned group of companies in the Netherlands and it includes AV Flexologic, that represents the core business of its activities; Tech Sleeves, printing sleeves manufacturer; All Flexo, flexo consumables and equipment; Leapfrog, 3D printers. Due to a high demand and a well-focused strategy, CCG has been growing exponentially.
For AV Flexologic there are three application fields: flexible packaging, narrow web, and corrugated preprint and postprint (flat and with cylinders).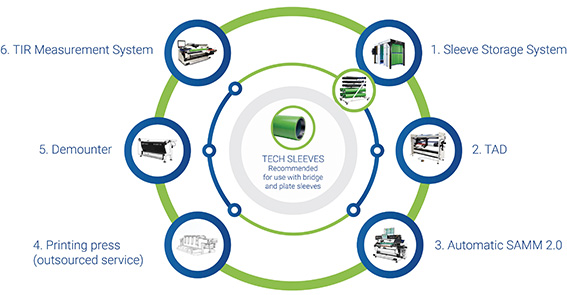 "At our headquarters at Alphen aan den Rijn we have a demo center where we can show customers our equipment. In the beginning, the machines was mainly manual or semi-automatic, but then in 2005, we introduced automatic mounting. Currently, automatic mounters are requested by the market because they respond to the key trends in the flexo industry: higher quality demands; lead times on print jobs are getting shorter and shorter print runs are getting more frequent. These trends demand more from the mounting and prepress department, therefore could occurr problems in register due to mounting mistakes with press downtime, lack of capacity, dependency from operator and low-quality output with consequently customer claims", says Dario Scursatone, Sales Manager at AV Flexologic. The solution for all this is to adopt a fast, accurate and highly repeatable automatic flexo plate mounting, that assures the highest possible accuracy and consistency down to 5 micron per plate; up to 10x faster than traditional plate mounting; 3x faster than 1st generation automatic plate mounting and no operator dependency.
Consolidated experience to offer a wide range for every need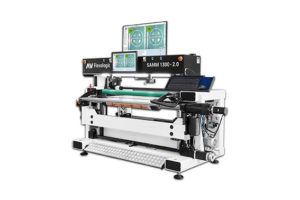 AV Flexologic invented the automatic mounting equipment fifteen years ago, and this makes it the most experienced company on the market. The company installed already over 500 automatic mounters on the market. "I am very proud to say that my father Piet, I and all the staff are dedicated to offering our customers a wide range of solutions that start from the entry-level model to the high range one, and all our machines are reliable and efficient. We improved also the automation level for every machine and we continue to innovate with passion to offer an ergonomic solution too. Our aim is to be the best in technology and customer experience. Customers are central in our product solution development, where we strive to save cost, increase efficiency and quality for them. AV Flexologic aims to deliver highly innovative solutions in the flexo industry. We achieve this by digitalizing traditional workflows in this industry and continuously improving our existing equipment with advanced technologies. At the same time, we have a high focus on increasing our customer's competitiveness and secure their future by inventing and creating new equipment", says Martin Otten, General Manager at AV Flexologic.
The company is explaining to printers that if the press is a big investment, any bottleneck before the printing press is expensive, so adopting an automatic plate-mounting can really change their workflow, increasing both productivity and print quality. This equipment delivers not only incredible quality but also extensive safety performances, besides the machine is basically maintenance-free and extremely simple to use.
"In Italy, we developed a local presence in 2017 and since then we have installed 20 mounting machines, mainly automatic. Here, the growth potential is very high; the assistance is guaranteed by having local representation. In Europe we have many installations at very important companies that trust in our competence and service", declares Scursatone.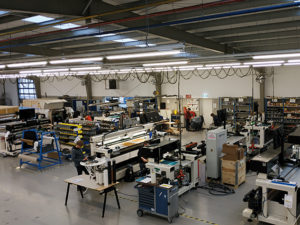 The main models in AV Flexologic's portfolio are the SAMM 2.0,  automatic mounting machine and FAMM 2.0, fully automatic mounting machine.
With the SAMM 2.0, the operator only needs to roughly preposition the flexo plate with the help of the laser pointers. Then, the machine takes over and positions the flexo plate using robotic positioning. Additionally, with the help of motorized cameras and the image recognition software the plate is placed with an accuracy of 5 microns. Then the automatic moving front table automatically mounts the plate onto the sleeve without any operator interaction. The machine features a staggering 30 seconds mounting speed.
With the next-generation automatic mounting speed and accuracy, the results are streamlined workflow, phenomenal consistency and higher operator productivity. The elimination of bottlenecks in prepress and the ability to measure as well as record mounted plate tolerances down to the micron highly improve traceability and reporting and analyzing capabilities.
AV Flexologic offers also: TIR – Total Indicative Runout measurement machine for sleeves that scans and measures sleeve surface using a laser with 1-micron resolution and detects sleeve dimension issues offline vs on press; TAD – Tape Applicator/Demounter, that offers safe, fast and consistent tape application, while it can also be used as a Demounter to safely demount flexo plates and tape from sleeves, without damaging them; manual and semi-automatic sleeve storage system.
Best in class sleeve solutions for flexo
Founded 5 years ago, Tech Sleeves builds on the experience of the sister companies from Color Control Group to increase the customer's printing quality and overall efficiency by combining the experience with innovation in this growing industry.
Tech Sleeves' main focus is providing a selection of sleeves and bridges that are built to last and built to be the best solutions in the market. Each element and each layer of sleeves have been designed and tested to ensure maximum operational performance for most printing press setups.
Sleeve damage and sleeve swelling is a major pain point for many printing businesses. Proper sleeve management and operation are crucial to reduce these issues, but another factor is how the sleeves are constructed and what materials are used that ensure a longer lifespan. In order to reduce possible sleeve damage, Tech Sleeves builds its sleeves with special materials with 5 layers. The high quality hard coated plate sleeve is very light and easy to handle, the wall thickness ranges from 0,8 to 100 mm.
Here the details of the different layers of the sleeve (see figure):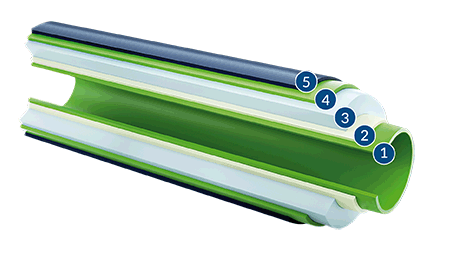 1-The inner layer area is designed to be flexible and expandable to ensure a proper fit on to mandrels. Additionally, it includes Dyneema which is one of the strongest fibers on the planet which adds stability and strength.
2- The foam layer prevents rebound issues during the printing process and allows the sleeve to be resilient from deformation. Furthermore, during fast press runs, this prevents bouncing that could damage sleeves.
3- The core of the sleeve is a fiberglass infused epoxy Vinyl Ester Resin which has extreme stability and flexural strength without deformation.
4 – The outer section is chemical resistant and has great fatigue resistant properties. This reduces the damage that can occur to slight impacts and additionally, sleeves come with a cutting line that means less damage inflicted when mounting and cutting tape.
5 – This compressible layer is for the soft versions of sleeve portfolio. It is constructed with foamed polyurethane which can be adjusted with different shore hardness.
Along with this, a lot of research and development has been done to ensure high durability and easier mounting for press sleeves, which is why Tech Sleeves offers additional features and options:
A full inner metal ring can be inserted to provide the most durable slot solution.
The ends of the print sleeves can be sealed to ensure that the ink doesn't enter the core of the sleeves.
Additionally, a metal cutting line can be added to prevent the print sleeves from damage while cutting tape.
RFID chips and magnets can be added to the print sleeves on request.