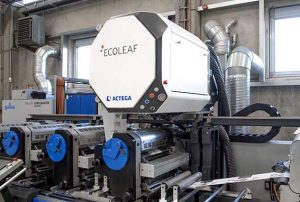 ACTEGA, manufacturer of specialty coatings, inks, adhesives and sealing compounds for the print and packaging industry, is set to showcase its ground-breaking ECOLEAF sustainable metallization technology at Print4All (Hall 9, stand D22). With a range of printed samples on display highlighting the quality and versatility of the finished embellishments, the ECOLEAF experts will be on hand to explain how this solution offers converters and brands much more with less.
Completely eliminating the need for foil, and therefore, significantly reducing waste and utilizing less raw materials for the same output, ECOLEAF is centered on a process of applying and curing precise quantities of metal pigment to create stand-out metal embellishments. This pioneering process not only delivers a more sustainable production model for labels and packaging printers, but also positively impacts costs and production times without compromising quality.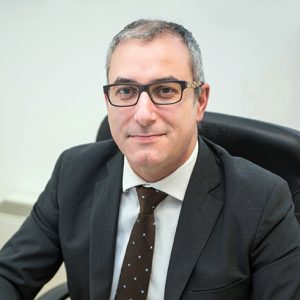 "Initial calculations from ACTEGA's Life Cycle Assessment find that ECOLEAF can achieve a carbon footprint reduction of more than 50 percent compared to cold and hot foil processes," says Paolo Grasso, Sales Director, ACTEGA Metal Print. "When you look at this in a wider context, the benefits become even clearer. 1kg of ECOLEAF flakes effectively replaces 3000kg of foil, which in turn eliminates 20 tonnes of CO2e: the equivalent of planting around 833 trees. A reduction in CO2e like this can have a substantial impact on the average converting business and this in turn supports the brand's objective to employ a more a sustainable supply chain. In combination with the quality achievable, production flexibility offered and economic advantages of using ECOLEAF, businesses can expect increase their competitive edge considerably once decorating their print with ECOLEAF technology."
By removing the economic barriers and sustainability concerns around high-quality metallization, the team behind ECOLEAF expect that the solution could present increased opportunities for printers and brands to feature metallic decorations on their packaging.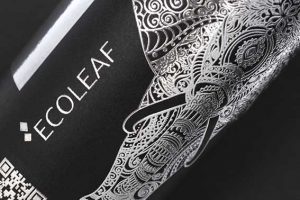 Paolo explains, "Metallic decoration on labels, packaging and other printed applications delivers the ultimate on-shelf impact and immediately evokes a sense of quality and luxury for the consumer. With ECOLEAF, brands can benefit from the power of these embellishments with a clear conscience, opening the door to new opportunities to incorporate them into their print. The timing has never been better for converters and brands to begin maximizing the potential of this transformational technology and we invite them all to join us at Print4All and start to explore the many benefits this solution has to offer."