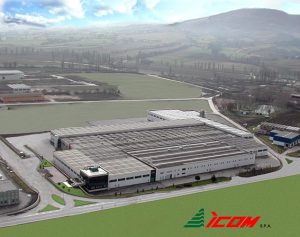 ICOM S.P.A., a leading Italian producer of corrugated packaging, has taken its first investment in its digital transformation journey, purchasing an HP PageWide C500 digital corrugated sheet-fed press. With this new investment in digital technology, ICOM is looking to migrate key volumes from its flexo packaging production to offer its customers advanced digital solutions.
Founded in 1973, ICOM has over 40 years' experience in the printing industry and is considered a top producer of corrugated packaging. It produces a wide range of applications for customers primarily in the food and beverage industry, including Italian brands such as Colussi, De Cecco, Parmareggio and Ariston. The newly acquired press will be installed at ICOM's plant in Perugia in May 2022.
ICOM's migration from flexo to digital printing is part of its plan for operational efficiency and improvement of its sustainability profile, following a growing trend among leading corrugated packaging providers. With the HP C500's robust capabilities, ICOM will offer short to high volume printing runs of sustainable packaging with endless creative possibilities at offset print quality, while saving costs.

"We are excited to collaborate with HP and advance to digital with smart, sustainable and interconnected technology, in compliance with Industry 4.0 principles. In these changing times and increasing demand, the C500 press will allow us to offer our customers a new range of services and to benefit from optimized supply chains, save on costs and remain sustainable", said Tommaso Costantini, Owner and Commercial Director at ICOM.
Designed with environmental care in mind, the C500 will also enable ICOM to deliver sustainable packaging, a key priority for the company as it aims to embed sustainable practices at every level of its production process. With the HP PageWide C500 press, ICOM can print on a range of recyclable materials and reduce overruns and obsolete inventory by printing only what is needed.
"It's exciting to see how ICOM is taking the leap in launching a digital business model in their market with the high-quality output, workflow and efficiency offered by the C500 press", said Danilo Airaghi, Sales Manager Italy, HP PageWide Industrial Corrugated. "ICOM's purchase of the C500 will also contribute to growing their business, meeting new market challenges that require swift responsiveness at a high quality and cost-effectively."
The HP C500 press, based on HP Thermal Inkjet technology, provides offset print quality for a wide range of corrugated packaging and display applications on both coated and uncoated sheets, delivering sharp text and barcodes, smooth tone transitions and vivid colors, for low to high migration volume of litho and flexo jobs. Designed for producing high quality print in demanding production environments, the press prints at 75 linear meter/min (246 linear ft/min) in top print quality with 1200 npi resolution using one million nozzles.
The HP C500 press reduces the cost of manufacturing boxes and opens new business opportunities with digital flexibility, direct-to-board printing, and scaled volume production.
Another key benefit of the C500 press is its use of true water-based Inks, giving ICOM's customers peace of mind that their packaging is compliant with food and sensitive packaging safety requirements such as USDA FDA 21 CFR, Nestlé guidance, Swiss Ordinance, and EuPIA. HP's true water-based ink technology is 100% free of UV-reactive chemicals and enables robust and trusted non-contact printing for both primary and secondary packaging, requiring no additional barriers.