ABC Tipografia is one of the historical companies of the Florentine graphic world, active since 1967, today it is a modern company with about 60 employees, a complete cycle that goes from prepress to packaging of printed matter, passing through finishing and converting, one of the departments that has allowed to this family business to grow in recent years, at such an extent that it is one of the first Italian graphic companies to have projected itself into industry 4.0 with first-rate technological investments, almost all Heidelberg branded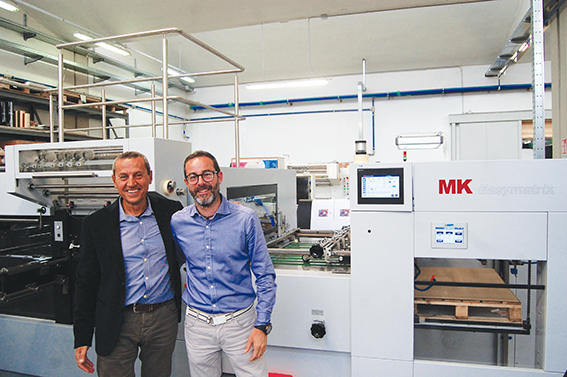 The numbers of ABC Tipografia are of absolute importance and describe a reality that over the years has been able to grow above all thanks to strategic acquisitions of manufacturing companies in the area which have led the company of Aramini and Masi families to acquire specific skills in various areas, from the editorial and commercial one thanks to the acquisition of "Il Poligrafico Fiorentino" to the world of the promotional calendar thanks to "Il Fiorino", up to the more recent annexation of "Cartotecnica BM".
We were talking about numbers, which are those on which the results of a company activity are evaluated and on which are built strategies and paths, and certainly 18 million sheets printed annually, 30,000 plates, 11,000 kg of ink used and 1.3 million finished sheets represent the picture of a reality that has been able to grow and develop in various areas of graphic-cardboard converting sector, with a high-quality service, from the elaboration of graphic files to the delivery of the finished product, in extremely short times and with a price control typical of companies that succeed in managing practically the entire production process internally.
Heidelberg, partner from prepress to converting
One of the first sensations that pervades the visitor when he enters ABC Tipografia for the first time is undoubtedly the great proliferation of grey, and we are not talking about whatever grey, but the classic color that distinguishes Heidelberg technologies. As Paolo Masi, Catia Masi and Alessio Aramini, partners and managers of the company jokingly say, "even the stairs leading from the offices to the production departments have been painted with the same gray as our reference technology supplier".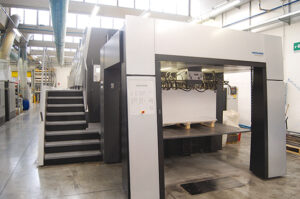 In fact, prepress makes use of Heidelberg's Prinect software for managing the entire workflow, so everything is automated in job management, from plate preparation which takes place with two Heidelberg CTPs, to offset printing with an imposing large format XL 120×160 with 5 colours+varnish, a Speedmaster CD transformed into Led 70×100 with 5 colours+varnish, a classic 4-colour and also a small two-colour 35x50cm, three cutting machines Polar 92,115 and 176, a folding machine, up to the converting departments where they run at full capacity two hot foil die-cutters, a folder-gluer MK Diana easy 115. Virtually the only department not branded Heidelberg is the digital printing department where an HP 12000 50×70 and a Xerox work for production of blueprints.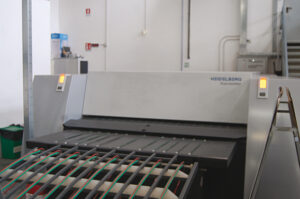 Fashion, luxury, cosmetics but also large-scale distribution, hotel chains represent the main reference markets for ABC Tipografia, even if, as often happens, having a complete and varied fleet of machines available, and therefore not having a specialization on a specific product, the goal is to serve the customer, to do it with quality, promptness and price competitiveness.
Thanks to the new technologies ideal for small batches the bet is won
With the acquisition of the cardboard converting company in 2014, the need to invest to modernize the department was immediately evident. A digital cutting plotter, two for automatic gluing, a laminator were then inserted, which together with the great upstream consultancy work certainly make this market very interesting. "This little case", Paolo Masi tells us, passing one of latest creations through his hands, "was all done internally thanks to Led printing, soft touch varnish always applied on the Led machine, hot stamping and relief on the MK, die-cutting on the other MK and folding-gluing on the Diana, for maximum customer satisfaction", and thanks to these investments in the cardboard converting department, the company has managed to grow in this sector, improving the quality and promptness of its service.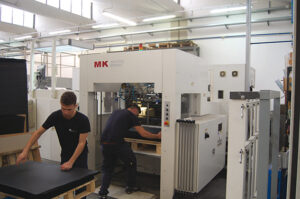 The entry of the first MK with hot foil and die cutting (although not simultaneously) was in fact a bet for ABC Tipografia which did not have any kind of experience on similar machines, but thanks to the historical and consolidated relationship with Heidelberg , and with the precious advice of Lorenzo Ariberti, Postpress Business Driver of Heidelberg Italia, the right configuration of a technology was identified which is not among the simplest if one has no experience in the field: namely hot foil.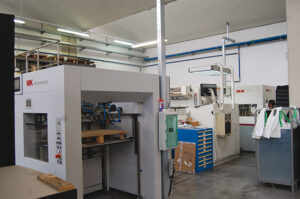 "Although ABC Tipografia was a neophyte in the field of die-cutting and hot stamping, also thanks to the skill of their operators, they immediately started with an extremely complex job, managing to satisfy the customer's request right away", says Lorenzo Ariberti , who then continues, "and last year a second MK was added, an Easymatrix 106 FC to dedicate one machine to die-cutting and another to hot stamping, with the possibility in case of work peaks, to be able to configure both lines for both die-cutting and hot stamping".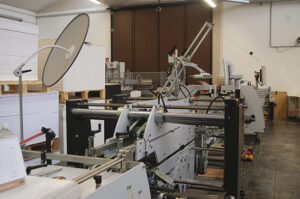 In addition, a Diana Easy 115 folder-gluer was also inserted to be able to glue small quantities of packaging. The characteristics that make them unique are their sturdiness, simplicity of use, reliability and quality. Diana brand has been recognized on the market for many years: "in fact, Mr. Jagenberg started building the first folder-gluers in 1930 and the first with the Diana brand arrived on the market in 1958. Both investments obviously enjoyed the benefits of industry 4.0, entering and completing the workflow of ACB Tipografia", concludes Ariberti.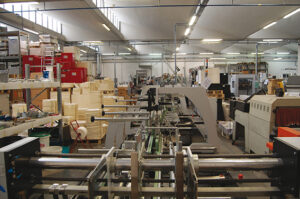 Da un punto di vista tecnico, una caratteristica importante della MK Easymatrix 106 FC è la presenza del ribaltatore dei telai per quanto riguarda la fustellatura a caldo che permette di poter eseguire un cambio lavoro senza la necessità di attendere che si raffreddi la macchina, è dotata di 3 alberi (estendibili fino a 6) separati per l'applicazione della lamina in direzione longitudinale e 1 albero (estendibile fino a 2) per l'applicazione in direzione trasversale. Il tavolo di controllo fuori macchina è dotato di un computer che aiuta l'operatore a gestire le commesse e a calcolare l'utilizzo ottimale delle lamine in base alle tipologie di lavoro. Per quanto riguarda la piegaincolla, il modello Diana Easy è il cavallo di battaglia della MK, viene proposta con una configurazione completa per realizzare astucci lineari e fondo automatico. Una delle particolarità è che il formato minimo degli astucci lineari è 45mm aperto in modo da ottenere una scatola chiusa di 20 mm. L'accessibilità è facilitata grazie al ribassamento della struttura facilitando e velocizzando gli avviamenti, in quanto tutte le operazioni vengono eseguite dal lato operatore. Un aiuto importante viene fornito dal sistema Digiset che durante il setup, guida in modo sicuro e veloce l'operatore. Nel caso di ABC Tipografia è stato scelto un impianto hhs per la colla con tutti i controlli per la qualità. "Anche per quanto riguarda il reparto di incollatura siamo partiti da zero, e devo dire che con il training, i nostri operatori si sono resi autonomi fin da subito, anche grazie all'avviamento semi-automatico che li guida passo dopo passo nelle operazioni da eseguire", concludono soddisfatti i soci sottolineando l'estrema versatilità di questa piegaincolla capace di lavorare sia cartoncino per packaging, ma anche carte più leggere per la produzione di prodotti speciali.
From a technical point of view, an important feature of the MK Easymatrix 106 FC is the presence of the frame tilter for hot die-cutting which allows you to change jobs without having to wait for the machine to cool down, it is equipped of 3 separate shafts (extendable up to 6) for applying the foil in the longitudinal direction and 1 shaft (extendable up to 2) for applying in the transversal direction. The control table outside the machine is equipped with a computer that helps the operator manage orders and calculate the optimal use of foils based on the type of work. As regards the folder-gluer, the Diana Easy model is the workhorse of MK, it is offered with a complete configuration for making linear cases and automatic bottom. One of the peculiarities is that the minimum format of the linear cases is 45mm open in order to obtain a closed box of 20mm. Accessibility is facilitated thanks to the lowering of the structure, facilitating and speeding up start-ups, as all operations are performed from the operator's side. Important help is provided by the Digiset system which guides the operator safely and quickly during setup. In the case of ABC Tipografia, for glue a hhs system was chosen with all the quality controls. "Even for the gluing department, we started from scratch, and I must say that with training, our operators became autonomous right away, also thanks to the semi-automatic start-up that guides them step by step in the operations to make", conclude the satisfied partners, underlining the extreme versatility of this folder-gluer capable of working both cardboard for packaging, but also lighter papers for production of special products.