Last October at Contiweb facility (Boxmeer – NL) many customers and prospects discovered how the company can help to increase profitability in a challenging environment with the Contiweb Thallo hybrid web offset press, that guarantees exceptional printing quality and quick and easy job change, there are already many Thallo machines installed in Europe and USA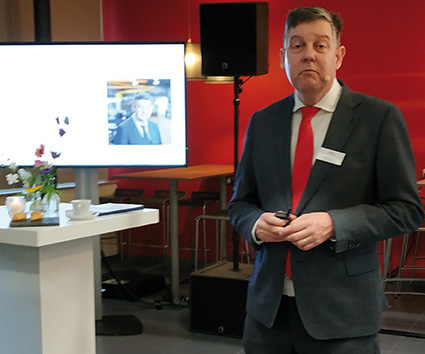 Rutger Jansen, CEO Contiweb, welcomed all guests and recapped Contiweb story: "the company was founded in 1978, and is a renowned specialist in state-of-the-art technologies for advanced drying and web-handling (splicing) systems for printing, after being sold to Heidelberg in 1995, it became part of Goss International in 2004, but in August 2018 became an independent company under the ownership of American Industrial Partners and then H2 Equity Partners acquired Contiweb from American Industrial Partners. The operations are headquartered in Boxmeer (NL), the same year Contiweb celebrated its 40° anniversary; the turnover of our company in 2018 was 52 m Euro and we have 198 collaborators". As regards Thallo technology, foreseeing that web offset technique would play a significant role in label & packaging, Contiweb bought the IP of the Thallo web offset packaging press at the beginning of 2016, because DG press developed the Thallo: Contiweb and DG press have a strong strategic partnership. DG Press is a Dutch company, whose mission is to provide the best services for web offset printing equipment and build high quality web offset printing machines.
With its customer-focused philosophy, innovative solutions and outstanding 24/7 customer service Contiweb has acquired a leading position in the European and North American market and is very successful in the markets of Asia, the Pacific, South Africa and South America.
Exploiting the flexible packaging shift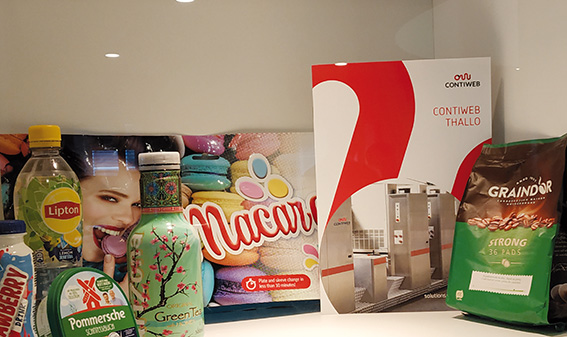 During our visit to Contiweb on the occasion of Thallo Discovery Day, that included also a n interesting guided tour within the factory, we spoke with Erik Andriessen, Marketing Manager at Contiweb.
"It shouldn't come as a surprise that packaging is experiencing a golden age. Rising at a steady 2.9% year-on-year, Smithers Pira forecasts the global market will be worth $980 billion by 2022. The growth of the flexible packaging sector is even more pronounced; with a predicted annual growth rate of 4.3%, by 2022 it should claim a healthy $283 billion share of the near trillion-dollar market". It's clear that packaging becomes more and more crucial: providing an essential billboard for brands packaging must equally be practical and economical for transportation. Food packaging represents the majority of flexible packaging applications. Barrier properties can be tailored to keep food safe and appetizing. Being lightweight and using less material, its more economical to produce and transport. Also the need for convenience is a significant factor in growing of flexible packaging.
"As marketers look for new ways to grab attention and consumers demand more choice, there's a growing SKU count and huge variety in the shape, size and design of products for food and no-food packaging; smaller print volumes are increasingly sought after as each product comes in more varieties, design changes are made frequently, and brands want to reduce warehousing requirements. As the trend continues, printers should consider offset as an alternative to the flexo and gravure industry standards", concludes Erik.
7 colors, process free plates, quick set-ups with less waste and speed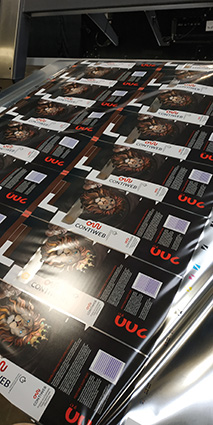 The cloue moment of the event has been for sure the live demo of Thallo web offset machine, that includes seven UV offset units and one flexo unit for solvent- or water-based and UV inks: this demo system will be the first of its kind to be manufactured at the company's headquarters in Boxmeer.
Remko Koolbergen, director and Co-owner of DG press, led the live demonstration showcasing sleeve preparation, speed of job changeovers and the quality of offset printed materials. Demo foresaw 2 jobs: the first printed on a metallized BOPP film, 30 microns, 7 colors (CMYK + PMS 199 + white + OPV) and repeat 24"; the second was printed on an opaque white BOPP IML film 38 microns, 6 colors (CMYK +PMS 199 + OPV) and repeat 20". As regards substrates there is no need for special ones, but just like in other printing technologies, it may be necessary to enhance the substrate tension of the web with a corona treater. This is a Ferrarini + Benelli Corona treater for one-side treatment. This could also be a two-side unit in case you want to print on both sides, for example with a cold-seal or other special applications.
Since these presses are always hybrid, there is no typical configuration and no machine shipped by Contiweb is the same. For the first job print unit 7 was used for applying an overprint varnish. The max printing speed is 400 m/min.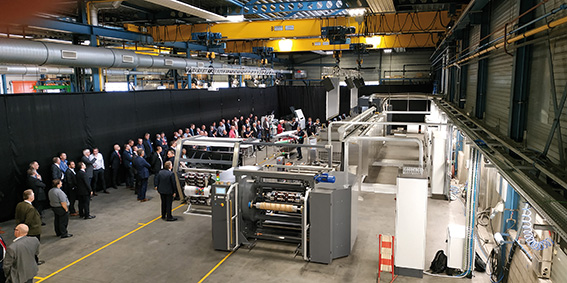 The plates used are Kodak Sonora process-free plates, chosen for functional, quality and sustainable reasons, since these plates do not require processing and they can go on press directly after imaging. One of the biggest advantages of offset printing is the ability to produce plates in-house at very low cost: the plates can be produced within minutes and a produced plate costs less than 10 euro's.
And what about sleeve preparation? Remko explained: "one of the unique features is our web reverse function; when the operator presses the stop button, the web moves through the curing station, the web automatically runs backwards to make sure that when we start up the press, we have reduced some of our start-up waste, on average, this reduces 30 meters of start-up waste each time the operator stops the press". The machine is using a specific sleeve service station from AV Flexologic, as this machine gives the option of mounting both offset plates and flexo cliché's on one single machine.
For both jobs the machine used energy curable, low migration UV offset inks by Sun Chemical. Also EB curing is possible on the machine, an important feature because EB curing is widely used for printing food packaging.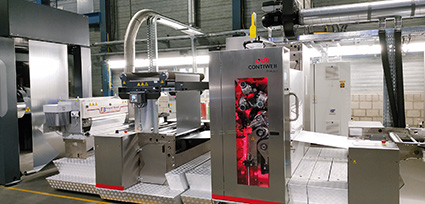 One of the biggest advantages of using energy curable inks is that these inks are 100% solid and have no solvent particle that may be recycled or incinerated. As a result, offset is a much cleaner technology than flexo or gravure. Another advantage of these inks is that you use much less ink as there is nothing to dispose of and 100% of the ink will end up on the printed substrate. This results in a lower cost per m2 of printed film.
For the second job it had been necessary to change material and the machine spliced while the operators are changing sleeves. This was possible because this a Contiweb CD-1100 non-stop zero speed splicer. This unwinds and performs a reel change without stopping the press. This zero-speed splicing procedure guarantees the best reliability in terms of splice consistency as the actual splice is performed in a stand-still situation while the press continues to run.