Evolux is the first important innovation designed and engineered by Ulmex R&D department; it is a concept for laser cleaning of anilox, designed to be integrated into the printing processes, becoming an integral part of the company's production cycle.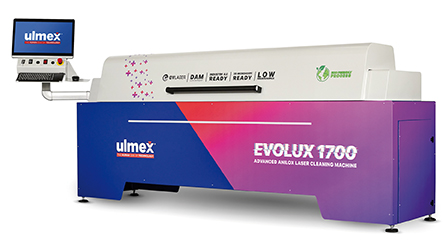 "Evolux represents a real evolution compared to the traditional laser machines currently used for cleaning anilox", explains Alessio Polastro, sales director of Ulmex Italia. "Worldwide, this is the first integrated cleaning and control solution capable of effectively and efficiently managing the cleaning of the entire anilox fleet, applying automated predictive maintenance logics for each single anilox".
The technological heart of Evolux is the exclusive pulsed fiber laser source that also allows you to calibrate the frequency and characteristic of the pulse itself, creating customized cleaning programs. This allows Evolux to remove not only inks, but also more difficult residues such as coatings, adhesives and silicones, solvent, water or UV based. Once the start-up has been carried out through the integrated 21" touch screen monitor, the cleaning process takes place quickly, quietly and fully automated, without any need for operator control and always with the guarantee of maximum effectiveness. In fact, among the many pluses of Evolux laser, there is also the auto focus laser beam which cleans every single cell with equal intensity and energy, ensuring homogeneous results along the whole roller table.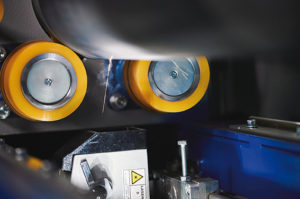 To complete the Evolux process, two equally innovative optional instruments, specifically designed by Ulmex R&D to increase performance. First of all, the 3D microscope, for the first time integrated directly into the machine. A novelty that completes the cleaning process because, in addition to check the outcome, it allows you to examine volume, depth and geometry of single anilox cells, providing important data for controlling their life cycle. All the information collected is managed through the proprietary software D.A.M. (Dynamic Anilox Management). Designed and programmed directly by Ulmex, D.A.M. is unique in its kind: in fact, it allows data relating to the entire anilox fleet of a company to be processed in a few clicks, calculating in advance the achievement of the saturation of the flow rate. In this way it is possible to evaluate from time to time whether to proceed with cleaning or whether to plan regeneration, optimizing time, costs and print quality.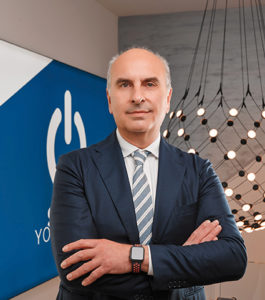 Already available for customized tests at Ulmex showroom in Padua, the Evolux 1700 and 2100 models, respectively for anilox up to 1,700 and 2,100 mm, to which further models for tables of different sizes will soon be added. "Since the first demonstrations we have organized, this new laser cleaning concept has been very successful", says Angelo Maggi, administrator of Ulmex Italy, "as well as the first installations already carried out both in Italy and abroad. All customers who have already implemented Evolux in their production process are appreciating its tangible and measurable results. In particular, the effective restoration of all the available capacity of the anilox after washing that, within certain limits defined by the machine software, translates into improved and guaranteed print quality over time, without making expensive regenerations in advance".
According to Ulmex, the laser represents the future of anilox cleaning, offering the right compromise between efficiency, quality, reduced maintenance and environmental sustainability. The laser cleaning process, in fact, does not require the use of detergents, chemical solvents or bicarbonate, a particularly important aspect, especially for printers who work in the food packaging sector and who have started a green path by focusing on sustainable technologies and materials.