Ferrarini & Benelli has implemented a new lab to test material samples provided by customers, in order to assess the effectiveness of Plasma Treatment. Ferrarini & Benelli is striving to adapt to each and every customer's need, as companies are constantly doing research on new materials, operational methods and their field of application.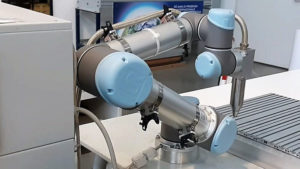 This breakthrough technology has been implemented by Ferrarini & Benelli's team of specialists; they can test any 3D object, plastic material, plastic film, shape and section of material, cable and tube, metal component as well as tick surfaces.
The samples provided by customers are treated with plasma technology; afterwards, Dyne liquid products are used to check the results and the effectiveness of Plasma treatment.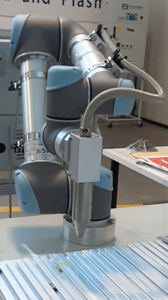 In order to optimize and improve the quality of such results, Ferrarini & Benelli has decided to employ cobots (collaborative robots); cobots are connected to a touch-screen tablet, allowing for the optimization of processes. By using the tablet, the operator can direct the plasma discharge towards the portion of material needing to be treated, also changing the speed according to the material's specifications, the customer's needs and the intended field of application. This test can be carried out on any type of material and every customer's requirement.
After treating the material, the team of specialists can check whether the treatment has been successful by using the liquids to measure surface tension (Dyne Test Inks). The obtained results are analysed and, if the treatment has not improved the samples' adhesion value, the test has to be carried out again, at different discharge powers and speeds.
Moreover, Ferrarini & Benelli, in order to improve the quality of the treatment and to adapt to the customer's specific needs, provides customers with the opportunity to treat the same exact sample with both In Air Plasma and In Air Corona discharge. By doing so, it is easy to compare the obtained results and choose the process best suited to the material's characteristics.
This integrated system designed to carry out tests allows to reduce timescales and determine successfully the treatment's parameters for every application, even the most complex.
A leader in the field of Corona Treatment for 55 years, Ferrarini & Benelli has been also providing customers with In Air Plasma Treatment for well over 10 years. In Air Plasma increases the wettability of polymers, plastic materials, cardboards and metals, also bettering the adhesion of inks, paints, glues and coatings.