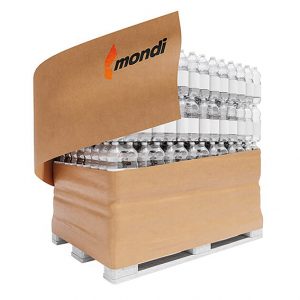 Mondi commissioned a life cycle assessment (LCA) that compared its innovative paper for wrapping pallets, the Advantage StretchWrap, and the more conventional plastic films for wrapping. The entire study was carried out by external consultants, in accordance with ISO requirements, and also includes a critical review. Assuming that both materials are recycled at the end of their useful life, the results showed that Mondi's paper-based solution for wrapping pallets has a lower climate impact, one of the aspects evaluated by the LCA indicators.
The potential environmental impacts deriving from wrapping a pallet are the basis of the comparison. LCA examined 16 indicators in order to highlight potential compromises between the two materials. The evaluation covered all the relevant life stages of the paper, from the acquisition of raw materials, up to the application on the customer's pallet, passing through production. In addition, the impact of the final useful life phase was analyzed.
According to the LCA, Advantage StretchWrap paper has 62% less greenhouse gas emissions (GHG) than virgin plastic films and 49% less GHG emissions than plastic films made with 50% content recycled. Advantage StretchWrap paper therefore has a lower environmental impact than plastic in many other categories such as climate change and the use of fossil resources. In any case, the plastic film has achieved better results for some indicators, such as land use and water eutrophication.
"Given the complexity associated with the choice of materials, we consider independent critical reviews essential to ensure that LCA assessments provide objective and reliable results on the environmental benefits of each material. At Mondi, we bring these results into our decision-making process, in order to remain in line with the commitments made in the MAP2030 sustainability action plan. Customers appreciate our attention to detail and the way we collaborate based on our EcoSolutions approach to develop solutions that are sustainable by nature", commented Karoline Angerer, Product Sustainability Manager Kraft Paper & Paper Bags at Mondi.