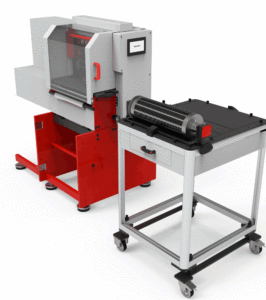 The latest innovation is the PIT STOP die-cutting unit, with this name they want to publicize its die-cutting unit with a die-cylinders change in a matter of seconds.
This new release is suitable for incorporation in a large number of machines thanks to its adaptability and easy integration.
When people talk about productivity it can often be the die-cutting efficiency which is in focus. ​With quick change die-cutting tooling solution it is possible to increase machine productivity by reducing setup and tool change.
It is the only die cutting unit with a quick change system that incorporates the latest version of the E-Diffsystem allowing micrometric control of the depth of cut at all times together with a pneumatic pressure control. Everything controlled from the same panel.