Baldwin Technology Company Inc. and its connected companies, AMS Spectral UV®, Baldwin® Vision Systems and Ahlbrandt® launched a brand new LED curing solution, the latest inspection system, and a range of other cutting-edge technologies.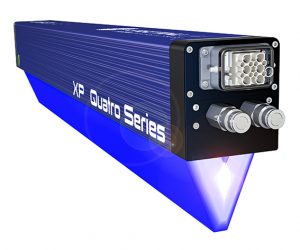 On the opening day of this landmark virtual event, AMS Spectral UV unveiled its new XP Quatro Series™ LED-UV Curing Module. This latest innovation offers a range of new capabilities to increase productivity and access curing at unbeatable speeds, harnessing double the power of standard LED curing solutions. The module is designed to cure LED-formulated printing inks and coatings on sheetfed and web offset printing presses, or larger-format flexo presses and digital print engines. Hosting two large, high-performance LED UV arrays, the Quatro Series delivers double the available power of a standard LED solution at a lower cost than two individual lamps. These features enable to integrate the technology into virtually any analog or digital printing press with ease, further increasing print quality while operating at top industrial speeds – driving increased productivity and profitability. The new XP Quatro Series™ LED-UV Curing Module supports a wide variety of substrates including micro-thin shrink films, corrugated materials, cardboard, paper and metal.
The recently launched Defender 100% Inspection solution by Baldwin Vision Systems will have its European debut just at virtual.drupa. This breakthrough suite of data-connected technologies, designed for wide web packaging substrates, are used to identify, track, and remove print defects. Empowered with valuable production data and detailed print quality reports, printers can improve their processes and put more work through the press.
Visitors to the Baldwin Technologies virtual booth discovered also a new Industry 4.0 cloud platform from Baldwin Intelligence Group. The new technology is designed for connecting and visualizing data from machines and devices in printing, packaging and converting in a way that supports advanced decision-making and improved process stability and comparison, regardless of the make and model of printing equipment deployed at a facility. The IoT (Internet of Things) platform, called AMP (Advanced Monitoring Platform), is available for a wide range of deployments at low cost, and comes included with the acquisition of any Baldwin Technology IoT-enabled product.