Based on a "5R" (Reuse, Reduce, Renew, Recycle, and Redesign) sustainability framework, Sun Chemical aims to help packaging producers and converters to drive their businesses forward in a more environmentally sustainable way.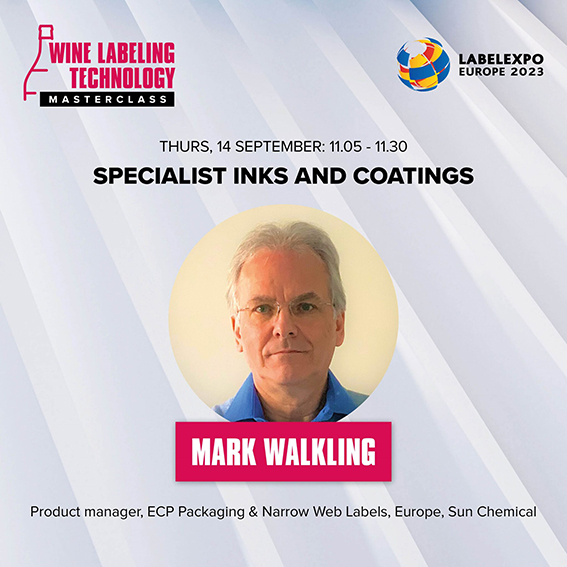 Sun Chemical will also be showcasing solutions to boost efficiency and productivity and will be highlighting key specialty products, as well as its latest digital inkjet solutions. Mark Walkling, Product Manager, Energy Curing Packaging Products and Narrow Web Labels Europe will present a segment titled 'Specialist Inks and Coatings' during the Wine Labeling Master Class on 14th September at 11:05am. Registration is required.
Product solutions on display that enable sustainability will include: the SolarFlex CRCL and SolarWave CRCL deinkable UV and UV LED flexo ink systems, and Solvawash deinking solvent-based inks for crystallisable PET sleeves, which meet APR performance protocols;retention primer, ink and coating systems, including SolarWave UV LED flexo inks, which also meet industry design for recycling protocols; SolarWave FSP UV LED food compliant inks, independently tested and certified as non-ecotoxic, making them suitable for compostable packaging. Samples on the stand will be printed on a compostable pouch created in partnership with Flexprinter, Belgium; innovative UV coatings based on recycled polyester and with high biosourced raw material content; a complete range of flexographic, offset and screen UV LED and Electron Beam product solutions for labels and packaging, including coatings and adhesives.
Specialty Products displayed on the stand will include:a full range of screen inks and coatings for specialty labels, including opaque whites, food compliant, tactile and full matt products, and more; a new range of high-performance SolarWave Panther flexo UV LED black inks; the SunInspire portfolio of special effect products, including MirrorTech, a printable foil replacement solution; ranges of metallics for flexo and offset printing suitable for curing under UV LED and Hg UV for standard and migration-compliant applications; inks for printed electronics / antennas for smart labels and RFID.
Solutions to improve productivity and efficiency will include: adapted dispensing solutions for small and larger converters; SunECG is a unique set of tools and services that enables consistent and accurate digital color communication throughout the entire packaging supply chain. SunECG reduces changeover and make-ready time for multiple print jobs using expanded colour gamut printing.
SunJet inkjet UV, LED and Aqueous inkjet inks for labels and packaging applications can be supplied with maximum shelf life and with reduced environmental footprint and costs. SunEvo is a unique toolbox of analogue-applied primers, coatings and lamination adhesives that enhance digitally printed packaging. SunEvo digital coatings range from bespoke primers for a variety of substrates and printing applications to overprint varnishes, adhesion promoters and lamination adhesives optimised for use in combination with digital inks.
Luminescence, Sun Chemical's dedicated global security solutions business unit, will showcase its wide-range of high-quality security solutions to help protect high-value narrow web applications from counterfeiters.