Juan Cano to lead marketing strategy driving SCREEN's growth in European digital inkjet print market.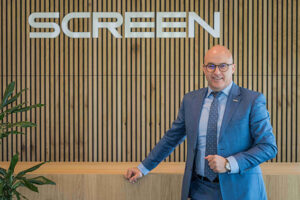 SCREEN Europe has appointed Juan Cano as Marketing Director to help drive continued growth for the leading Japanese inkjet manufacturer in the European inkjet digital print market. Juan will oversee a young and talented international team that focuses on driving the promotion of SCREEN's three main product ranges – Truepress JET for Commercial Printing, Truepress LABEL for labels and Truepress PAC for packaging applications.
As Marketing Director, Cano will spearhead the development and execution of comprehensive marketing campaigns. "In this role, Juan will leverage his deep understanding of the digital printing industry and market dynamics. His expertise in effectively communicating SCREEN's value proposition to key stakeholders, combined with his exceptional public speaking skills, will further strengthen the company's brand presence, perceived image and support its continued growth in the European digital print market," says Akihiro Fujii, President of SCREEN Europe. "We are thrilled to have Juan leading our marketing efforts in Europe," he adds.
Juan will combine his new role with the position of SCREEN Europe's Business Development Director for Flexible Packaging that he has held since 2020. His dual role will provide him with an in-depth understanding of customer needs and industry dynamics, positioning him to drive impactful marketing strategies that deliver measurable results.
Cano comments: "I am honoured to take on the additional role of Marketing Director at a time when SCREEN is not only showing strong growth in its core markets but is also breaking into new ones, like packaging. I look forward to further enhancing our market presence through compelling marketing strategies and am committed to driving customer engagement, strengthening brand perception, and fuelling the growth of SCREEN in the European market."
With Juan Cano's appointment as Marketing Director, SCREEN is well-positioned to solidify its market leadership and continue to exceed customer expectations through innovative inkjet printing solutions and exceptional aftermarket service.