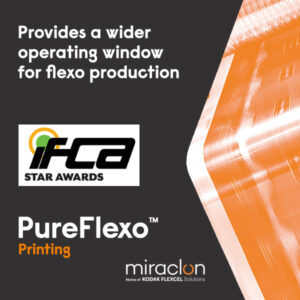 Miraclon has been recognized by the Indian Flexible Packaging and Folding Carton Manufacturers Association (IFCA) in the IFCA Star Awards 2022 for one of the best Innovations and Developments in Printing with PureFlexo Printing. Accessed through the FLEXCEL NX Print Suite for Flexible Packaging, the technology addresses and controls unwanted ink spread to allow a wider operating window – maximizing efficiency, repeatability, and overall performance on press.
"Our judges saw a wide range of new products and technology that can have a big effect on the flexible packaging and folding carton value chain, but from a pre-press and plate technology perspective, PureFlexo Printing stood out because of its potential to make a significant impact on press," comments Mr Chandrasekhar Rajagopalan, President and Treasurer, IFCA. "At a time where businesses are taking an extra hard look at maximizing efficiency and minimizing costs, I would wholeheartedly encourage them to focus on innovation that can make a real impact across the whole production process."
PureFlexo Printing utilizes patented Miraclon technology created by the same R&D team responsible for the invention of the proven FLEXCEL NX System launched in 2008, building upon the innovation Miraclon has brought to the market over the past 13 years. Unique to the FLEXCEL NX System, it brings a wider operational window regardless of line screen, with compound savings from fewer unscheduled press stops each day, reduced downtime and delays, and faster color setups. Designed specifically for wide web solvent ink on film applications, PureFlexo Printing maximizes press efficiency, repeatability and overall performance while enabling printers and prepress providers to experience cleaner print, stable color, and a better financial bottom line for their business.
"We're honored to be the only prepress and plate supplier recognized in this very important award category that signifies the importance of innovations that can have a big impact across the value chain, comments Reid Chesterfield, Chief Technology & Innovation Officer at Miraclon. "With cost pressures felt across all industries around the globe, flexo trade shops and converters are utilizing PureFlexo Printing to address the root cause of issues that result in unscheduled press stops and impact their financial bottom line. For anyone looking at streamlining efficiency across the business, PureFlexo Printing and the plethora of productivity benefits it brings to the production process should definitely be part of their consideration!".