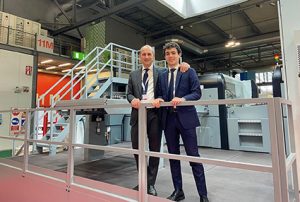 These are the three 'secrets' of Primatech, the well-known Italian company in Perugia, that enjoyed a strong position in the paper converting market for years, producing flat machines for large-format hot-stamping. This family-run company and its team have grown gradually, step by step, always with consistency and strength. The mission of brothers Mauro and Stefano Brozzi is to produce highly functional machines even while being easy to operate.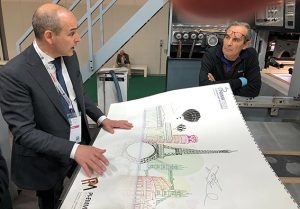 Primatech 140 displayed at recent Print4All fair is the culmination of a project that began 20 years ago and which has been continually updated with latest-generation innovations to make it even more high-performing and versatile. "We want to position ourselves as a technological company capable of designing and building reliable, complex solutions", Mauro Brozzi tells. "The innovations you can see in this machine don't jump out and catch the eye immediately, but are the result of continuous research and, above all, constant communication with our customers."
The innovations take place after the preliminary stages of research and development and before definitive use, when the prototypes are subjected to real, specially developed stress tests carried out by simulating production at the maximum speed enabled by the system, 24/7, for several million cycles. Only when the new component is able to come through this challenging stress test without damage is it made available for use in production.
Many colors for amazing hot stamping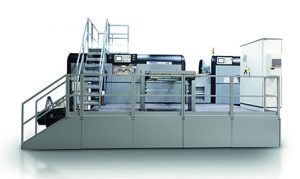 As the European agents for the die-cutting machinery of the historic SBL company in Taiwan, the company also experiences contact with not-Italian firms with a wide range of diversity. It's no coincidence that a demo room has also been set up in the Perugia facility, where customers can not only learn all the secrets of hot stamping but also how to work properly with die-cutters, folder-gluers and binders.
Mauro explains: "you can have an idea of the big potential of this series of machines considering that we print in single- pass three kinds of hot-print typologies: the classical with a flat cliché, a second one with relief cliché and the third with a micro etching cliché".
It is possible to use many colors thanks to the independent commands for the foils. The touchscreen double monitor for commands, the latest-generation electric system, the flexibility in the choice of material, from 100 g paper to cardboard of up to 2,000 g and corrugated board of up to 3 mm in thickness, are just some of the most noteworthy benefits.
What explains the success of this company, whose 20 collaborators produce and install machines that are now recognized and appreciated throughout Europe? The answer appears to be simple: "what guides us", says Mauro Brozzi, "is creativity combined with competence. But above all, it's passion for the work we do. A passion we share with all the team".