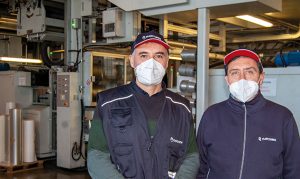 Plastylenia is a leader in printing and converting of flexible packaging for the tissue sector, which represents the core business of this family-run business, with 70 employees, flexo and gravure technologies, a new laminator, 3 slitter-rewinders; the installation of a new flexo printing machine is expected shortly, in order to continue to grow in the packaging sector for tissue and food, dressing customers' ideas with color, as the company claim states
The tissue sector has always represented more than just a job for Stenta family, in fact, as often happened in the past, after a period of experience in a company, the most enterprising and willing people, those who certainly did not lack strategic vision and large-scale time horizons, often embarked on new adventures to become players on the market. And this is exactly what happened for Plastylenia, a company founded 30 years ago by Filippo Stenta, an expert technician and partner of a company that produced tissue products: Filippo thought it was time to make use of the skills acquired in packaging sector and decided to open his own company. We are in Campi Bisenzio, on the outskirts of Florence, a few kilometers from Lucca, where the paper industry, especially tissue, has developed a flourishing business, managing to carve out an important role at European level.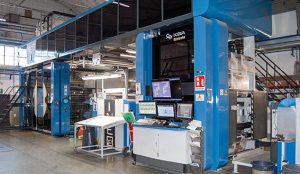 "It all started in a small shed with a small machine, thanks to which my father made the most of the experience acquired, and also thanks to the different knowledge of the sector, he immediately specialized in the production of packaging for tissue sector", tells us eng. Francesco Stenta, son of the founder who today, together with his sister Ilaria, manages Plastylenia, always supported by his parents who are still active in the company.
Plastylenia is now a reality that exports all over the world, achieving a turnover of approximately € 22 million, where tissue packaging represents 80% of production while the remaining 20% ​​is destined for beverage and food sector.
A cutting-edge flexo and gravure printing department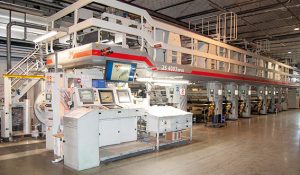 The company was born with the flexographic printing process, over the years it has come to have up to 4 lines in the department at the same time: today there are 2 flexo machines and is foreseen the purchase of a third 8-color flexographic line with printing width of 1300 mm, for both solvent and water based inks.
Plastylenia a few years ago decided to include a Bobst gravure machine in the printing department, thus expanding its offer: with this machine today is printed mainly paper packaging, a niche application, which however follows the market trends that require packaging realized with alternative materials to plastic.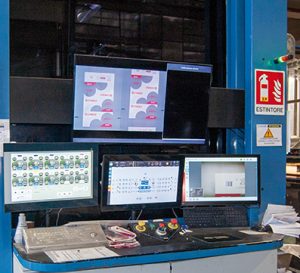 "Paper packaging is undoubtedly a growing trend in recent years, even if for us it represents a small percentage of total production. At Plastylenia we pursue the path of sustainability and recyclability, so whether it is plastic or paper materials, we are always looking for solutions that allow our customers to be able to communicate to the end user that the packaging of their products is recyclable and sustainable. Together with our customer – the brand – we have actually created a product that did not exist before, we have been able to create it both for the great R&D work and thanks to the innovative technologies we are equipped with, even if this paper solution is still rarely used compared to plastic packaging", says Francesco Stenta.
Although flexo printing technology has made great strides in recent years, and Plastylenia firmly believes in this production process, it is true that being able to print in gravure also allows the company to offer very high print quality, even on low thickness flexible films in various sectors.
All Plastylenia printing machines, flexo and gravure, are also equipped with the most modern printing process control systems aimed at guaranteeing high print quality.
A new laminating machine to grow also in laminated packaging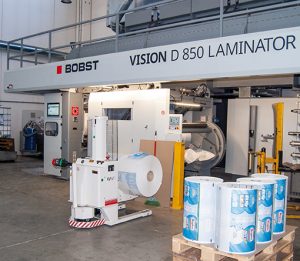 The company has always stood out for a strong propensity to invest in technological but also human resources; beyond the new flexo that will soon arrive in the company, Plastylenia last June carried out and finalized an investment in a new Duplex laminating machine supplied by Bobst thanks to which it opened new and important market outlets, effectively closing the production cycle which is now complete, from printing to converting. The company has also carried out a corporate restructuring, including the figure of Giovanni Sartini, a life spent in the flexible packaging sector, who has taken on the position of plant manager, bringing all his experience in the field of laminated packaging that for Plastylenia are a novelty. With the arrival of Bobst laminating machine in June 2021, specialized personnel with years of experience on these technologies were hired, and the BRC certification was also acquired, necessary to be able to operate in the sector of laminated packaging for the food sector.
Paper – plastic dilemma: the focus is on recyclability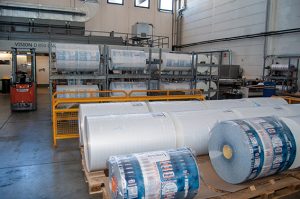 "We have chosen to include laminating and coating Bobst technology and we have done so by equipping ourselves with a particular configuration with gravure group for register coating, which allows us to perform various processes in the field of flexible packaging, using solvent-based and without solvent products, and cold sealing. In particular, considered the market demand to be able to have at least a part of tissue packaging in paper and not only in plastic, after printing of paper on our gravure machine, we insert these webs on the laminating machine to spread a layer of coating, with perfect register, obviously compostable, an indispensable step in order to make sealable the paper", Giovanni Sartini intervenes while with care and a wealth of details he proudly explains this latest investment that has allowed Plastylenia to grow considerably in the last year and a half, thanks to the fact that tissue and food market grew a lot during the pandemic.
"It is true that the market, our customers and above all the final consumers push towards eco-sustainable solutions, and therefore we too had to face this need, managing to find the right balance in processing and the most suitable materials to avoid problems in packing lines; however, it is clear that not everything can be replaced with paper, and therefore the best solution must be found in relation to the product to be packed, without forgetting that the most important thing is that the packaging, whether plastic or paper, must be recyclable at the end of its life", underlines Francesco Stenta.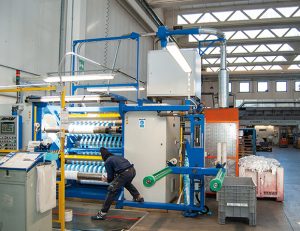 In the cutting department, where there are 3 Bimec slitter-rewinders, a laser perforation system has also been inserted in line on one of these, which performs a pre-cut to facilitate the opening of the pack, an apparently simple process. which however represented an important challenge. Small tricks behind which are Gidden great technical skills, passion and desire to always offer the customer something innovative.
"We will remember this two years period for a long time: today we can say with certainty that from a working point of view it also went very well, even if we must not forget the climate of general uncertainty we experienced; we were able to make two important investments such as the laminating machine and the new flexo machine, and these choices will allow us to face the new challenges with even more awareness of our capabilities", concludes Francesco Stenta.