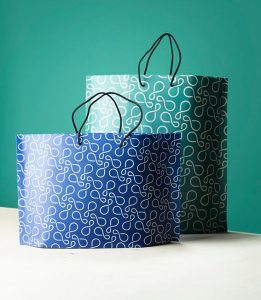 Last June Trends Talks webinar, organized by Easyfairs and Packaging Premiere, was dedicated to Paptic®, a true green revolution for luxury packaging.
Paptic® is a new, one-of-a-kind material, where the main raw material is sustainably sourced wood fiber. It is a new generation, renewable, reusable and recyclable packaging material that allows you to easily replace less ecological materials. Paptic® is pleasant to the touch, resistant, light and distinguishes the brands that adopt it from the competition. With Paptic® it is possible to replace significant quantities of plastic in numerous fields of application in packaging, using this innovative material to make, for example, shopping bags, polybags, envelopes for e-commerce, and for the packaging of products in various sectors, such as for example that of fashion.
But who is the manufacturer of this extraordinary product? Paptic Ltd is a Finnish technology start-up company that focuses on replacing plastic materials in packaging with sustainable fiber-based alternatives. Paptic Ltd was born as a spin-off from VTT Technical Research Centre of Finland was founded in 2015 by Esa Torniainen , Karita Kinnunen-Raudaskoski, and Tuomas Mustonen.
After this interesting webinar we could not miss the virtual open house held also in June: a lot of people from all over the world joined the virtual event to discuss sustainability in packaging and to learn about new Paptic innovations. "The huge participation showed that there is a need to know more about sustainability in packaging and the solutions available today to meet the high responsibility standards set to reduce the use of plastic in the value chain, I'd like to thank all our visitors, guest speakers, and the whole team. We will organize the next online open house by Paptic in 2022″, says Tuomas Mustonen, CEO, Paptic Ltd.
In our next issue of Converter & Cartotecnica  we are going to publish a report about the event and this innovative company, a pioneer in the fight against plastic pollution.