At the event organized last November, Lic Packaging, in collaboration with HP, welcomed around 160 HP customers at its headquarters in Verolanuova (BS), representing 70 companies from all over the world, who were able to admire the HP Pagewide C500 in action, the first installed in Italy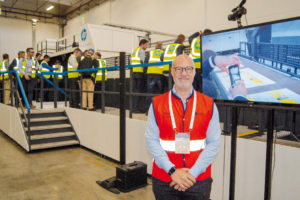 Lic Packaging is an integrated box factory that designs and manufactures boxes and cases for direct packaging and transport, display for sale and display, from raw material to finished product. In 2001, the Spanish international group Saica Group acquired a 20% share of the company, increasing the share capital, and giving new impetus to the company. The customer base is mainly composed by food producers, followed by glass, household appliances, cosmetics and consumer goods sectors. The company was founded in 1952 by Bertoldo family in Verolanuova (Brescia), starting its activity as a traditional typography. Paper and cardboard packaging sector was added in the 60s. The company entered the corrugated board sector in 1991. Today there are 270 employees and turnover in 2017 amounted to 87 million euros; it prints in offset, flexo and obviously digital, also present systems for laminating, die-cutting and gluing, casemaker.
Digital printing as opportunity and differentiation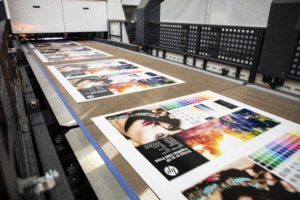 During the open house, visitors saw the two installed digital solutions in action. HP Scitex15500 that prints with UV inks, present in the company since 2015, "just when the market began to ask for digital printing, is used for displays, promotional packaging and prototypes and in general for not-food applications", said Piero Bertoldo, CEO of Lic and a convinced supporter of digital printing. "When we invite customers to see the digital printed folding cartons the wow effect is guaranteed, and with HP PageWide C500 the opportunities that open up are so many; now we have to study with our customers how to make the most of the potential of the new machine, and it will not only be short runs but also longer runs with variable texts and graphics", comments Beroldo.
For Lic Packaging, quality is an absolute must and with the two digital HP installed, there is the guarantee in this sense: "the quality is very close to offset, also we can use coated papers and not with the same excellent results, so we can be in line with the market that asks for products with a natural look but with a good print quality", concludes Bertoldo.
In the company there are also two flexographic machines, a 6 colors Bobst in 6 colors and a 7 colors Göpfert, which will certainly not be cannibalized by digital, but will be further enhanced and dedicated to long runs. This installation demonstrates once again that digital printing perfectly integrates a conventional production, and at the same time Lic Packaging customers can also take advantage of all the opportunities and productive creativity of digital printing.
HP PageWide C500 in detail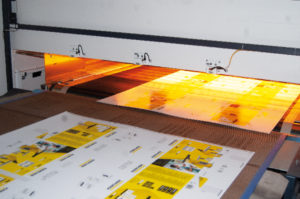 Digital flexibility allows a mainstream production, just in time and just in-case printing, changes at the last moment and the creation of fast and effective campaigns, printing from one to 1000 copies and more, eliminating bottlenecks and reducing waste. HP Pagewide C500 guarantees offset quality without lamination even on uncoated papers, with legible texts, bright colors and consistent quality. In addition, water-based inks can be used for all types of packaging, primary and secondary. HP Pagewide C500 is equipped with a special virtual belt which, by creating a vacuum, guarantees a safe and precise handling of the substrate to be printed; Corrugated Grip, which guarantees a sturdy grip for a uniform production flow on industrial cardboard; printing technology used is thermal inkjet that exploits the effectiveness of a million nozzles and 6X redundancy, thanks to which 6 different nozzles generate the same pixel, however they guarantee a high print quality that is able to obviate even the potential obturation of a nozzle; the thickness of the substrates goes from F to double-wave BC for a print speed of 75 linear meters per minute at a resolution of 600 dpi.
A holistic workflow and an open suite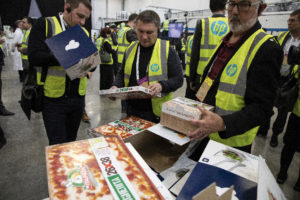 A company that prints and wants to go digital has the problem of managing a large number of orders for short runs and must integrate digital printing while maintaining the efficiency of all production activities. The solution is a holistic workflow to manage orders smoothly but at the same time taking advantage of all the potential of digital flexibility. Ran Lev, HP Product Marketing Manager PageWide Industrial Corrugated, spoke about this: the product is called HP One Package Suite, conceived for all HP Pagewide solutions.
HP One Package simplifies the sending and preparation of orders, allowing converters to take advantage of a wide range of possibilities to create real digital added value, that is solutions to engage consumers and anti-counterfeiting using variable data and univocal ID serialization with HP Link, create many unique products (mass customization) with HP Smart Stream Designer and Mosaic. One Package production management and automation software also improves performance and optimizes the supply chain. The suite supports a wide range of third-party workflow solutions, including MIS and prepress, powerful HP print servers, color management tools and PrintOS cloud-based management applications. The suite provides out-of-the-box connectivity to many "HP ready" MIS systems through the integration of open standard protocols (JDF/JMF) and consulting services. It is possible to automatically start the orders, manage the production queues also changing the print order, check the status of the machine and have real-time information on the consumables.
The One package also includes integration with other vendors' software: ColorGate for color management; Esko for packaging design workflow management, file creation and prepress automation solutions; Erhardt + Leimer for the control of the corrugator for handling of pre-printed materials in digital.
All this because HP wants to allow converters to gradually move to digital and create a streamlined workflow, in fact many users already have workflow solutions, and they need a way to integrate the HP PageWide, for this reason the suite it is open, not proprietary and can grow with customers needs.
A complete range for printing on cardboard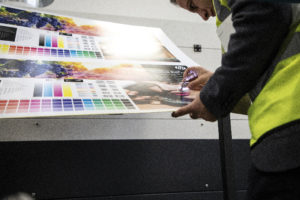 In the graphic field, HP aims to make digital printing of labels, packaging, folding boxes, displays and boxes, even in high volumes, easy and productive. Today all this is possible with the wide range of solutions offered by HP to give value to the product. HP is targeting the corrugated industry with web-based solutions for high-volume pre-print applications and sheet-fed machines that are more suitable for post-print and small and medium-run production of folding cartons and displays.
HP T400S is the entry-level web-fed machine for pre-print applications with water-based inks: there are seven in the world, one also in Italy at Ghelfi Ondulati, and is mainly used for folding boxes and corrugated cardboard boxes. A company uses it for production of paper bags.
HP T11S, pre-press web press with water-based inks: in the world there are five installations, one at Ghelfi Ondulati and soon there will be a sixth in Japan; all used for mainstream production of corrugated folding boxes.
HP HDR Scitex 15500 and 17000 instead use UV technology and produce signs, displays and promotional packaging: over 200 installations in 27 countries, one also at LIC Packaging, make it the most common HP solution for printing on cardboard.
Finally, HP Pagewide C500 for post-print with water-based inks and offset quality, two in Europe (Lic Packaging and Smurfit Kappa in Austria) and two installations already finalized in the USA.