Partner for many Italian graphic companies since 1980, today NTG Digital has expanded its offer with a range of technologies for the digital printed label industry, which can help companies enter new markets without the obligation of high investments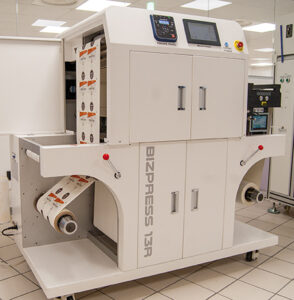 NTG Digital closed 2022 with an open house at Cerro Maggiore (Milan) showroom, focusing on its technological offer aimed at the market of digitally printed labels and in short runs. NTG is always at the side of the graphics industry with cutting-edge solutions, characterized by an excellent price/quality ratio. Today the label sector is very important for NTG Digital, which thanks to the partnership with the English Domino can offer industrial solutions for digital label printing, but also technological proposals for sectors where lower productivity is required with cheaper solutions but able to offer interesting performances, above all for companies taking their first steps in the digital label sector or for label manufacturers that want to improve digital printing activities for short runs, as underlined by Ignazio Binetti, sales & marketing manager of NTG Digital who, together with Carlo Di Noi, founder of the company and the technical staff, welcomed at 3 days-event of December some customers who were able to perform any type of demo with their own works and materials.
BIZPRESS 13R for digital labels in short runs
The first machine presented in the showroom by NTG Digital is a BIZPRESS 13R compact LED single pass solution for web labels using a Xerox engine, printing at 7 meters per minute, in 1200×2400 dpi resolution and 33 cm bandwidth. BIZPRESS 13R can print substrates with thicknesses from 50 to 250 microns (and in some cases even below 50 microns as long as the liner is present), PET, PP, PE and even PVC films as well as Tyvek and Teslin. It also prints on any paper type, even untreated.
Built-in high voltage ionizer prevents static problem. The built-in cooling system and instant low-temperature fusing mechanism allow a wide range of substrates compatibility. The self-adjusting system of the web guide allows perfect alignment of web scrolling. The automatic pneumatic tension control system facilitates web management. The machine is supplied with a very intuitive software for managing even more jobs at the same time and with different profiles.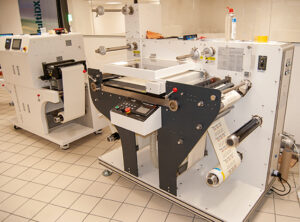 Valloy finishing solutions for every need
Three finishing machines were presented at Label Event by NTG Digital, all by Valloy, a brand partner: Duoblade FX, SX and WXI.
The FX model is practically an entry level, very compact and simple table-top solution for sheet labels, minimum format 210 x148 mm and maximum format 340 x 630 mm, ideal to be combined with a digital printing machine, it guarantees full and half cutting thanks to a small cutting head. This solution is also able to cut and crease cardboard for packaging prototyping or mini productions.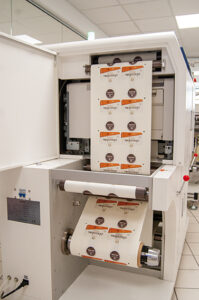 Duoblade SX is the stand alone proposal for web label finishing, it offers a multiblade system, optional rewinder for laminating film, web guide system, automatic tension control, in-line cold lamination, linear cutting, substrates splicing table. The maximum diameter of the processed web is 450 mm, the width of the substrate from 40 to 340 mm and the cutting area is 320×420 mm. Equally compact unit but with great added value, if we consider the small space occupied by this finishing unit.
Finally, the top of the range, the WXI solution, designed for modular finishing thanks to the possibility of adding up to three towers with lamination solutions, rewinder for lamination substrate, matrix removal, cutting, trimming and lamination and the optional web-to-sheet cutting module.
Rotocontrol, the latest addition at NTG Digital
The latest addition to NTG Digital's representations, Rotocontrol, is a German company, part of the famous American group EMT, which designs and manufactures inspection, cutting, rewinding and die-cutting technologies for the label industry. These machines provide a practical and simple operator interface via keyboard and graphic displays with the aid of a touch screen as well as excellent access to all display areas and WEB management. The output tension control is servo controlled with an S-Drive type software interface which supports the widest variety of materials without mechanical reconfiguration of the machine or complicated reprogramming.
The range of machines is available in basic inspection/rewind configurations but can be fitted with numerous modules for advanced features such as integrated vision inspection, semi-automatic towers as well as multiple cutting, counting and sensing methods of the product. Advanced finishing machines are also available with full insertion/registration control, single pass inspection (security applications), in-mould label, booklet insertion, cold and hot foil application and flexo overprinting.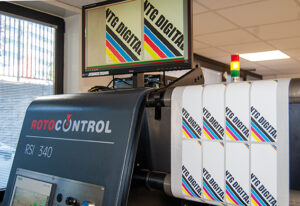 "The line presented at the open house can reach 200 meters per minute, ideal for solutions that require a certain level of productivity, it goes perfectly with the Domino printing machines, another company represented by us. A BST system is also mounted on this Rotocontrol", adds Ignazio Binetti.
BST eltromat Italia is a partner for quality control systems
With Roberto Maiocchi of BST eltromat Italia we deepen the knowledge of the systems mounted on the Rotocontrol line, a partnership already active in Germany between the two companies, and now also replicated in Italy thanks to the collaboration with NTG Digital. "In Italy we support reseller partners and manufacturers on all the opportunities offered by our inspection and quality control systems for printed matter, with specific activities aimed at the end customer. Today the web guide has now become an indispensable piece of equipment and therefore already foreseen by the manufacturer, an optional is certainly the 100% quality control system which is mounted on the finishing line and interacts with the machine to identify and allow the operator to intercept printed matter with defects. Obviously this type of control can also be mounted directly on the printing machine.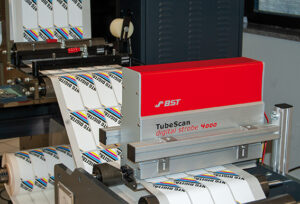 The specific product for finishing lines such as Rotocontrol is the TubeScan Digital Strobe", Roberto Maiocchi tells us. On the Rotocontrol presented by NTG Digital is mounted the high resolution model of the 4000 series. The system captures the image and verifies it with the pdf file which usually comes from the pre-press, in such a way as to have an immediate comparison that the file which has been printed complies with the specifications requested and approved by the customer, inspecting 100% of the production up to a speed of 250 meters per minute. The errors that are identified range from the classic out of register, dirt of various kinds, lack of label, tone deviations and automatically when the system detects a defect, it brings the machine to a stop in a position where generally the operator can check both on the monitor on board the machine and on the specific section of the web, the actual kind of the error and decide how and whether to intervene.
"This system also allows a series of more specific checks, such as for example the decoding of barcodes, variable numbering, specific color checks, distances, positioning and being ideal for both printing and finishing phases, it can be included in a workflow which starting from the pre-press reaches the end of the process, communicating and exchanging data between the various technologies and company departments, for a process under control and to protect the quality of the finished product", concludes Roberto Maiocchi.