Progroup Logistics celebrates its 20th anniversary this year. Since May 2002, the around 100 employees have been ensuring that the supply chain operates smoothly for the family-run manufacturer of containerboard and corrugated board. Progroup also attaches great importance to implementing sustainable measures and saving CO2 in this division of the business.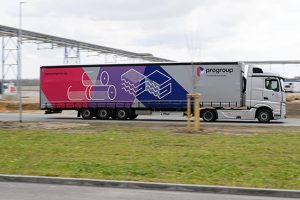 "Progroup Logistics enables us to provide our customers with the flexibility they want at any time. This is only possible thanks to our employees. They ensure that we are reliable and meet deadlines. This is an outstanding achievement – not just when you consider the particular challenges of the last few years, but also in view of the increasing growth of traffic on the roads. I thank them most sincerely for their unwavering dedication," says Jürgen Heindl, founder of the company and CEO of Progroup.
The foundation of Progroup Logistics is a key milestone in the family-run company's success story. With its dedicated fleet of around 60 trucks and long-standing cooperation with established transport partners, it provides the majority of the logistics services for the whole company. Each year the drivers across Germany cover a total of around 7 million kilometres. This is equivalent to circumnavigating the globe around 175 times.
Stabilising the internal supply chain for reliable just-in-time deliveries
With corrugated board, transport is not just the second biggest cost factor, but also crucial for a stable supply chain. The company's own logistics business also provides this internally: The paper factories receive a reliable supply of recovered paper as the raw material, and the corrugated sheetfeeder plants receive the containerboard they require.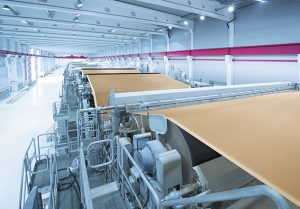 A key element of Progroup's corporate strategy is to lead the way on costs. To ensure that this is also achieved in the logistics sector, the cargo space that exists in the trucks is optimised: Progroup Logistics uses optimised semi-trailers. They have an internal height of three metres and a lifting roof as well as a loading length of up to 15 metres. This means they can transport up to six paper reels, with a width of 3.35 metres and a weight of about four tonnes each. This is equivalent to a total payload of up to 25 tonnes. The overwhelming majority of deliveries to customers are still made by partners from the transport sector. Progroup itself transports around 13 per cent of the products it manufactures. This back-up capacity means the company can guarantee maximum flexibility.
Building blocks for eco-friendly freight transport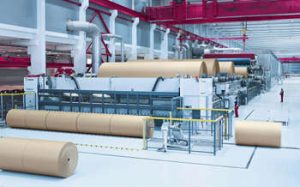 In order to conserve the environment, there is an increasing shift from road to climate-friendly rail transport. This is why in addition to truck journeys by the company's own fleet and the permanently chartered vehicles, Progroup Logistics also organises group shipments in the growing rail transportation segment. "Since 2014, Progroup has been opting for rail as a climate-friendly means of transport. We have so far transported more than half a million tonnes of containerboard throughout Germany and Europe and saved around 12,500 tonnes of CO2 in the process," says Lars Vedder, Managing Director of Progroup Logistics. Shipments are currently made by rail from the paper factory PM2 in Eisenhüttenstadt to among other destinations the company's corrugated sheetfeeder plants in Offenbach an der Queich (Rhineland-Palatinate/Germany); Ellesmere Port (Great Britain) and Drizzona (Italy). The clear objective for the future is to gradually increase the proportion of shipments sent by rail, and to establish even closer links between the plants and the railway.