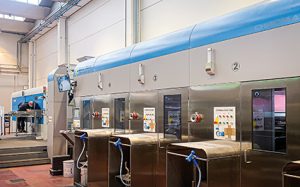 Liner Italia International is one of the leading European companies in the production of pizza boxes and has been on the market for over 35 years. The company has two facilities in Italy, one in Lambiate and one in Ceriano Laghetto near Milan, and a production site abroad, in Romania. Liner has 2 corrugators for the production of raw material, one of these located in Ceriano Laghetto site. In 2017, at Liner headquarters in Ceriano Laghetto, Celmacch Group installed a 4-color Chroma EVO 1700, a machine that is now in line with a Bobst Expertcut* supplied by the well-known Swiss manufacturer. From 2017 to today the machine has produced continuously with great customer satisfaction.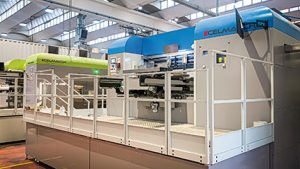 With a view to consolidating in the market, Liner decided to expand its production by installing a second Celmacch machine at the same site in Ceriano Laghetto to feed a new Expertcut flat die-cutter, supplied by Bobst*. Also on this second occasion Liner has chosen Celmacch Group's Chroma EVO line, with left operator side, which allows to work in parallel with the previously installed printing machine.
The Chroma EVO 1700, installed in May 2021, offers an HBL configuration with bottom printing and 4 printing units. The whole line is equipped with direct motor technology and very high precision aspirated transport.
Among the strengths of Celmacch technology is the use of primary quality components and the robustness of the line. Ease of use and reduced maintenance costs are highly appreciated features especially in the case of lines that work continuously on several shifts without ever stopping.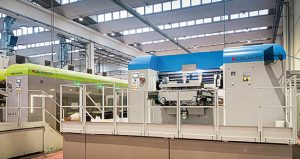 "The installation of two twin lines in parallel is a source of great pride for us as it testifies the satisfaction and loyalty of our customers. This is in fact a clear sign of how Celmacch Group's strategy, oriented towards the quality and robustness of machinery combined with competitive operating costs, produces excellent results", comments Luca Celotti of Celmacch.
*Bobst and Expertcut are registered trademarks owned by Bobst SA and/or its subsidiaries and controlled companies. Celmacch Group is not a manufacturer or supplier of Bobst machines and with this note, aimed at ensuring clarity, Celmacch Group intends to specify that there is no commercial or technical link between Bobst SA and Celmacch Group, which are two separate companies.