The first public showing of the AccurioLabel 400 took place last week at Konica Minolta's European Labels & Packaging Exhibition in Madrid. The official sales start is planned for Q1 in 2023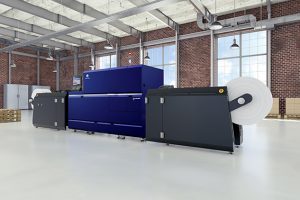 Konica Minolta has announced a new label press, the AccurioLabel 400, to enhance its presence in label, packaging and embellishment markets. Konica Minolta is already European market leader in digital label presses with 26% market share in 2021.
The Konica Minolta AccurioLabel 400 will also be a good addition for AccurioLabel 230 customers who are expanding their own business in the growing markets of label production and packaging. Important new developments include the ability to expand applications with white toner, improved productivity with superfast print speeds of up to 39.9 metres per minute, and further running cost reductions thanks to even more durable parts life, as well as enhanced print quality. It is available in 4- and 5-colour options.
Konica Minolta's Intelligent Quality Care and the new IQ-520 module will increase usability and automation with the AccurioLabel 400, so the control level will be higher. Intelligent Quality Care enables real time control of white toner opacity, colour stability control, as well as automatic calibration, density adjustments and profile creation.
With a main scan capability at 1200 dpi (equivalent to 3600 dpi), the Konica Minolta AccurioLabel 400 single-pass toner production press prints on paper widths up to 330 mm or 250 mm and with media thickness from 81 to 256 g/m². Multiple touch panel monitors in three different areas of the press enable intuitive operation and is easy to use for operators, eliminating the need for extensive training. Tasks that were time-consuming on analogue machines can be performed quickly and accurately in delivering stable printing quality.
This year, Konica Minolta has celebrated a 1000th installation shipment for its AccurioLabel 230 toner digital printing press – less than seven years since entering the labels market.
"The AccurioLabel 400 adds to our broad range of print solutions to enable digital transformation that also include workflow, software and process automation, and cloud solutions as part of the drive to the smart factory, the digitization of the label industry will continue to accelerate with double-digit predicted growth annually. Opportunity is everywhere. It just takes a spark to make it happen. With an estimated 3,000-plus label converters in the mid- and high-volume markets, we feel confident of capturing significant market share with our AccurioLabel 400 that will have an extremely competitive total cost of ownership", said Carsten Bamberg, Business Development Manager, Professional Printing Group at Konica Minolta Europe.