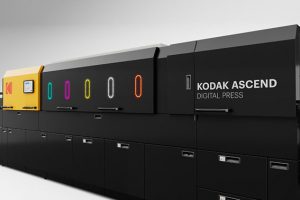 The Kodak Ascend digital press is the first electrophotographic (EP) press designed to print heavy weight substrates at long lengths with CMYK and flat foil embellishments in one pass. It is more flexible than traditional presses and more productive than flatbed inkjet systems, offering production speeds up to 572 sqm/hour. Its large sheet length of up to 122 cm allows the press to offer 23% more print area than a B2 sheet. Kodak's new press is a cost-effective solution for producing retail/POP and packaging applications than traditional presses or flatbed inkjet devices: it will be available in Q2 2022 in North America and Europe.
News also for workflow, varnishing and CtP
With Prinergy On Demand Access, Kodak is introducing an expansion of cloud-based Prinergy On Demand Platform. This new option makes this printing industry software platform affordable for printers of any size, with or without digital presses.
The new Kodak Prosper Digital Varnish is water-based and can be jetted as an area or spot coating to printed packages using Kodak Prosper S-Series or Kodak Prosper Plus Imprinting Systems. The varnish can be applied in perfect register and creates a matte protective layer providing rub and water resistance to paper-based packaging applications.
The Kodak Mobile CtP Control App allows remote control and monitoring of up to 10 Kodak CtP systems, reducing a dependency on onsite labor for managing jobs in queue, status updates. This app provides access to real-time and historical data with customizable reporting to save time on data analysis, help prioritize actions, and improve plate-making efficiency.