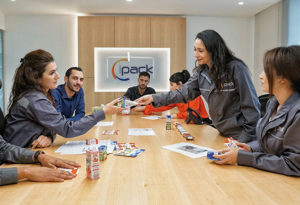 ipack in Abu-Dhabi has been the protagonist of a dizzying growth that in just 3 years of activity has positioned it at leadership levels in the production of aseptic packaging for food sector. There is a lot of italy in this company, starting with one manager, Romeo Bandini, whom we met during last Flexo Day 2019 and technology…
ipack factory in Abu-Dhabi is one of the most advanced in the world, in printing and packaging sector, production efficiency and organization at the highest levels, which have allowed this start-up to compete in the world with a giant like tetrapak. Top production levels, with 2 billion packages produced in 2019 and an industrial model based on logistics, automation, 4.0 approach, data exchange at all levels.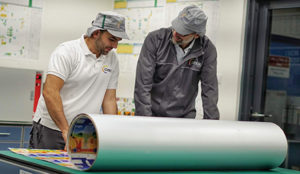 "Our print quality sets us apart. We offer our customers a better product and at the same time a better service, in terms of flexibility. We do our best to engage our customers and turn their ideas and images into reality, while meeting their minimum order size requirements. We have to do this while remaining competitive with chinese and other major global producers.
In our opinion, this was possible thanks to the choices we made in terms of equipment, technology and automation. At ipack we take another step forward to ensure customer satisfaction and in this way we have become the third largest player in the region in a very short time", begins Romeo Bandini, ipack's general manager.
The incredible results of ipack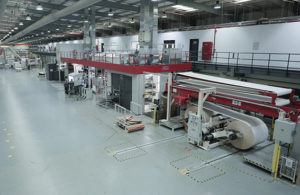 ipack in its first year of full operation (2018) managed to deliver over 1 billion packages. This is a surprising number when we consider that companies that have made similar investments in countries like china and india with a population 100 times that of uae have struggled to achieve such results in such a short time.
A second achievement to be extremely proud of and which gives ipack a competitive advantage is the successful implementation of esko's equinox extended gamut printing, which includes the addition of orange, violet and green). This technology allows images printed by ipack on packaging to appear more natural and detailed and makes colors more vibrant. This was far from easy as the company was among the first and is still among the few to have successfully implemented this technology with water based flexo inks for food.
Another noteworthy result is that in april 2018 ipack obtained iso – 9001 certification for quality, 14001 for environment and 20001 for safety, in may of the same year was awarded the brc certification, finally in 2019 ipack has received the fsc certificate. These are proofs that the company is serious about its commitment to its customers, environment and social responsibility.
Internal processes and strategies for success
"In designing the logistics-production platform in abu dhabi, we were guided by the goal of bringing aseptic packaging to a higher level of quality with cutting-edge technologies", continues Romeo Bandini.
Thanks to the production and logistics solutions adopted, the constant commitment to r&d and a multicultural team with over one hundred years of experience in the aseptic packaging sector, ipack has managed to develop a range of innovative, convenient, ecological and safe food and beverage packaging.
A catalyst project for cutting-edge technology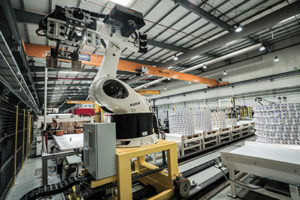 "During the construction of the new abu dhabi factory we have chosen to follow the implementation of value-added technology as a development engine", explains Romeo Bandini, who underlines that it was "a far from obvious choice, in the context of UAE, where investors tend to favor processes that involve a lot of labor over automation. On the contrary, at ipack we decided to follow the path of innovation with the certainty that this choice would generate value both internally and for all our customers".
At it level, there are four software ecosystems that interact within the ipack logistics-production platform. The wms (warehouse management system) integrated by technolog of parma communicates with the enterprise resource planning (erp) system of the company, from which it imports the data relating to the resources to be managed, with the manufacturing execution system (created by autoware-italia) to synchronize with production progress, and with the automatic guided vehicle traffic control software (AGV created by Proxaut-Italia) for the management of the products being processed and the final inventory.
"The use of agv handling equipment compared to traditional ones makes the work environment safer and more efficient and helps to maintain high levels of hygiene, suitable for the type of aseptic product made by ipack. In addition, the solution adopted by ipack is flexible and easily expandable for future needs", underlines alberto benedetti, sales manager of proxaut, the italian company that developed the automatic handling project for ipack.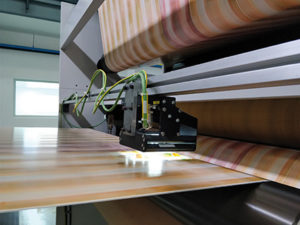 There are currently four agv vehicles operating in the ipack logistics-production platform: two have a capacity of up to 2,500 kg for handling large rolls of raw material and semi-finished products, while the other two have a load capacity up to 1,500 kg and are equipped with forks for handling pallets of raw materials, consumables and finished products.
"To cope with the strong growth that the company is experiencing", says Romeo Bandini, "we are evaluating the possibility of increasing the fleet of agv vehicles.
By purchasing two new vehicles we could achieve a 50% increase in flow management capacity, responding to future increases in volumes with a possible expansion of the production department with the installation of a second line".
The production department is the best business card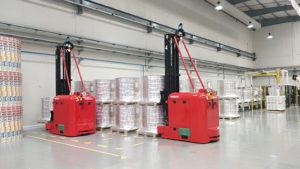 The company's food and beverage packaging production is divided into 4 areas: printing, lamination, slitting and palletizing, for a production capacity that is currently capable of handling about 300 million packages per month, all integrated and interconnected.
"When our customers come to visit us, i notice amazement and admiration in their looks and the approach towards us changes immediately, from skeptical to positive. You can see that they are not used to seeing production facilities like ours and in fact for us our factory is the most powerful marketing tool to successfully promote ourselves on the market", says Romeo Bandini.
The WMS has not only the task of managing raw materials, semi-finished or finished products, but also manages the warehouse of consumables and spare parts, as well as the warehouse, where plates are stored, guaranteeing complete traceability of the clichés also on the level of wear and linear meters produced.
At the center of the printing department works a Uteco flexographic machine, that prints in heptachromy, a choice that fully embraces the production philosophy of ipack of limiting human intervention on production technologies to a minimum.
The machine is also inserted inside this perfect mechanism, automatically fed by the Agvs for maximum achievable performance.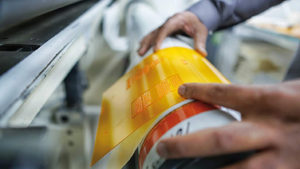 "Our factory is ideal for aseptic packaging production and automation allows us to make fewer mistakes and to focus on quality. We have created a lean organization with a few people mostly engaged in processes to enhance production.
An organization of this kind today is winning on the market if it is able to connect both internally but also and above all externally, towards its suppliers and customers in order to respond to the demands of the market that pushes more and more towards automation and logistics integrated with the production", says Romeo Bandini.
Resisting business challenges during covid-19 pandemic
As we all know, the pandemic has underlined the importance of the packaging sector to ensure that packaged items (such as food and beverages) are safely delivered to final consumers, while maintaining the highest standards of quality and hygiene. Surely ipack's investments in technology and automation together with the extra measures immediately implemented by the management, have been fundamental in preventing any contamination inside and outside the workplace and in maintaining a constant supply of material without leaving any customers behind despite the obstacles and restrictions imposed by the pandemic.
"Special thanks go to ipack employees and shareholders for their exceptional commitment, continued support and flexibility shown in this difficult time", concludes Romeo Bandini.