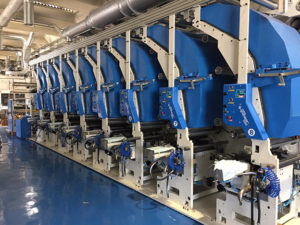 For the first two press machines sold in 2021 in Northern Italy by RCL, the support of I&C-GAMA as a technical partner, in providing viscosity and registry control systems, was important.
They are the RCL ROTOSHAFTLESS 8 colours roto presses of new conception, which benefit from a design with innovative principles that, with a ribbon ranging from 200 to 1100 mm, make the machine versatile and suitable for different uses in the packaging applications.
Compactness, speed and ease of use are the main characteristics of the ROTOSHAFTLESS presses, which have been appreciated in polylaminate printing for capsules used in the oenological sector and in the film printing for the production of sleeves.
I&C-GAMA has installed its well-known G26s on these machines. Viscometer intervention is essential to automatically adjust the viscosity of solvent-based inks, which varies for several factors during the printing process.