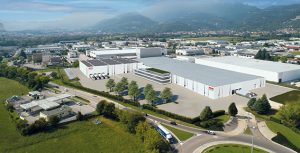 You can breathe crisp air at GPS, a Vicenza-based company leader in the production of shopping bags. The protagonists of the happy moment are investments, including a new modern plant and innovative 4.0 printing and converting technologies, for the paper shopping bag sector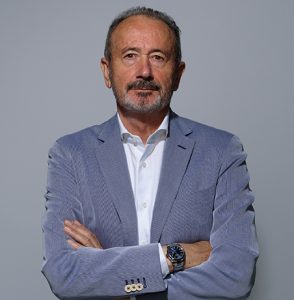 Daniele Grotto, founder and owner of GPS, is happy and proud as he accompanies us to the new production center under construction. An imposing building, in the heart of the industrial area of ​​Schio, which covers an area of ​​48,000 sm. The new production center and all the production lines have been designed in a 4.0 perspective with the aim of having a modern, efficient and safe layout and interrelation between the lines. The new flexo printing department is already taking shape with 5 new Uteco printing machines, which will be definitively operational within the current year.
A significant investment designed and confirmed in the middle of the pandemic, which demonstrates all the courage, determination and strong entrepreneurial spirit of a company, which has never stopped looking to the future.
"In my life – says Grotto – I have always invested in times of crisis, both for convenience, since it is clear that conditions are more favorable, but also for strategic reasons, that is, to be ready to seize new opportunities, that the market proposes again at the moment of re-starting".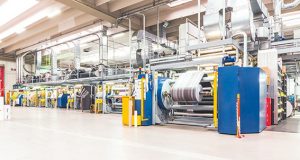 The new GPS plant was born first of all on a project that paid maximum attention to logistics and safety of workers, with extreme attention to the layout of the environments and production lines, so as to maximize the space according to the various departments. A considerable area will be dedicated to the warehouse, with an automated flow of raw materials, up to a well-defined path towards the storage and shipping zone of the finished product. "The warehouse – specifies the entrepreneur from Schio – is an absolutely fundamental department, and too often neglected: it serves the company as a lung and allows not only to manage the normal flow of orders, but above all to always guarantee stock of ready or producible material to our customers, who increasingly ask for fast and extremely flexible deliveries". A real concept of service, learned by Grotto on the field, during an entrepreneurial adventure that is about to turn half a century of history. It was 1976, in fact, when a young Daniele founded his company with his wife and a dozen of collaborators, eager to capitalize on the experience gained over the years of working as an employee at Crocco, a well-known packaging company in the area.
From a garage to taking over the shoppers market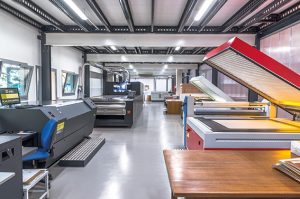 But it was not immediately paper. Today ecological cellulose is the flagship of GPS production, at the beginning it was instead plastic that drove the new company in Schio. "In those days – recalls Grotto – the market for paper bags was not very developed: they were fairly simple products, mostly used in the bakery sector for retail sale. The fuse to start my own business was born when at Crocco we received a request from a foreign customer to produce plastic shopping bags with heat-sealed handles, a product that at that time very few produced in Italy". In absolute transparency and even encouraged by the owner at the time, Grotto began to structure a small company in-house, which in a short time gave way to a small shed. It was a success. For over ten years GPS traveled its own path in the world of plastics, until the opportunity crossed intuition: "the choice to turn towards the world of paper came almost by chance – reveals the industrialist from Schio – when we took on the spot the opportunity to acquire a used bag maker from an Italian company in southern Italy. So we began to serve what is now our reference market and I remember that one of the first orders we acquired was that relating to shoppers for Benetton, which became the main customer, allowing us to grow and gain experience".
Record numbers and high-quality printing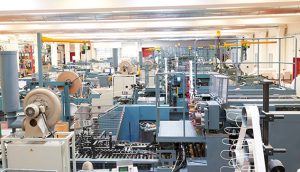 And indeed the company has grown and of course it grows. The numbers of GPS today speak clearly and testify for a company that, thanks to investments in technologies, infrastructures and human resources, is the market leader in Italy: where originates about 50% of its turnover, about € 47 million  last year; the company ha over 200 employees and a very low turnover rate, with several historical collaborators who in an apotheosis of generational change today work alongside their children, handing down work culture and corporate values, because – the sages say – it is important to look ahead, but never forgetting where you started from.
These are the numbers that confirm that production capacity of GPS is truly respectable today: over 2 million shopping bags manufactured every day.
The impressive flexo printing department is also completed by 3 large-format offset lines, because – as Grotto explains – "we have several customers who prefer to opt for this type of printing, for which we also have a dedicated department for converting and packaging shoppers starting from sheet. Most of the orders are made starting from the raw web material, a process that is certainly faster and cheaper than offset. Flexo today, however, has reached such a high level of quality that the difference between one printing technique and the other can only be noticed by an insider".
A complete service, from concept to implementation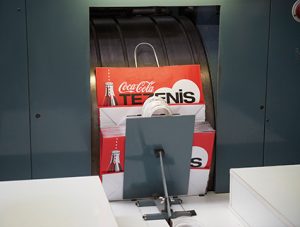 GPS has developed over time with the aim of embracing the entire production cycle of the product. Thus, in addition to printing and converting, the company has an in-house pre-press department to produce flexographic photopolymers, equipped with all the latest technologies on the market. There is no lack of support for the design and graphic creation, thanks to a synergistic network of experts who combine technique and creativity, guaranteeing a complete offer for companies of all sizes, from small retailers to multinationals, always guaranteeing the same philosophy and the same quality.
In a constantly evolving market in which social sensitivity has placed the emphasis on environmental protection, GPS has demonstrated its foresight by carrying out for several years a "manifesto" of innovation from a "green" perspective, which is realized not only in terms of products manufactured, but also in internal policies as well as the energy saving choices adopted today for the new plant.
The continuous research aimed at qualitative excellence has in fact allowed the Schio-based company to develop new product lines, with innovative materials and sophisticated print effects, processed with high-tech machinery.
Not only FSC certified paper, recycled paper, grass paper, but also recycled materials with a view to circular economy. A wide choice of innovative materials combined with glue-free stitching, cotton handles, and prints with water-based inks, give life to unique collections with a green flavor.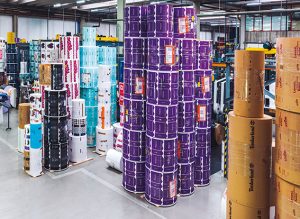 From the point of view of environmental protection and the protection of people, GPS Bags, in addition to ecological investments, has recently adopted a Code of Ethics and a company regulation, based on sustainable conduct to promote a new way of doing business.
An articulated project enclosed in the term "eco-philosophy", thanks to which millions of Made in Italy shopping bags are created every day with respect for the environment and eco-sustainability, while reusable shopping bags with innovative materials pour into markets around the world.
Not long before the arrival of the new year, and starting from the first months of 2022, the whole company will gradually be transferred to the new plant, which thanks to the new photovoltaic system will allow GPS to produce 45% of its electricity needs per year, reducing CO2 production by over 500 tons per year. A new chapter for Daniele Grotto and his collaborators, always ready to embrace the challenges of tomorrow.