The company ITP – Industria Termoplastica Pavese Spa – the italian manufacturer of polyolefin films located in Bosnasco (PV), has renewed its trust in Bimec by purchasing a new single face Slitter Rewinder Model TF60.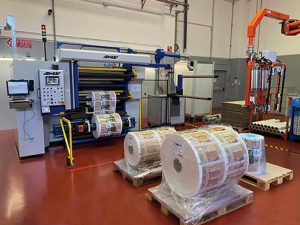 The plant, started-up in March 2021, joins another TF60 purchased in 2018 and other 7 slitters produced by Bimec and purchased by ITP over the last 30 years.
Thanks to the innovative design which allows to contain spaces, the TF single face slitter rewinder represents the perfect fusion between the compactness of the STM50 model and the technical solutions of the TCA Duplex Turret Slitter Rewinder, guaranteeing high performance and a simple and intuitive use by the operator.
The system guarantees quick loading and unloading of the finished rolls and is designed for:
– a double slitting method, allowing to use both razor blades or circular pneumatic knives
– the integration with a perforation device on the back side of the machine
The Slitter Rewinder TF60 unwinds mother rolls up to 900 mm, ensuring at least two raisings with this diameter, rewinds finished rolls up to 600 mm and it can reach a maximum speed of 800 m/min.
"The partnership with Bimec is historic, thanks to them we have the possibility to produce high quality reels for the most demanding markets we serve. The last plant installed, in the printing department, is the twin of another plant already active in the extrusion department. The automatic positioning of slitting allows us to quickly adjust the various sizes and, together with the reel unloading system, we have the guarantee of maximum speed and efficiency. The partnership with a supplier of excellence such as Bimec not only allows to have benefits in terms of time and working methods, but also excellent opportunities for human relations", says Massimo Centonze – ITP CEO.
This strong collaboration confirms once again one of the main goals for Bimec: to establish long-lasting partnerships with its customers, to better follow them and ensure complete and timely assistance both in the consultancy phase and in the post-sales phase.
"There are many of our customers like ITP, who renew their trust in Bimec and continue to choose us over the years. This is the greatest satisfaction for us, not only because it is the result of our continuous dedication to the customers' needs, but also because it pushes us to improve ourselves more and more", concludes Davide Bottoli, Bimec's owner.