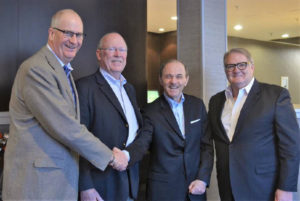 2018 was a year of great success for the expansion of GAMA in North America thanks to the distribution agreement with Pamarco.
According to the agreement, Pamarco promotes and distributes GAMA solutions in Canada, United States and Mexico. It started with this business since the beginning of the year, succeeding in making numerous installations and laying the foundations for increasing the sales of GAMA range of viscometer (G26/29/G30) in a very active and large-scale packaging market – flexible, label and corrugated – in 2019.
Sante Conselvan – Gama International – and Ward Walsh – Gama Americas – have expressed great satisfaction and congratulated with Pamarco President, John Burgess and the General Manager, John Rastetter,  for the great results achieved.