On the occasion of the CIS Association National Assembly held in Asiago (VI) last 17th of September, Fossaluzza, Italian manufacturer of automation and handling systems for the corrugated paperboard industry, had the pleasure of introducing Michele de Vido, son of the current Owner Mr. Tiziano De Vido.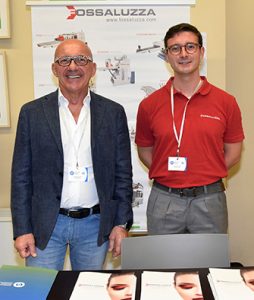 "Top quality is our passion and as consequence the company's mission is to supply the highest level of components and technologies possible, not to mention the quality in the service we offer to all our customers. Outstanding machines performances and strictest safety standards are part of our concept of quality as well", Tiziano De Vido comments.
The company is constantly evolving and has always offered tailor made and innovative solutions, able to satisfy the needs and the requests of each of our customer. In order to maintain a constant evolution, the company continuously invests in the R&D sector. It is exactly in the Fossaluzza's R&D Department that the latest products had been developed and then had been presented in preview to the CIS Association's members.
The CHARLIE Superfast is the automatic palletizer that, thanks to the employment of brushless technology, is able to manage one bundle in only two seconds.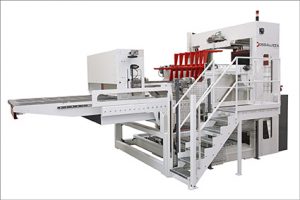 The prefeeder ONE functions with continuous shingling and it's available also on its fully automatic version.
A new NO STOP stacker, able to perfectly stack bundles of half folded boxes.
A double Palletizer, completed with hydraulic bundles breaker for die-cutting line.
A VACUUM STACKER CLEANER that is still in the developing phase and it will be suitable for high-speed die-cutters.
"In addition to these products, we also offer the complete development of handling projects, a service that is continuously evolving and that requires a high rate of customization, being these projects entirely based on the specific requests of every single customer", continues De Vido.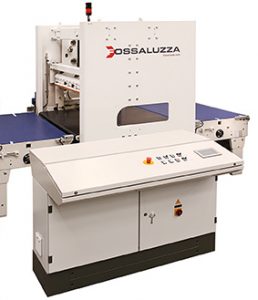 An additional news worthy of attention it's the merger of the Electric and Software Department in the company. Always paying attention to the services offered to the customers, Fossaluzza decided to incorporate in its staff electric engineers, software engineers and electricians in order to be able to supply a direct and prompt assistance.
From a commercial point of view, concerning the Italian market, the company adopts a B2C strategy that does not require the commercial intermediation of agents or distributors.
"Our customers are the best sellers for us, being representatives for new contacts and proud spokespersons of the high quality of our technological solutions", proudly concludes Tiziano De Vido.