On 16th May 2023 OMET held an open house dedicated to printing solutions for flexible packaging at the new Innovation Park, its permanent showroom in Molteno. Over 60 professionals and operators of the sector attended the event with live demonstrations of shrink label flexo printing on OMET XFlex X7. They had also an interesting visit to the flexible packaging printing plant of ACM Spa in Cremosano (CR)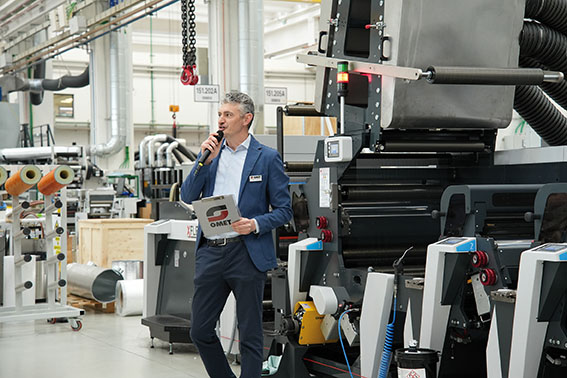 Great success for all activities and events held at OMET Innovation Park, which saw hundreds of visitors in the first few months of 2023. The last event was held on May 16: the "Packaging Printing Solutions" open house, particularly popular for its interesting content and the opportunity to see live demos of shrink labels printing on an XFlex X7 and several Varyflex machines in the production area of a major OMET customer, ACM Spa in Cremosano (CR).
Marco Calcagni, OMET Sales & Marketing Director, opened the event with a speech that remarked the importance of OMET flexibility in production: each machine is set to meet the specific needs of customers, able to develop tailor-made solutions thanks to the experience of the R&D area. This feature differentiates OMET from all printing press manufacturers on the market.
Omet was the first company to move from narrow web to medium web printing technologies and then from the label market to the flexible and shrink-sleeve packaging one. This choice has led the Lecco-based manufacturer to present the X7 platform for flexible packaging in short runs, a solution particularly appreciated by companies that have always used wide web machines, but which rely more and more on these technologies for smaller lots which can also help them penetrate new markets.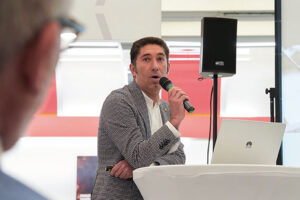 Biodegradable and compostable films for food packaging: Corapack's advice
The open house hosted also a presentation by Fabrizio Radice of Corapack, who focused on new compostable and biodegradable flexible packaging, which are processed with the same printing and converting technologies as traditional materials and therefore can also represent an opportunity for development. Of course, compostable material cannot be considered to replace all applications of flexible packaging. For Corapack, which has an extensive know-how behind it, the ideal application is represented by coffee capsules for which it produces special micro-perforated film filters. Another successful application is represented by packages for fresh foods such as cheeses, which contaminate the film, but anyway packages can easily be disposed of with the organic fraction. As regards the printability of these materials, both solvent and water-based inks are used, the important thing is to adopt pigments that do not compromise biodegradability. It is important to bear in mind that there are limits for products exceeding 2 months storage, it depends on the type of product packed in these packages, and shelf-life times cannot be those guaranteed by a material such as for example aluminum. The ideal is to find the right compromise between food preservation, material waste and packaging waste. Finally, the biodegradable film begins its compostability process only in a special plant and under ideal conditions, therefore as long as the package is displayed on the shelf, the film guarantees its protection and conservation performance.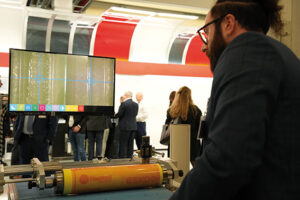 To follow the speech by Daniel Yjord of Flexowash, about the ease of use of plate cleaning machines and anilox washing machines with a live demonstration on Flexowash machines installed at OMET Innovation Park. Silvano Tamai presented Tesa's different solutions for mounting plate, in particular the new Twinlock™, a compressible, self-adhesive sleeve to which flexo plates can be direclty installed. Tony Parsons of Nazdar brought the attention to UV-LED inks for packaging, with some guidance on the use of inks for food-contact packaging.
Printing demo of XFlex X7 and the visit in ACM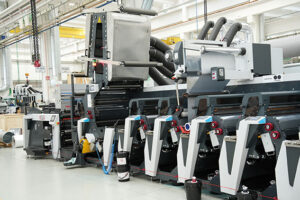 At OMET Headquarters, just a few hundred meters from the Innovation Park, guests attended a printing demo on the XFlex X7, the ideal solution for high-quality flexible packaging and shrink labels. The machine was created to combine the best features of XFlex X6.0 and Varyflex V2. It is a 670 mm wide mid-web press, ideal for plastic film packaging printing from 9 microns thick, thanks to the unmatched technology of the XFlex Line flexo unit, motorized printing pressures and Multivision cameras on each printing unit with on-the-fly register system. OMET X7 printed a heat-shrink label with 3 fabulous facsimile images of packaging from the beverage, cosmetics and spirits sectors in vibrant colors, printed with 8 UV flexo colors, plus cold foil application, soft touch matte varnish with the vertical flexo unit and embossed varnish on the last vertical UV flexo unit.
This job requires perfect stability and flawless print register: OMET X7 printing units are provided with the revolutionary Zero Gears solution that combines direct drive and gearless technology with anti-bouncing capability allowing the highest level of accuracy and perfect register stability even at the highest production speeds.
In the afternoon, a shuttle bus took OMET's guests to ACM plant in Cremosano (CR) to see the flexo printing production department for packaging, with 4 OMET Varyflex presses working. It was thus possible to see how the packaging printing solutions offered by OMET are a real plus for the industry.