Esko will demonstrate to visitors at Fiera Milano (Hall 11 Stand H01-K02) how its software solutions combine to deliver the most effective, state-of-the-art workflow automation and prepress technology for packaging market.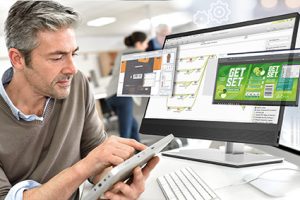 The latest version of market-leading Esko Automation Engine, now available as a Software-as-a-Service (SaaS) model with cloud-based deployment, will highlight the benefits of an automated prepress workflow, while the team will demonstrate the new Flexo Engine module, which merges functionality, automation and a host of features developed to increase prepress productivity.
"We are looking forward to meeting our partners, customers, friends and colleagues in person again at this year's Print4All," said Giovanni Vigone, Regional Business Director MED, Esko.
"With the latest developments to our web-based project management platform WebCenter and the newest additions to Automation Engine and our plate making hardware, Print4All provides the perfect opportunity for us to demonstrate how digitizing, automating and connecting processes can deliver significant efficiencies to businesses.
"Today's packaging converters are under tremendous pressure," he said. "In terms of digitization, businesses face an ever-growing demand for increased accuracy, consistency and efficiency. The adoption of integrated hardware and software to automate workflows, systems and processes delivers the clearest tangible benefit in meeting this challenge."
"Excellence in business performance – the value promise of digital transformation – leads to success by improving operational processes, lowering costs and delivering client loyalty," said Vigone. "By developing technologies that seek to speed up and connect processes and devices efficiently, while eliminating errors and waste, Esko enables packaging converters to meet the challenges of both today and tomorrow, while also reducing waste as much as possible throughout the entire ideation-to-shelf workflow.