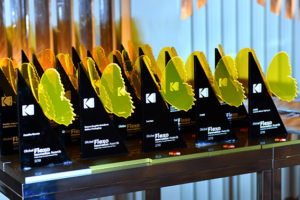 Miraclon, home of Kodak Flexcel Solutions, announces the return of the Global Flexo Innovation Awards to honor companies that are at the forefront of the transformation of the flexo industry. Christopher Horton, former senior vice president of SGS, will chair the independent international judging panel that will comprise experts of flexo industry and CPG (Consumer Packaged Goods) and technical experts.
The first edition of Global Flexo Innovation awards, launched in 2018, received over 200 entries spanning across 26 countries. With high quality considered a pre-condition, the award looks beyond the print sample and recognizes innovations that deliver value across the print production value chain.  Entries had to demonstrate how flexographic printing, Kodak Flexcel NX Technology and their own innovative approach resulted in outstanding achievements in the use of creative design, production workflow improvements, greater use of the flexo print process and commitment to sustainability.
Emma Schlotthauer, Chief Marketing Officer at Miraclon, comments: "The transformation and growth of the flexo industry is dependent on companies that grow their businesses through innovation that impacts the whole supply chain while driving an efficient, consistent and sustainable manufacturing process. The first edition of the Global Flexo Innovation Awards proved that there are a great number of these businesses that have motivating stories to tell. The Global Flexo Innovation Awards not only celebrates these companies, it also helps bring like-minded individuals together and creates a valuable global network in pursuit of the same goals. The next round of the Awards program will further strengthen that network."
Christopher Horton, who was also on the previous Global Flexo Awards judging panel, is excited to again be part of the judging process: "It's great to see what companies around the globe are accomplishing with flexo to differentiate themselves from competitors and bring additional value to their customers. While other awards typically focuses on quality print, the Global Flexo Innovation Awards allows the industry to showcase how they are using flexo technology to be more efficient, reduce waste and leverage environmental benefits, and execute work to a higher level to meet brand and financial needs. It is the perfect platform to showcase the transformation of flexo and the future of the flexo industry."
As an entrepreneur and innovator, Christopher spent the last 30 years of his working career driving exponential gains in company value for the organizations he worked with. He entered graphic industry by founding Advance Printing Products, Inc. (APP) in 1988, and grew the business value to several million dollars before merging the company with Southern Graphic Systems, Inc. (SGS) in early 2001. With SGS, Christopher was instrumental in the company's growth into a Global Graphic Services powerhouse before he retired from SGS in 2015.  He remained active in the graphic sector today providing business optimization and exit planning consulting services.
Entries for the 2021 Global Flexo Innovation Awards will open in June 2020.