Graham & Brown has invested in more "absolute game-changing" Alpha Wallpaper Edition technology from Durst in what has become the central pillar in the international wallpaper brand's drive to total carbon neutral production.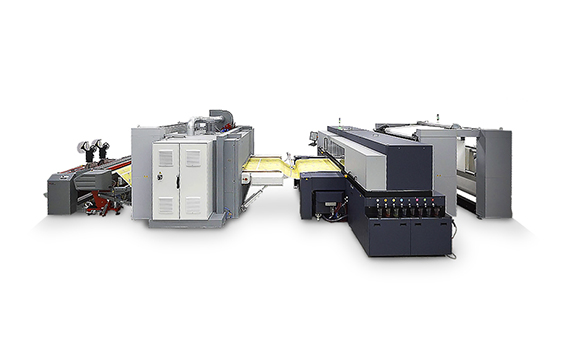 "The potential is enormous," said Sam Dobson, Operations Director for Graham & Brown, of Blackburn, Lancashire, UK. "Digital is an extremely important technology for the wallpaper industry. It's really about print-on-demand, reducing print run-lengths and giving a more bespoke offering to customers. At the moment, this industrial-scale digital production has filled the gap between high run lengths of conventional printing and the low volumes on our previous digital machines."
"We see the Durst as a complementary technology that has many environmental and other benefits. As one example, the main resource we need to power the machine is electricity, and all of that is renewable. For the last year all of our digital production – representing 35% of the Graham & Brown brand offer – has been carbon zero."
Graham & Brown's digital journey ran in parallel with its e-commerce proposition to create unique wallpaper, more flexibility and reduce its warehouse stock by becoming more of a print-on-demand brand to meet evolving customer demands. The installation of the first Durst Alpha Wallpaper Edition production printer in January 2022 was so successful that a second machine was installed a year later.
Martin Winkler, Durst Group wallpaper specialist and Business Development Manager, Textiles, said: "The move to digital production in the wallpaper industry is accelerating as buying habits change. We are proud to have partnered with Graham & Brown as it expands digital printing volumes to provide carbon neutral production, which only digital can deliver. The installation of a second Durst Alpha Wallpaper Edition is underpins our belief that wallpaper has since ceased to be just a 'renovation object' and has now become a lifestyle product with which customers express their individuality and create a feel-good atmosphere."
Durst, manufacturer of digital printing and production technologies, has adapted its digital printing technology in the wallpaper printing to initiate a digital disruption. A shift from conventional printing presses to more sustainable production processes using less water and energy consumption, enabling smaller volumes to be produced inexpensively without warehousing costs is accelerating. Other important drivers are the use of new environmentally friendly materials that are odour-free and can be made from recycled raw substrates.
The Durst Alpha Wallpaper Edition is the most productive digital printing system on the market, with a production capacity of over 1,500 rolls per day or up to 1.2 million linear meters per year. In addition to productivity and outstanding color consistency across the entire print width or run length, total cost of owner (TCO) is also important for producers. This is where Durst has another advantage with its expertise in print quality and ink consumption. With Durst Alpha Pigment Inks, Durst also offers fully water-based inks in eight colors that enable "Healthy Sustained Wallpaper", with a natural and high-quality look.