A true innovation in the sustainable food packaging sector: Dr. Schär collaborated with Niederwieser to develop the first gluten-free bread package in the world thanks to the circular use of certified plastics. Dr. Schär with its leading brand in the gluten-free bread sector, Schär, has relied on the expertise of the food packaging specialist to offer an innovative and sustainable packaging solution, which keeps unaltered the taste, quality and safety of its products.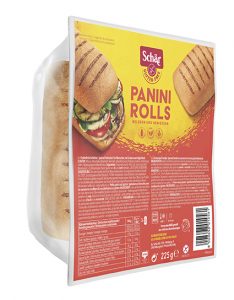 The new sustainable packaging for gluten-free sandwiches, Schär Panini Rolls, will be launched in Europe at the end of the year and produced with an innovative material obtained from the advanced recycling of post-consumer mixed plastics.
"We aim to be at the forefront also in sustainability. And since innovation is at the heart of our company, we have worked to take this big step to offer more sustainable solutions while at the same time continuing to deliver tasty and safe products", says Dr. Schär CEO Philipp Schoeller. "Our partner Niederwieser, with suppliers SABIC and DSM, share the same commitment to sustainability and are working to increase the supply of recycled material. Together we can be among the first to close the circle".
The partnership between the two family businesses Dr. Schär and Niederwieser is based on the common vision of a sustainable future and on the commitment to implement a circular economy. The use of recycled materials is playing an increasingly important role in food packaging. Currently, the recycling of plastics in Europe takes place mainly through mechanical processes. However, the recycled material obtained is not suitable for use for food packaging since contact with food could cause contamination, risk to hygiene and could affect its performance. This is where advanced recycling comes in, making even post-consumer or composite materials recyclable. The available quantity of this kind of recycled material is at the moment very limited, the manufacturing process is more complex, but the quality of the material is comparable to that of virgin material and therefore suitable for sensitive food applications.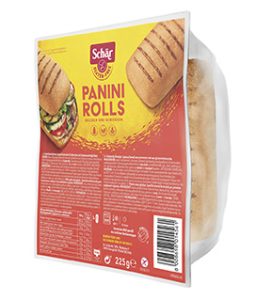 Advanced recycling is still in its infancy, precisely because, although it is suitable for food applications, it is still not readily available due to the lack of large-scale recycling facilities.
That is why Dr. Schär and Niederwieser are even more proud to launch the packaging for Schär Panini Rolls as a pilot product packaged with certified recycled plastic. This is an important innovation in the green path undertaken by the company.
Dr. Schär will be a pioneer in the bread industry, thanks to the innovation of advanced recycling for sensitive food applications, produced and developed by Niederwieser and its extrusion subsidiary VF Verpackungen GmbH. All three partners, Niederwieser, SABIC and DSM, are also certified by ISCC for the use of recycled plastic certified according to a mass balance approach.
"Our efforts are aimed at achieving a circular economy, keeping materials in the cycle and using recycled material", says Hannes Niederwieser, CEO of Niederwieser. He also explains: "Our two companies are linked by a long-standing collaboration However, we do not want to be mere suppliers, but we know that we can grow and achieve our goals only together, as partners. What unites us is a common mission: constant and sustainable development while maintaining the highest quality of our products".