Aria, Systec digital printer for the personalization of paper shopping bags, flat die-cut boxes but also pre-formed packaging, was born from the collaboration with Memjet that supplied the printing heads. A versatile solution that in the next and upcoming developments aims to increase print speeds for an ever-wider range of applications, including flexible packaging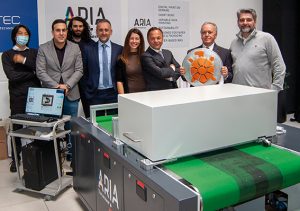 Massimo Caliari, sales manager of SYSTEC, a brand of STI (Societa Tartuca Industriale SA), and Luca Tavella, new head of digital division, happy and excited, together with the staff who took part in the project, officially presented the new Aria digital printer with Memjet Technology printing heads with water-based inks, for the personalization of paper shopping bags, but also flat die-cut boxes and pre-formed boxes.
For Systec, which has always been present in the flexo printing and converting sector with mounting machines, laser anilox cleaners, sleeve-holder warehouses, the time has come to diversify, a strategy strongly desired by Gian Mario Rossi, CEO of the company.
"Our company considers strategic this digital development, and for at least two years we had started studies in this area. Precisely in conjunction with the beginning of the pandemic, the new Aria project went live and involved all company levels for an innovative development, entirely the result of our know-how, from structure of the machine to management software", says Massimo Caliari during Aria presentation event.
This machine was created for overprinting of preformed packaging, such as paper shopping bags, flat or even pre-glued and formed die-cut boxes, but also wooden boxes or any other material capable of receiving the water-based ink used in this new digital printer. Obviously it is also possible to print on coated paper or plastic film, providing a primer on the substrate before proceeding to four-color printing with Aria.
The Memjet printing module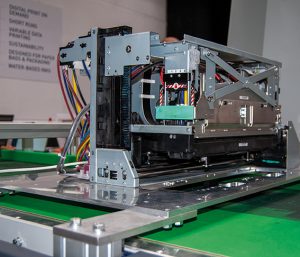 The heart of this new printing machine is represented by the digital inkjet printing head by Memjet Technology, an American company that developed the Duraflex printing module specially designed for this new project. "We are thrilled with this Memjet printing head: the print speed of up to 45 meters per minute with a resolution of up to 1600×1600 dpi is absolutely good for a single-pass digital technology. The printing head is fed by 2 or 10 liter ink tanks placed under the machine that can be easily replaced by the operator. The water-based CMYK pigmented ink is certified for indirect contact with food, therefore suitable for the entire food packaging market", says Massimo Caliari.
STI has developed all the electronic part for managing the distances between the substrate and printing heads, a very important feature in digital printing, on which depends the quality of the final print result. A vacuum belt equipped with suction holds the substrate, ensuring the stability of the material as it passes under the printing head.
As for ink consumption, Memjet has foreseen a cloud-based solution that allows you to monitor ink usage in real time and therefore predict in terms of consumption for each subject. "One of the main advantages of digital printing is the ability to perfectly predetermine the cost of ink for each job. In this way, it is possible to perfectly calculate the break-even of each order, until this solution becomes competitive in the flexible packaging market for small and medium runs", adds Caliari.
The operator interface was also developed internally by Systec, with intuitive and very simple to use graphics. In a few steps you can set the size of the substrate to be printed and you can start production. The machine can be equipped with an automatic infeed loader and output collector, as well as further developments for putting it in line with the bag making machines, so as to create an automatic flow that from web leads to the creation of the customized paper bag. Aria is undoubtedly a technology that can complete a traditional production flow in flexible packaging companies, shopping bags, boxes, but also print on demand, web to print companies, small and large printing centers, in short, all those companies that want to seize opportunities, but which can only become affordable with a digital printer.
Further developments are expected for the new year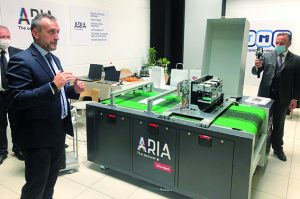 The machine is now available for testing with customer jobs and will be available on the market from January 2022. However, further developments are expected both on the printing head side, to expand productivity with new larger additional modules, dedicated to single colors (also to be able to provide for the addition of special colors, so as to broaden the gamut and also be able to reproduce Pantone colors), and as regards the print format to increase speed and make it an increasingly productive and attractive machine for different sectors and applications.
"We want to handle formats larger than the small printed shopper during the demo presentation of the machine and at higher speeds, up to 350 meters per minute, in order to increase the breakeven point and make it an attractive solution for flexo printers and bag producers, who can see in this technology an opportunity to explore new markets", concludes Massimo Caliari.
Aria is therefore the link between digital and analogue printing, a new horizon for packaging.