From Labelexpo to K 2019, the American multinational Dow is active on several fronts to support the market with new products designed to improve the performance of label converters and with innovative and recyclable packaging solutions, thanks to prestigious partnerships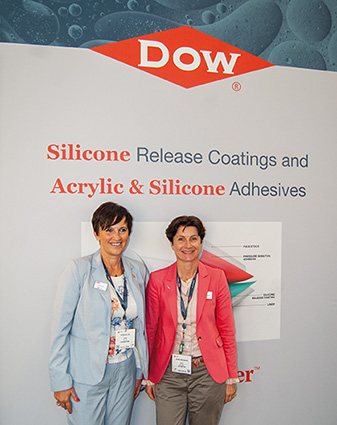 We have followed Dow with interest and curiosity in recent trade fairs. Considering the great clamor that surrounds in this period the players operating in the plastic sector, just like the American multinational, one of the main suppliers of adhesive products for coating for self-adhesive labels and flexible packaging industries.
At both Labelexpo and K, we had the opportunity to chat with division managers, trying to understand from their words which steps they are taking to offer the market quality solutions that can meet the requirements of recyclability and sustainability. Contrary to public opinion, these leading companies are interested in finding solutions capable, on the one hand, of securing economic profit and business continuity, which is also useful for continuing research and development of new products and on the other hand solutions with low environmental impact and packaging designed for recyclability.
New products for the self-adhesive and hYGIENE RELEASE COATING SECTOR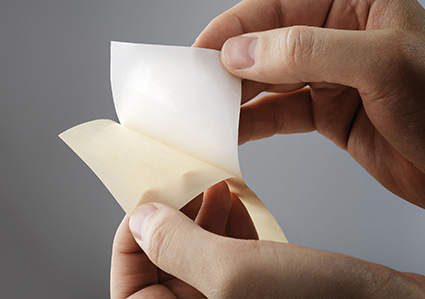 At Labelexpo Dow presented two new product solutions, a coating intended for hygiene applications and a new brand for self-adhesive applications.
"We are happy to be able to share our innovations dedicated to the world of pressure sensitive applications, a strategic sector for Dow and towards which we place ourselves in a service perspective, especially towards our customers, who are increasingly looking for versatile solutions, with a keen eye for costs and sustainability. We presented a new SYL-OFF silicone release coating, developed specifically to meet the needs of more porous paper substrates. This solution allows silicone releaser coaters to use less refined cost competitive paper and less silicone, creating a product at a competitive price", says Meike Wesseling, Global Release Coating Segment Leader at Dow Consumer Solutions.
During the fair, Dow also presented on Silicone Release Coating Technoogy as part of the  Labelexpo Master Class Program.
"At Labelexpo our self-adhesive materials division presented three new products with a new brand, INVISU. These are solutions for film and paper labels, born from the collaboration with some of our customers.
This new range meets stringent food-contact regulations The label market is extremely competitive, with the price battle involving both materials and production processes, so our task is to be able to develop innovative, sustainable solutions that improve the efficiency and production performance of our customers", says Isabelle Uhl, Market Development Manager of the acrylic adhesives division of Dow Packaging & Specialty Plastics.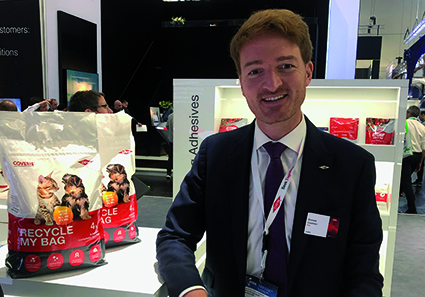 Wide range of innovations for flexible packaging presented at K 2019: The challenge is to design packaging with recycling in mind
At K 2019, we met Romain Cazenave, Dow's EMEA Packaging Marketing Director at the crowded stand in Hall 8, dedicated to chemical companies. Before starting to talk to Romain about the many new products presented for the world of flexible packaging, we cannot fail to notice a sample of a FIFA approved, all-polyethylene artificial turf surface, that we will soon be able to see on soccer fields around the world. This is a concrete example of the commitment that Dow is putting in place to favor the recovery of the plastic material to implement a circular economy. "Our challenge is to think of packaging design with a recyclability perspective, trying to find single-material solutions without compromising the functionality of the packaging. A recyclability that Dow sees both from a mechanical point of view and where not possible, obviously also from a chemical point of view", Romain Cazenave tells us. Mechanical recycling is the preferable solution to be pursued, and Dow has created a network together with European partners for the recovery of polyethylene film that can be used for the internal structure of new packaging, while virgin material must be used for the external structure.
When the material to be recycled is very poor, chemical recycling is carried out, creating a product similar to naphtha, which will be used for the production of new material, guaranteeing anyway a circularity of the material.
Dow at K presented a complete portfolio of solutions designed to be recyclable, thanks to the collaboration with 20 leading companies. 30 packaging projects were presented, polyethylene solutions for different applications, from food to household products and personal hygiene, using Dow resins, coatings and adhesives, using different film production and converting technologies.
Converters and brand owners, in addition to using innovative technologies and materials, can also take advantage of the services and skills of the Dow Pack Studios, where the American multinational offers support in design, testing and validation of polyethylene packaging solutions designed for recyclability.
Dow and Mespack: MONO-material pouches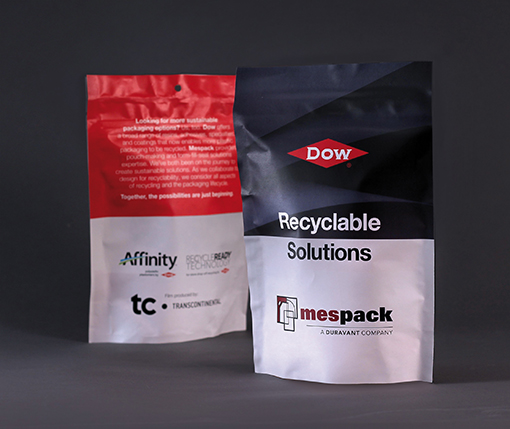 One of these collaborations, in a segment in great development, regards stand-up pouches, led Dow to work together with Mespack, a manufacturer of machines for pouches filling, to develop a product that could be recycled, without compromising the machinability.
The goal is in the medium term, let's say the next 5 years, during which different films and materials will be tested, is to ensure high productivity without compromising the characteristics of this product that is used for children's food, sauces, as well as applications in personal care (soap, shampoo, body lotions…).
The pouch market is huge, 86 million pieces are produced per year, and ensuring recyclability is essential. The first result of this collaboration was presented to K.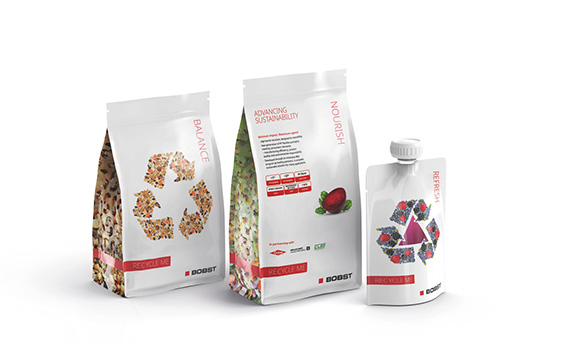 High barrier and recyclable packaging
Dow, together with BOBST, Hosokawa Alpine and Elba, has developed a flexible high barrier, single-material, packaging material designed for recyclability.
The complexity of a solution like this lies in having to incorporate the barrier functions that were usually guaranteed thanks to multi-material structures. Also in this case the solution was born at Dow Pack Studios, starting from a resin for the production of a single-material PE film, recyclable and above all able to guarantee the same performances of a multi-material structure.
"The samples presented to customers during the fair clearly demonstrate the direction to follow in order to obtain single-material, recyclable packaging. We are doing our best to help the market to adopt more sustainable solutions and our future investments will go towards this direction, from which there is absolutely no turning back", concludes Romain Cazenave.