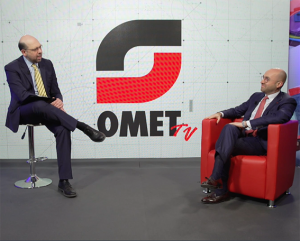 "Being innovative is the key driver, it's essential to find technological and innovative solutions able to properly face the market fragmentation in a flexible way. Digitalization is one of the first answers  that all the different companies in our industry are trying to approach in order to improve their own position". In this way began the speech of Guido Iannone, President M&A of All4Labels (Global Packaging Group) in the first episode of OMET TV, dedicated to hybrid flexo + digital printing for labels.
The episode was published on OMET social channels (YouTube, Facebook, LinkedIn) on June, 10th 2021. The interview addressed some current issues for the printing market: digitization, sustainability, internationalization.
The web series conceived by OMET and led by Armando Garosci, editor in chief of the Largo Consumo magazine, in the first episode focused on hybrid flexo + digital printing for labels, with the welcome presence of Guido Iannone. The interview obtained excellent results in terms of views and contacts. It's visible for free on OMET social channels and on the dedicated website (http://omet-tv.omet.com).
"Digitalization in printing processes is a visible and clear trend for over 20 years – Iannone says about this issue -. All4Labels invested primary in the electrographic technology and then kept enlarging in the last 10 years with inkjet and hybrid solutions, which in my opinion is a fair compromise by combining all the advantages of digital to the conventional technology".
During the interview, the discussion was about technology, production processes, but also and above all about the role of people in this new industrial dimension brought by digitalization.
"Personally, I am very much in favor of what in many calls it "digital humanism" – concluded Guido Iannone – a process in which innovation must be put at the humankind's service. Therefore digitalization and innovation become the means but not the end".
Each episode of OMET TV, broadcasted every 2 weeks, focuses on a specific theme. A special guest will comment current topics and trends in the sectors in which OMET is considered an international leader: tissue converting machines and printing machines for labels and packaging.