Clifton Packaging Ltd. has invested in a new SOMA OPTIMA2 1270-8 EG flexographic printing press and SOMA S-MOUNT 1300 plate mounter. The SOMA machines were installed during the early part of 2021.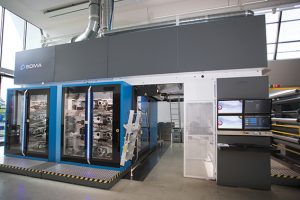 Established in 1981, Clifton Packaging Group Ltd. is a privately owned family business. Clifton specializes in the manufacture of packaging, packing machinery and contract packing, predominantly in the food sector. They offer the latest, complete packaging solutions to meet the very demanding requirements of their customers. Like SOMA, Clifton is dedicated to innovation and development, demonstrated by many packaging innovation and design awards.
The next-generation SOMA Optima² CI flexo press is equipped with new Intelligent Automation features. Print quality oriented Intelligent Job Tuning is SOMA's second-generation Advanced Bounce Control feature, contributing to exceptional print quality. It is a specially designed software algorithm, performed during job set-up, that minimizes the bouncing effect for each design. The Automatic S-Mount plate mounter offers full automation of plate mounting utilizing a precisely defined process. With it, press downtime due to incorrect plate mounting is minimized. Part of S-Mount process utilizes the feature of plate topography and register measurements, which provides the foundation for automatic registration and impression settings on the press without setting waste.
"SOMA offers innovations and unique technological developments that genuinely help customers to be more competitive. We are proud of the installation at Clifton Packaging. It is another step to build SOMA's reputation as a company of excellence that is well placed to meet the evolving needs of the UK and Ireland markets," explains Richard Redfern, exclusive SOMA UK and Ireland agent.