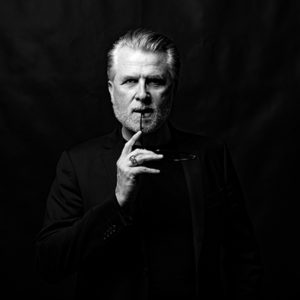 In a few weeks shelves will begin to fill up with panettone and pandoro, a real explosion of colors will illuminate the stores that are the scene of the battle of leavened products for special occasions; Michele Bondani of Packaging in Italy is one of the world's leading experts for these products. Let's discuss with him the strategies that guide confectionery companies to win the competition every year and translate the new trends in the market into projects…
Towards the beginning of November, put down Halloween weapons, it's already time to think about Christmas. Panettone and pandoro are ready to challenge each other with strokes of aesthetics and captivating messages, through prints, finishings, colors and slogans to attract consumer's attention to the dessert par excellence of Italian Christmas period.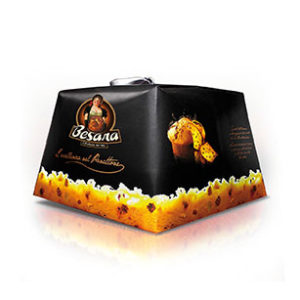 Our column "Strategies in pills" leads us to face with Michele Bondani one of the themes that made him famous among the producers of leavened products for special occasions, and which led him to collaborate with the most important Italian companies in the sector. Who better than Michele can therefore explain to us what is hidden behind the boxes we see every year and what strategies companies and marketing offices study to gain a large part of the company's turnover in a few days.
"The leavened product is the classic two-sided medal, if on one hand everything is beautiful, on the other there are pitfalls that can lead companies to the abyss. I we consider these market players, those who do not have an ongoing product in their family brand make approximately 87% of their turnover during Christmas period.
In Italy, the market players capable of gaining a large part of the customer's trust can be counted on the fingers of one hand, then we certainly find other companies that are positioned below or above this benchmark but which do not have relevant numbers from statistical point of view", begins Michele Bondani.
Panettone and pandoro with a genetic profit packaging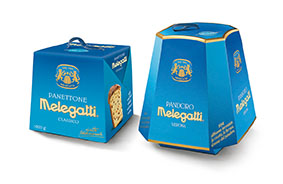 The commonly chosen packaging solution for pandoro and panettone is the classic cardboard box inside which the product is contained in the neutral unprinted cellophane bag. Let's say that the primary packaging role is the one of cardboard box. For both panettone and pandoro we find examples of packaging with genetic profit, these are capable of generating sales and being successful because they are able to bring together the uniqueness of the product, visual, format and structure in a single solution, making it recognizable on the shelf for its uniqueness. In this specific case we are talking about the heat-sealed cylindrical case used by Bauli for the pandoro and the octagonal case with four larger and four smaller sides by Melegatti, two packs that have set a trend.
"Speaking about packaging, the funny thing that got me personally involved with some of these companies with which I collaborate, is the fact that we have tried to choose solutions with genetic profit, that is differentiating from a structural point of view and this represents the first step to avoid getting involved in the mere price battle with all the other producers. Another key decision that is resulted successful was to choose company-specific color codes for each of these solutions. Years ago I collaborated with Melegatti, achieving extraordinary sales results thanks to the creation of a well-defined brand image for all company products, starting from their packaging with the genetic profit of pandoro and also declining it for panettone.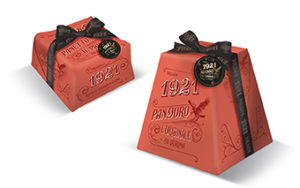 For about four years we have obtained the same striking results by repositioning the Paluani Brand with all the new image coordination, capable of recording +40% and € 2 million more year on year.
Through the color code, from white to lilac, from red to blue, each company has created its own identity and recognition on the market. Let's face it clearly, what was once perceived by consumers as a "luxury" product, since the 90s has significantly lowered its perception, aiming to break into the market with very low prices, in this way a great product lost value.
The great success of niche products
In recent years, therefore, new market situations have arisen, which have seen more and more quality panettone and pandoro placed inside Christmas baskets, always and in any case with an industrial point of view, while from the artisan point of view there was a significant boost in pastry shops and small productions capable of giving this extraordinary panettone dessert its deserved role of "King of the Christmas holidays", and showing off very beautiful packaging solutions, customized even in small quantities thanks to digital printing and converting technologies.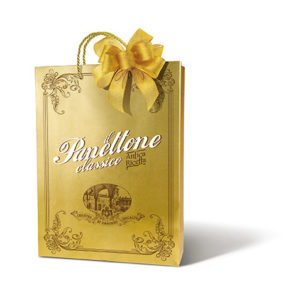 "A beautiful case history about the niche artisan product concerns a Sicilian company that is the protagonist of a co-branding action with Dolce & Gabbana, which created a traditional panettone, also inserting a Bronte pistachio spread cream and positioning the product at high pastry levels and therefore also at boutique prices, creating a unique product in its kind and building around it an aura of uniqueness and typicality, just what the consumer is looking for in a niche product: panettone has been successful, even in an area of Italy where the cult of this dessert is not lively as in Milan", adds Michele.
The problem of seasonality: with vision and strategy it is possible to guarantee continuity and presence throughout the year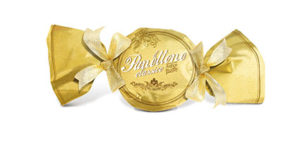 Generally speaking, one of the main problems that the recurring leavened products industry has always faced has been linked to the seasonality of this cake, on the contrary abroad it is considered a product to be consumed during the whole year.
Therefore, if these confectionery companies recorded about 87% of turnover during Christmas period, the remaining 13% is achieved at Easter with doves, effectively linking the commercial activities with all the risks related and connected to only two moments of the year.
"Well-structured companies, managed by high-level managers such as Bauli, understood that in order to secure a future they would have to create market spaces in other sectors and have therefore created products for breakfast, snacks and so on.
Balocco, another very well managed large company, decided a few years ago to embark itself on a biscuit adventure.
Today Balocco, thanks to a far-sighted strategic vision, is recognized on the shelves not only during Christmas period, but also at breakfast with biscuits or snacks used by children of millions of Italian families".
Today, those who work in anniversary products, including for example the world of chocolate which is not on the shelves for about three/four months a year, need to strive to be able to sell for twelve months a year.
Christmas 2020 in the name of naturalness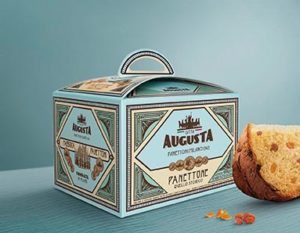 "As for the packaging, the shelf in the Christmas period is certainly much richer in references but also and above all in terms of packaging, with bright colors, perhaps too redundant where everything is led to excess. Today the consumer no longer accepts all this and sustainability is increasingly the element that must guide companies in their choices.
Banned not-recyclable materials and all that unnecessary excess of packaging, I believe that in the end the consumer will reward the product with less impact on environment and in image but more credible in its substance.
Also from a graphic point of view we will see more sober packaging, dominated by white, for a more natural Christmas, Swedish type to be clear. I believe that we insiders are also called to a task that is not simple but fascinating, bearing in mind that today the industry is perhaps more willing to listen to our advice than in the past", concludes Michele Bondani.