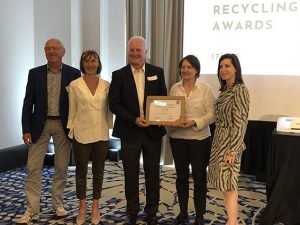 CELAB Europe has won the 2022 European Paper Recycling Award in the Information and Education category. The award was presented on the occasion of the Paper Packaging Day event, held on 29 June in the Renaissance Hotel in Brussels.
The award competition is organized by the European Paper Recycling Council (EPRC) which was set up as an industry self-initiative in November 2000 to monitor progress towards meeting higher paper recycling targets. These are set out in the European Declaration on Paper Recycling first published in 2000 and renewed every five years since. The current target for the declaration is set to 76% paper recycling by 2030. FINAT, the association hosting CELAB-Europe, is also a supporter of the Declaration.
The European Paper Recycling Award was created specifically for projects and initiatives that raise awareness on paper recycling and the winner is chosen based on four key criteria: relevance and originality, achievements, possibility to reproduce the project and cost effectiveness. The competition is open to all entities based in Europe including schools, universities, NGOs, national and regional authorities, companies and associations.
CELAB Europe was set up in March 2020 as joint industry initiative with the aim to build a circular economy for self-adhesive label materials in Europe. It is a collaboration of the whole self-adhesive label value chain to allow stakeholders to collect and recycle their used release liner and matrix material. The goal of the initiative is to have more than 75% of the used release liner and matrix to follow a circular business model by 2025. The consortium has set up different
workstreams to enable industry collaboration on the collection of data, identification and classification of recycling solutions, broaden the logistics network, understand and influence the legal and regulatory framework as well as to inform and educate about outcomes of the work done within CELAB.
Membership of CELAB is open to members and stakeholders of the label value chain, as well as label users, logistics and recycling companies. CELAB Europe is part of a global consortium which also includes a sister initiative in North America. Other branches/regions (like China and Latin America) are under discussion. . Currently, the consortium counts 36 members in Europe. CELAB Europe is hosted by FINAT, the European label industry association.