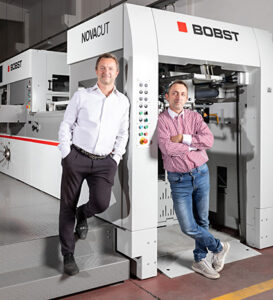 A historic company located in Bologna area, Cartotecnica Naldi has been on the market since 1935. Today at the helm of the company are Alessandro and Gabriele Zanetti, sons of Rino, who took over the entire ownership of the company in the 1970s. With the purchase of the first BOBST in the mid-70s, the company started a partnership with the Swiss manufacturer who became the main technological point of reference for this small and dynamic converting company which last September successfully installed a new NOVACUT die-cutter
Cartotecnica Naldi has always been in the sector as a subcontractor, after the last restructuring that took place recently, it is managed by Zanetti brothers, Alessandro who represents the technical soul and knows his machines like the back of his hand and Gabriele who takes care of commercial activities. With about twenty collaborators, Cartotecnica Naldi is a point of reference for the whole Emilia area, supporting the numerous graphic companies for which the subcontractor from Castenaso (Bo) is a competent and reliable partner for all die-cutting and folding-gluing needs of cardboard packaging in a range from 80 grams to microflute cardboard.
Particularly attentive also to the environmental aspect, in addition to technological updates, which in any case allow for better production with lower costs, Cartotecnica Naldi has also recently invested in a photovoltaic system capable of guaranteeing 80% of the company's energy needs.
Investing to grow in different markets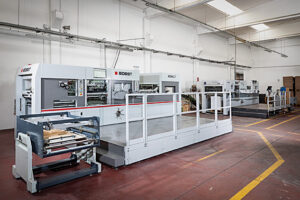 It is known that technological updating is the basis of success for a subcontractor in order to be able to provide rapid responses to market needs. The company is internally equipped with various die-cutting technologies, capable of supplying the customer with a mock-up to small series with small and medium-sized die-cutters such as the BOBST 106 up to 100×140 cm formats for longer runs.
In the gluing department, 5 folder-gluer lines work tirelessly on straight-line, crash-lock bottom to 4- and 6 corner boxes for double-wall packagings, cones and boxes with handles.
"We are equipped to meet the production needs of folding carton boxes cases and we work materials up to microflute, but we can also process paper between 80 and 150 grams, commonly used for food wrappers, labels, bands for the footwear sector and envelopes. This is a sector we would like to develop more and more.
We are particularly interested in the food sector and  the processing of materials in contact with food, in order to achieve the relative MOCA declaration of conformity. As subcontractors, we also have the equipment that allows us to work with plastic materials such as PVC, polypropylene, polystyrene. Thanks to the wide and varied market demand, we have acquired important know-how, and new challenges don't scare us at all", says Alessandro Zanetti, the technical soul of the company who has always been active in production as manager of die-cutting lines and profound connoisseur of BOBST machines. A partnership between BOBST and Cartotecnica Naldi that has lasted for over 45 years!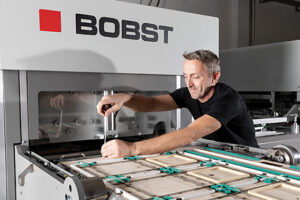 "Our luck was to grow up in a moment of particular creativity and imagination, which allowed us to acquire a broad background and know-how on materials which then translated into technological knowledge which is not common to all companies. Furthermore, today we are located in a district where the packaging sector is very strong and we also have various partnerships with manufacturers of automatic packing machines with which we can test all the latest technological innovations that they implement on their lines, thus keeping us updated also from this point of view", intervenes Gabriele Zanetti, commercial manager of Cartotecnica Naldi.
The new die-cutter NOVACUT 106 E operating at Cartotecnica Naldi
Last September, the new NOVACUT 106 E by BOBST was installed at Cartotecnica Naldi, which replaced a previous BOBST line, still fully efficient. However, the new die-cutter, being equipped with cutting-edge technology, is certainly more in line with current market needs and in compliance with the stringent regulations on health and safety at work.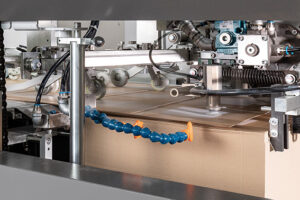 "Even though we have only been using it for a short time, I have already had the opportunity to appreciate the newly designed sheet feeder which is very similar to that of printing machines, which works indifferently with the lightest paper to cardboard, managing to die-cut at the maximum speeds allowed by this machine. I also particularly appreciated the platen which works precisely and constantly across the entire surface of the sheet to get a guaranteed quality from the first to the last die-cut. We have also reduced set-up times by 30-40%, and in general I can only confirm our satisfaction with this investment which is fully meeting expectations", says Alessandro Zanetti.
Indeed, the NOVACUT can die-cut up to 8,000 sheets per hour and, thanks to BOBST technology, can be set up in very little time. Before confirming the investment, Cartotecnica Naldi had the opportunity to test the NOVACUT at the BOBST headquarters in Mex in Switzerland, on fairly complex jobs with 80-90g paper, a market that is of great interest for the company that wants to further specialize in this niche.
"The great potential offered by this new NOVACUT is pushing us more and more, also with a view to diversifying the offer, to look for orders in light paper starting from 80 g, thinner materials that require particular care in the production phases , but which can guarantee better margins and I won't hide the fact that over time, I would like to include labels among our workable materials", concludes Alessandro Zanetti, launching the challenge to the market.