The I.B.E. label factory in Verderio (Lc – Italy) is the first Italian company to equip itself with the innovative BOBST MASTER DM5 label press, a machine where flexo and inkjet have found a perfect combination, allowing the Italian printer to increase its competitiveness in middle print runs increasingly requested by the market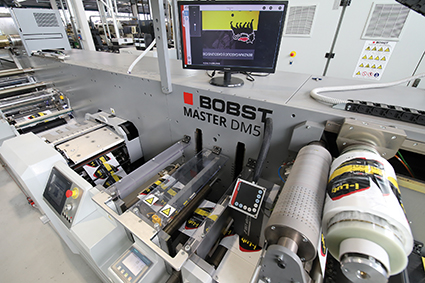 When Mouvent was presented at Labelexpo 2017 in the BOBST booth, it was immediately clear that the partnership would become much more than a simple technical-commercial collaboration. In July 2021 Mouvent was acquired 100% by BOBST, and the digital, scalable printing solution has become an integral part of a new strategy that sees the Swiss manufacturer, whose Label division is based in Florence, aiming decisively towards a modular design as seen in the MASTER DM5 All-in-one and All-Inline press.
"We initially expanded our presence in packaging with the acquisition of GiDue. Since then, we have increased our presence in the label industry with the development of our Mouvent digital printing technology, which is currently deployed in the label sector, but will eventually also be deployed in other sectors like flexible packaging and corrugated board," says Francois Martin, BOBST Group Marketing & PL Narrow Web Marketing Director.
*This cluster opens a new age in digital inkjet printing: it is a radically new approach, which uses clusters instead of fixed size print bars by color, arranging them in a modular, scalable matrix. The result is one system that can be simply adapted for all substrates, all widths, for all markets.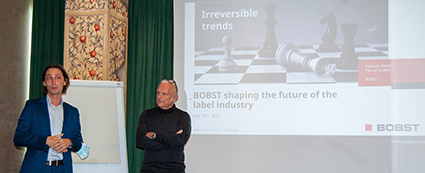 Inkjet – technology of the future in an increasingly multi-technological printing environment
BOBST is in fact one of the latest players to have approached inkjet printing technology but there is no doubt that it is now an integral part in the production of packaging, as a stand-alone solution or in combination with other technologies. If until a few years ago they insisted on comparing the different printing techniques, highlighting positive and negative characteristics, today the approach has totally changed to the benefit of combined solutions. There is no best technology for all applications, but each application can benefit from different printing techniques, which – especially integrated in-line in the printing press – can provide the printer with a formidable tool to conquer market share.
"Inkjet technology, launched in the packaging market in the early 1990s, has enormous potential and can be adopted in various application sectors, and we are sure that in the future everything that can be printed with inkjet will become an inkjet application," adds Martin.
Smither Pira research on the evolution of market shares by value worldwide between analogue and digital predicts a 66.9% share for analogue by 2024, a drop of almost 10% from 76.8% in 2014, compared to the growth of digital technology from 23.2% in 2014 reaching 33.1% in 2024. Growth rates, albeit significantly lower, are also expected for all other printing technologies, effectively marking an increasingly multi-technological environment.
Digitization of the printing process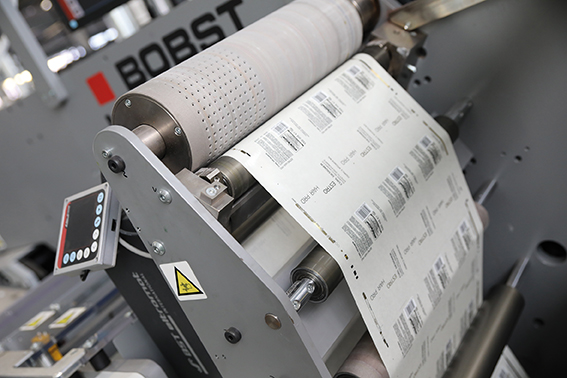 Among the various irreversible trends that are affecting the label printing sector, one in particular is very interesting and cannot fail to be taken into consideration by machine manufacturers, namely the need to attract young people to the printing profession, independent of the salary factor. "Our customers ask us to design machines that can also be managed by those who do not have particular skills or specific training in the sector. It is not for me to say if this is right, but it is the reality of our industry today," adds Martin.
BOBST has already introduced the concept of digitization of the production process for some time, offering the customer the opportunity to control the entire workflow, from the PDF file to the finished product, using the BOBST Connect system which can manage autonomously and automatically all pre-press, printing, finishing and converting stages, a solution that aims at standardizing production, with less possibility for errors and reduced waste.
Labels sector: BOBST targeted solutions for different needs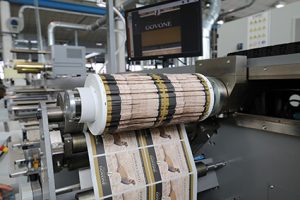 Today the BOBST portfolio for the label sector includes three product families: Narrow web flexo, ideal for medium and long runs of complex labels, All-in-One/All-Inline for medium runs combining analog and digital printing and converting technologies, and standalone digital printing.
"Choosing the right technology based on the work you have to do, optimizing costs without forgetting the opportunity to increase the product offering and therefore having a versatile technology are the key points to consider when choosing which machine to buy," says Patrick Graber, Strategic Product Manager Labels.
The production cost, which is in fact 35% lower than the first-generation digital technologies on the market, is one of the winning factors of Mouvent technology. "Over the last 130 years, BOBST has proven to be a reliable partner for printing and converting companies around the world, and we are continuing with this approach with our digital inkjet products, providing solutions that make economic and financial sense, now and in the future. Our products have been designed to answer converters' demands for more productive digital label printing machines that are still profitable in medium to long runs (up to 8000 LM per SKU), narrowing the gap with flexo. This choice has proved successful and customers who have chosen to invest in this technology have confirmed it; they are moving longer runs from existing digital machines and short to medium runs from flexo to BOBST UV inkjet machines", adds Graber.
The MASTER DM5 at I.B.E.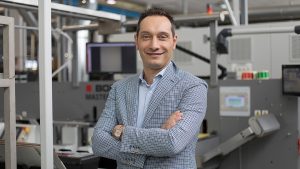 Awarded in 2020 as the best combination printing machine for labels and flexible packaging at the EDP Awards, for Roberto Spreafico, owner of I.B.E. it was almost love at first sight.
I.B.E. is part of a group of 4 companies with a total of 250 employees and € 80 million in global turnover, 12 of which come from the label sector where 50 people work.
In the production department there are printing machines for all types of labels including complex booklet labels, flexible packaging and shrink sleeves. Digital printing, semi-rotary offset and hybrid machines: I.B.E. has always managed different technologies based on the applications to produce and has always been very attentive to technological evolution, investing in order to better serve ever-changing markets. Each production station is equipped with systems for automatic control of production quality.
The MASTER DM5 at I.B.E. is configured with unwinder, four flexo groups (2 before the digital module and 2 after), Mouvent module for digital printing consisting of CMYK + Orange and Violet for coverage of up to 86% of the Pantone colors, die-cutting station and final rewinder. Thanks to this configuration it is possible to produce in a single step the following processes: priming, printing, lamination/varnishing, embellishment, finishing and die-cutting, fully responding to I.B.E.'s philosophy, which prefers the in-line production of its labels.
Already in the design phase, this machine was designed to be automated in each of its modules, therefore even the manual steps, usually associated with flexo printing, were automated by BOBST thanks to DigiFlexo technology for full digital control of register and pressures. This technology also takes care of register control between the digital unit and the flexo stations, both before and after digital printing, allowing the operator to be able to count on the machine for the autonomous management of register, to have extremely fast set-ups, high machine uptime and repeatability.
"I saw the MASTER DM5 for the first time at Labelexpo 2019 and I liked it right away. After a visit to BOBST Firenze we applied for beta tests. I find that the perfect integration between the traditional and digital printing modules is the real key to the success of this machine. Everything in this line is fully automated, including the insertion of dies. Furthermore, thanks to its speed and productivity, we cover the needs relating to medium runs (2000-8000 meters), the most requested by the market. The machine has been installed for a year now and we are able to carry out up to 10-12 job changes per day, and we also tested different materials, including very special papers for wine bottles labels, which were not included among those guaranteed by BOBST, confirming the validity of the investment made at absolutely competitive costs," explains Roberto Spreafico, CEO of IBE, standing in front of the machine engaged in 3 job changes: first a label on transparent material for cosmetic products, a second for the petrochemical sector with great resistance of inks to abrasion and chemical agents, and finally a label for wine with the reproduction of a Pantone gold with digital printing, three job changes carried out in a few minutes as evidence of the great flexibility of this MASTER DM5.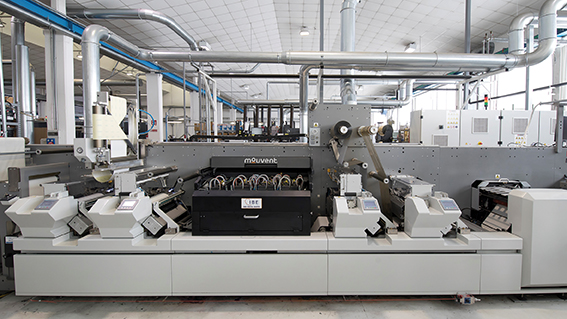 A printing machine for various product sectors
The vastness of the applications that can be produced on the BOBST MASTER DM5 has allowed I.B.E. to transfer to this machine most of the jobs previously printed with offset and screen-printing technology. "Thanks to the four flexo groups, delam/relam and in-line lamination, we can cover all sectors without any distinction. This also gives us the ability to quickly replicate labels usually printed with other technologies, such as offset, digital toner or pure flexo", adds Spreafico.
Materials that can be printed on the machine include self-adhesive label material, i.e. paper, PET, BOPP and PVC, unsupported paper, card stock, and optionally unsupported material.
Furthermore, I.B.E. has found a high resistance of digital ink, like screen printing, so it isn't using lamination for those jobs where it is necessary to protect the print, with a consequent saving of plastic, reduction of thickness and simplified finishing process.
"We have really hit the mark with this investment especially as the market continues to demand small and medium quantities, reduced stocks and more and more frequent orders. This type of service together with fast delivery times, quality and repeatability, are the main advantages our customers can benefit from," concludes Spreafico, who is the first entrepreneur in Italy to install this type of machine.