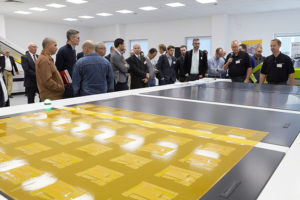 To support flexo printers to achieve increasingly demanding expectations, BOBST and leading industry suppliers* will follow an innovative route for the Open House event they are hosting in the Competence Center of Bobst Bielefeld, in Germany, on 13th February 2020.
Visitors to the event will experience the advantages of the seamless integration of all the elements that concur to an end-to-end flexo process that is simpler, faster, more sustainable, more competitive and geared towards the future.
The agenda will combine short presentations and equipment demonstrations that will span across the full process from file to platemaking to printing.
*Daetwyler, ESKO, Flint Group, Follmann, Glunz & Jensen, Günther Prepress, Lohmann, Miraclon, Rossini, x-Rite PANTONE, Zecher.