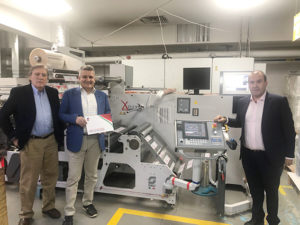 OMET is growing globally with the installation of narrow and medium web printing machines for labels and flexible packaging on all continents. With the aim of growing further and strengthening its presence in Mexico, OMET has recently signed a collaboration agreement with a new agent, Manroland Latina.
The German based company is a respected name in the industry and has been supplying the country with printing machines and related graphic arts equipment and consumables for more than 60 years.
César Domínguez, General Manager of Manroland Latina said: "OMET is a leader in the narrow web and mid web labels and packaging business providing the best available solutions to the market. We are thrilled to create a new business unit for web fed labels and packaging in order to complete our present offering. We feel that their machines satisfy our very demanding requirements for quality and productivity. Both companies, Manroland Sheetfed and OMET share the same customer approach philosophy."
Hans Ramón Hofmann, the Manager of the newly created business unit added: "I am really excited to get back to this beloved market with exceptional quality and technology machines.  We will be able to compete at the highest level in this very demanding market with a low total cost of ownership and an excellent value for money product.
Manroland Latina is a subsidiary in Mexico for Manroland Sheetfed with 45 employees mainly in service, sales of equipment and consumables and administration, with presence in Mexico City, Guadalajara and Monterrey.