On the occasion of Plast BFM will present at its stand a single station model W400-AXL winder for blown extrusion lines, complete with a new cutting system for multi-reel with automatic knife positioning, new interface and new design.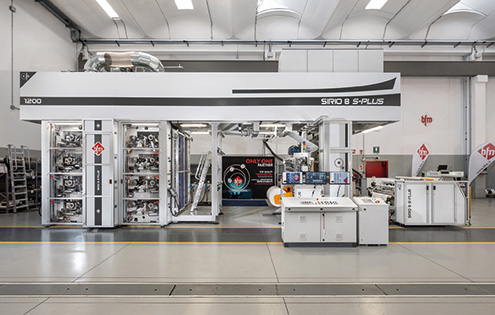 In addition to the winder, the focus of the event will then be the presentation of the Stack Sirio 8 Colors S-PLUS printing machine with important innovations related to energy saving, a particularly important topic in the last period as well as the possibility of printing with water-based inks in line with bfm's commitment to global sustainability.
The proposed 1200mm wide machine will be available at bfm Demo center in Solbiate Olona (Va) production site, thus giving interested customers the opportunity to visit the site and see the machine in operation.
The flexo press being demonstrated was made with an unwinder with hydraulic loader capable of accommodating reels up to a maximum diameter of 1000 mm, an 8-color printing unit with motorized counterprint axis, electric grinding and automatic inking/washing via pneumatic pumps. The drying unit is made up of an intercolor system, drying hood, gas heat supply and "Eco Dry" system for energy saving. To complete the machine, we find an automatic Revolver type winder.
The automation platform of this machine was designed with the support of Bosch Rexroth, a leader in the automation of printing and converting machines.
Easygear, automatic print pre-setting and print set-point are some of the features that allow Sirio S-Plus to guarantee very rapid and increasingly precise job changes.
Among the S-Plus innovations, the new graphic interface stands out, designed on 22", simple and intuitive but at the same time complete for managing all the machine's functions.
In addition to the machines that bfm will present during the exhibition, the staff will unveil other important innovations relating to other lines such as the specific printing lines for industrial bags with gusseting and embossing units, the 6,8 and 10 color central drum machines gearless and finally the stack flexo machines to be positioned directly in line with the extruders.