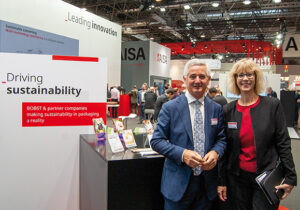 Together with its partners, at K 2022 BOBST presented OneBarrier Primecycle, a family of solutions without Evoh and without TopCoat, in high barrier PE, which are ideal alternatives to metallized polyester materials, and OneBarrier Fibrecycle, a solution entirely in paper, mono-material and ready to be recycled. The samples exhibited at the fair, which are the evolution of the versions exhibited at K 2019, are now available for converters to print and convert on production scale, guaranteeing quality and barrier performance in each subsequent phase of the transformation process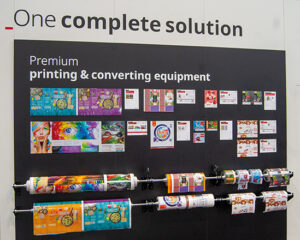 If only a few years ago converters were looking for machines and equipment, today this is no longer the case, today they buy solutions, and it is precisely on concrete solutions that Bobst has focused on the occasion of K 2022. For the design of the new materials, BOBST based itself on three pillars for the creation of sustainable flexible packaging: the use of mono-material polyolefins and paper, both compatible in the normal flow of mechanical recycling of plastic and paper respectively; the third pillar calls for the use of solutions that are compostable, biodegradable and/or bio-based. "After all, it is the customers themselves who request it from us and thanks to our skills in vacuum metallizing, coating, lamination, gravure and flexo printing and thanks to an intense collaboration with dedicated ecosystems of partners, including Dow, Michelman, Sun Chemical, Zermatt, and UPM in line with our goal of giving concrete sustainable answers, we have managed to offer sustainable packaging, ready for recycling and with excellent barrier properties", says Giovanni  Caprioglio, Technology Sales Director Coating at BOBST.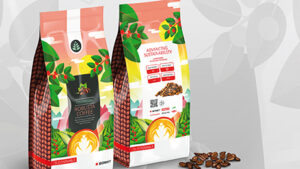 PrimeCycle full PE monomaterial structures are EVOH and top-coat-free and make perfect alternatives to metallized polyester films. They are composed of an MDOPE layer, a primer coating, one of two types of metallization (transparent AIOx or opaque AluBond) which give slightly different barrier performances (the AluBond metallization has a higher barrier level) and finally a PE sealant. oneBARRIER PrimeCycle AlOx high barrier PE structure has a level of recyclability of 98%, certified by German-based Institute cyclos-HTP that specializes in the classification, evaluation, and certification of this aspect of packaging.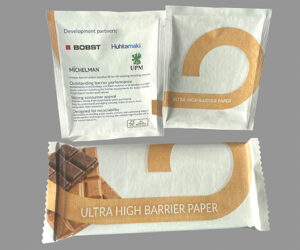 oneBARRIER FibreCycle, mono-material paper packaging ready to be recycled
In this case the basis is UPM's Solide Lucent paper, a special kraft paper with a very smooth and high-density surface, again a primer is applied, then the AIOx or AluBond deposition, and finally a topcoat. Also created in collaboration with Michelman, who supplied primers and topcoats, to respond to the growing demand in the paper packaging sector. Together with Finland-based converter Huhtamaki, BOBST presented at K the first samples of packaging processed using the FibreCycle solution. But not only that, an open house at Bobst Manchester was dedicated to this product, which was attended by about 100 people, confirming the extreme interest of the operators in these solutions.
One complete solution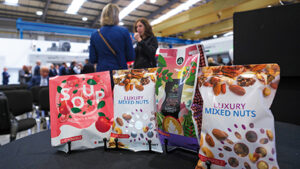 Sustainability was not the only hot topic for BOBST at K 2022. BOBST also announced the launch of One complete solution – a new tailored package of end-to-end solutions to create a perfect flexible packaging workflow for converters, based on their production needs.
One complete solution is a portfolio of end-to-end workflows that connect all steps, from production file and pre-press through to the reels of printed or laminated substrates, or of high barrier functional films or paper.
Coinciding with K 2022, BOBST held an open house at Bobst Bielefeld plant, where visitors saw an example of One complete solution in action. Workflow featured included full prepress setup with smartGPS, flexo plate mounting with its partner AV Flexologic, printing on a VISION CI flexo press, quality control with BOBST Digital Inspection Table, solventless laminating with NOVA SX 550 LAMINATOR, plus all essential data and digital services with BOBST Connect.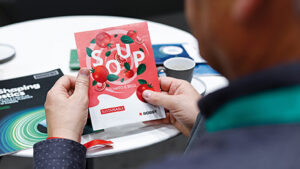 An integral element of One complete solution, and also on show at K 2022, is BOBST Connect. BOBST Connect is a user-centric digital platform that links different steps of the production process through a digitalized and automated workflow. It improves efficiency, control, and data knowledge, driving quality and productivity across the value chain. BOBST has announced that as of 1 July 2022, BOBST Connect Essential, the first subscription plan of this very powerful tool, has been made available on all BOBST machines as a standard supply. This is a unique offer within the industry.