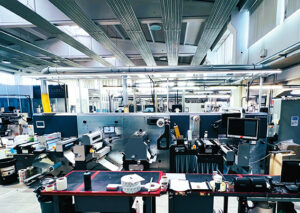 136 years of history for this Piedmontese company that has made sustainability the basis of its corporate policies by combining innovation and environmental protection: it produces self-adhesive labels, envelopes and paper products, convinced that the future must be built and there is still a lot to innovate, you just have to work about it. In 2018 it became one of the hundred Italian B-Corp, which are recognized as such because they create value for themselves and for others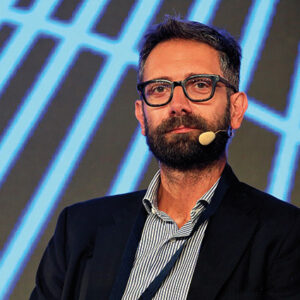 The company was founded in the center of Turin in 1886 and it is a woman who, in the early 1900s, took over the reins, producing bags and tags for agriculture and other sectors. "My great-grandmother Eugenia Chiesa was a true entrepreneur who continued for many years to manage the company, which is constantly growing and in the 1950s they moved to Rivoli to have more space; self-adhesive web labels began to be produced in 1959, an idea of ​​my father, our company was one of the first companies in Europe to understand the growth potential of this product", tells us Domenico Tessera Chiesa, the current managing director of Sales.
The years go by and the company becomes more and more structured and in 1976 the spin-off Tepak was born, which produces its own patented innovation: the envelopes stuffed with air bubbles, "today we still produce envelopes but they are called Texso, and they are reinforced paper envelopes", says Domenico. The 80s and 90s are years of great development for Sales, because new machines arrive, the first rotary printing presses and in 1997, one year after obtaining the ISO 9001 Certification, the company offers Rambloc, spare parts and reinforced notepads which, in a few years, conquer an important place in the paper converting market, becoming today a market standard.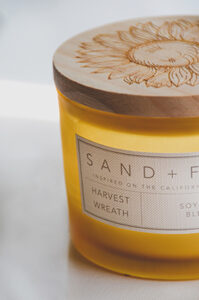 Today the company uses all printing technologies, from flexo to flat and rotary screen printing, to inkjet digital printing and offset. The pre-press activities are carried out internally, including the creation of the screen printing frames. Sales collaborates with Italian and foreign research centers and universities, hosting interns and working on innovative solutions: collaborations that demonstrate that Sales is an open company, a context in which to create development, in which everyone can launch ideas and experiment.
A sudden generational shift and the beginning of a virtuous and sustainable path
In 2002 there is a need for more and more space and therefore the company decides to divide the activities between two offices, but always in Rivoli: in Via Chivasso are produced self-adhesive labels, while the paper converting division in Via Ferrero is dedicated to the production of Texso® envelopes and blocks. In the same year, unfortunately, Dr. Emilio, the father of Domenico (who was 27 years old at the time), suffers a serious illness and is no longer able to work. But in spite of everything, the show must go on. "One of the first things I did was to obtain the ISO 14001 environmental certification, achieved the same year, starting a virtuous path that leads to FSC Certification in 2009 which becomes part of a new path for the company: the Driving Green project.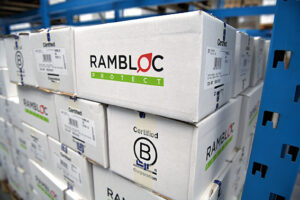 Consequently the company began to question its production processes in order to improve not only its impact but also the production range and therefore be able to offer its customers products to help them to reduce their environmental impact. Sales then begins to test new materials, eliminates solvents from its production process, installs screens on the windows to reduce the use of air conditioning, buys hybrid company cars and analyzes waste to minimize it, starting to use the first recycled and compostable materials. "But there's no denying that it was not easy to propose and sell these sustainable solutions at that time. Even today, many customers present themselves as sustainable but when it is necessary to choose really different solutions, they are often not willing to spend more", explains Domenico.
Sales' work is, first of all, a consultancy work: the first step is to analyze the materials in use in order to study an alternative proposal. SalesLab is the Sales research center, in which analyses and stability tests are carried out. The goal is to offer the customer a precise report "that demonstrates to the customer how the proposed solution is better from an environmental point of view and guarantees the same functional product performance. At that point, if the customer decides to proceed, we go into production. The reduction of the environmental impact is then analyzed for each customer, providing the ability to communicate the result obtained based on concrete data. The worst thing that can happen is, in fact, greenwashing", says Domenico.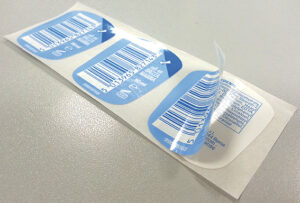 But which are the most receptive sectors? "Obviously, where there is greater financial availability, companies are more likely to spend more. In the world of luxury or cosmetics, there are more companies interested in developing alternative solutions to plastic, using paper or mono-materials that can allow for the most virtuous recycling possible", confirms Domenico, who adds that all sectors have in their agenda an improvement of their packaging and solutions and skills are needed to really make a difference. "We want to be a reference for those companies that want to improve their environmental impact and we believe we have a wide range of solutions useful for this purpose, as well as a great passion", says Domenico.
Digital screen printing for a label with an incredible tactile effect
Sales continues to innovate and in 2012 arrives Silk: thanks to a special and exclusive printing machine, the company offers a label ennobled with screen printing but entirely made with a digital technique. This allows to obtain wonderful tactile effects with incredibly bright colors, without having to bear the high costs for start-up and screen printing systems. It is really a game changer, ideal for the production of small and medium batches with many different references.
In the following years, the production range is further expanded with booklet and peelable labels, also made with special machinery. All these innovations are the result of the activity of the R&D department of this company, which has 40 employees and records a turnover of 6.5 million euros.
The pride of being a B-Corp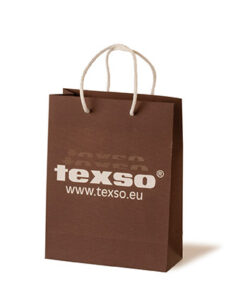 First company in the sector to become B-Corp. The term B Corp identifies companies that decide to measure their performance in terms of environmental, social and economic impact through the B Impact Assessment (BIA). This tool is developed by a third party, B Lab, a non-profit organization responsible for defining, maintaining and sponsoring the BIA and its benefits. "In practice it is a system that allows you to measure performance at 360°, measuring the impacts from the point of view of production, environmental, social and collaborators: to obtain it you need to have at least 80 points (we have totaled more than 90) to demonstrate that the company withdraws fewer resources than it creates, a sort of breakeven point where intersect the line that represents the resources I withdraw from the environment with the line of resources I create, because we are all interdependent systems. In the world there are about 5,000 certified companies in the world, realities that are really trying to make a difference and we can proudly say that we are part of this group", says Domenico.
At the level of training and professional retraining, the company is very busy, it has training courses that are always active, because these activities are very important for the professionalism of people and for business growth. Sales uses a lot of the Training Account, an individual account available to the companies belonging to Fondimpresa, which allows them to manage the financial resources – paid and set aside – for the training of their workers. Fondimpresa is a non-profit association, set up by Confindustria, Cgil, Cisl and Uil to promote continuing professional training, for the pursuit of the competitiveness of businesses and the employability of workers.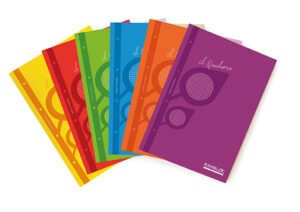 And Sales path in the name of sustainability continues: in 2020 it became a Benefit Company. Benefit companies are companies that, in addition to the purpose of creating profits for themselves and their shareholders, pursue one or more purposes of common benefit and operate in a responsible, sustainable and transparent way towards people, environment and stakeholders, committing themselves to transparently assess its impact. Assobenefit (www.assobenefit.org) is the association that coordinates the network of Benefit Societies.
Over 60 Italian companies have recently come together to eliminate the impact on the environment and win a challenge that goes beyond the current generation by including climate neutrality among the business goals. It is called CO2alizione italia, (https://co2alizione.eco/it/manifesto) the initiative to which many Italian companies have joined with the aim of increasing the level of commitment towards climate neutrality and of course Sales could not fail to participate in this initiative. The very challenging commitment is to zero its CO2 emissions by 2030.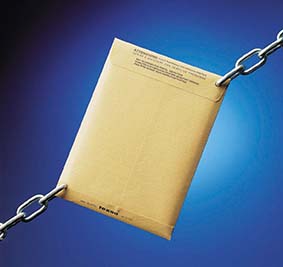 Sales is also present in the book, published this year, "Me and the #GreenHeroes – Why I decided to think green", published by Piemme, written by Alessandro Gassman together with the scientific popularizer Roberto Bragalone: ​​the volume contains some stories of entrepreneurs green and innovative.
In short, many goals that testify that it is possible to build a completely sustainable business model, "because it is essential to remember that we are talking about sustainable business, so we must generate profit, otherwise we would not be able to continue to innovate and invest", concludes Domenico.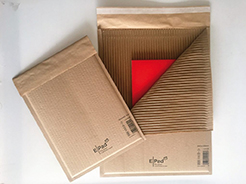 In 2021 EIPad, the padded envelope distributed by Sales, was awarded one of the 5 Ecopack awards for eco-design of packaging promoted by Conai: the envelopes are in polylaminate with prevalently paper, recyclable and Aticelca level B certified, and the paper is made with 100% recycled material. Logistics has also improved, doubling the number of envelopes that can be transported on pallets.