On 1 April 2020 the Italian office of Asahi has turned 40 years of activity, recording an important and constant trend of business growth, while maintaining a lean structure as its own strength, which welcomes the latest new entry: Alessandro Gualtierotti, new prepress and printing expert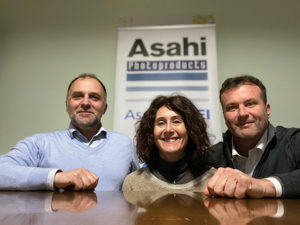 It was 1974 when Franco Belloli imported from Japan, through Marubeni company, the first liquid flexographic photopolymer APR (Asahi Photopolymer Resin, developed by Asahi Chemical Industry), believing, as a pioneer, in a sector to be developed, starting initially with products dedicated to printing on corrugated cardboard and for stamps. Belloli began a process that then resulted in the 50% joint venture with Asahi and Marubeniat the end of the 1970s, and in 1980 the opening of the Italian office of Asahi Photoproducts.
"First of all, we thank all our customers – partners. Some more recent, and others consolidated over time with which we have continuous relationships since the 80s. Our motto is "You Are Not Alone", to underline the fact that we always try to give a 360° support to all our customers, from photopolymer converters services to printers themselves and business partners of primary importance for us as manufacturers of printing machines, sleeves, aniloxes, tapes, inks etc. We strongly believe in collaborations and invest in projects. In our offices we have materials and printed samples realized with last generation technology but also clichés produced in the 80s, in good conditions with screening up to 60 lines/cm, realized with historical manufacturers of print machines. Who knows, maybe we will reprint them. This tells a lot about the quality of the Asahi materials, considering the high screens printed a long time ago", begins Andrea Belloli, who is currently responsible for the Italian team.
Specific products for different fields of application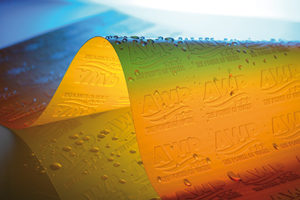 To date, Asahi is able to provide different technologies aimed at solving specific printing problems, in different fields of application. "The CLEAN PRINT technology, primary feature of our photopolymers, simplifies the life of the printer, improves the OEE (Overall Equipment Efficiency) allowing for significant economic savings in production, such as, for example, the drastic reduction of downtime for clichés cleaning. AWP technology, flexo water photopolymers, introduced in the Japanese market in 1995, is a strong point of primary importance for Asahi: a technology that is having a growing success on the whole international market, especially where quality is a primary necessity. We are experiencing significant market growth both for narrow web (UV inks) and wide web (water, solvent, EB inks) printing. The range of TOP and TSP solvent-based polymers specifically designed for tailor-made applications for the packaging market (film and paper). The new Leggero plate, developed for the growing needs required by the corrugated cardboard market, where Asahi was a pioneer. Poorer papers and lower weights are increasingly used for the production of corrugated cardboard, but at the same time, printers always require high quality print quality. Leggero plate responds to these needs for prints with reduced washboard, optimal ink coverage on solids and reduced dot gain and truly clear fine letters and barcodes", adds Belloli.
Alessandro Gualtierotti, sales department, Asahi's new prepress and print expert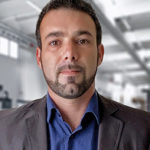 The Asahi team is young but with a consolidated experience. In addition to Andrea Belloli, in the company since 1992, we find Tiziano Rubelli, sales and important figure for technical office, with over 20 years of experience in the sector and Myriam Cantoni, in Asahi since 2000, who takes care of administrative office and customer care. Decisive figure and connection point between our Italian branch and our European office in Belgium.
Daily in contact with our customers, expert and always available to everyone. Having a lean communication between customer – supplier without filters is vital for us.
Since April 10, Alessandro Gualtierotti has entered the Asahi Italia family. Alessandro is a young professional but with a good background of skills, result of 16 years by an important flexo service and an experience in the last five years by a leading manufacturer of flexographic printing machines in the role of prepress, polymer profiling and printing machine specialist, up to the role of trainer for narrow and medium web printers – printing machine start up.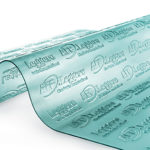 "Our staff is made by flexible and interchangeable people, and I am happy to welcome Alessandro Gualtierotti, a figure able to support customers in after-sales, from the problems related to plate preparations, up to printing operations. Our goal is to offer an additional service to both services and printers, so that sale represents only the beginning of the relationship with a customer. The Italian office is responsible for the technical and support service for internal, North Africa and Middle East market", adds Belloli.
Asahi in the Covid-19 emergency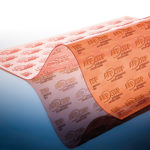 In these emergency weeks, Asahi staff has always remained close to their customers, albeit virtually in home-office workstations, and managing orders and all logistics and transport operations without significant problems. "Having a varied offer of solutions for different markets helps us to suffer less from the drop in this or that sector.
I must say that in this period, with the great demand for flour, with the people who remained closed at home who started making bread and pizza on their own, we had printing customers in this specific sector who are working very hard to meet an incredible packaging need for that sector, using our TSP photopolymers specifically designed for printing on paper. Equally important is the demand for plates for printing in narrow and wide web, for the food sector but also for the pharmaceutical and for corrugated cardboard, another strategic sector in which several of our customers are printing day and night to guarantee supplies of packaging to industry", concludes Andrea Belloli.